Malamiah Juice Bar gets creative, stands in solidarity with community of Black-owned businesses during pandemic
Food business owners like Jermale Eddie have been nimbly adapting to the rapidly changing business landscape since the start of the coronavirus pandemic.
As Michigan businesses begin to reopen, food businesses continue to adapt to keep their employees and customers safe.
Jermale Eddie of Malamiah Juice Bar & Eatery is one food business owner who is working hard to sustain his business and support the Grand Rapids community.
Making changes during stay-at-home orders
Jermale and Anissa Eddie opened Malamiah Juice Bar in 2013. Ever since, Malamiah has been a community stronghold for nutritious food products, particularly fresh juices and smoothies. In December 2019, they made a large investment in their business by relocating to the Studio Park district. This move allowed Malamiah Juice Bar to expand their menu and attract more foot traffic.
When the stay-at-home orders started in March, Mr. Eddie temporarily discontinued dine-in and pick-up options at Malamiah to keep his customers and employees safe. Eddie knew this would reduce Malamiah's usual traffic, so he made preparations to maintain sales through the turbulent economy.
Many customers still wanted healthy options while they stayed at home, so Eddie looked for ways to continue to offer Malamiah's products. "We decided that because people couldn't come into the store that we would have to switch it up and have delivery," Eddie says.
Mr. Eddie started the Malamiah Door-to-Door Delivery Service to expand their delivery capacity. Malamiah Juice Bar has offered delivery outside of the Grand Rapids area for some time. As an additional service during the pandemic, Eddie himself is delivering to limited ZIP codes in the Grand Rapids area.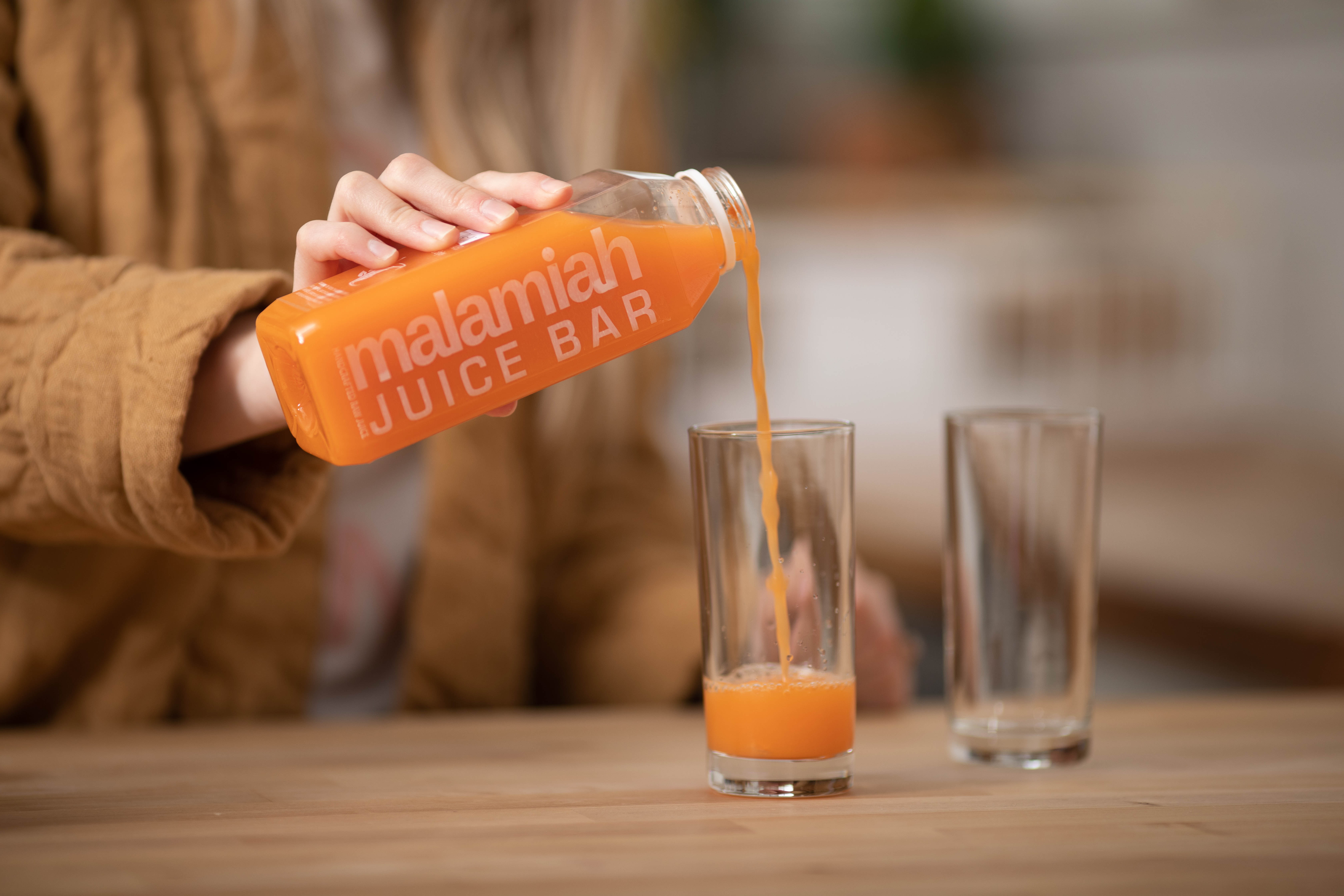 "We closed one day to revamp our menu," says Eddie. Malamiah Juice Bar eliminated about 60% of their normal menu and moved to selling bottled juices only. Eddie decided it was not feasible to sell smoothies, salads, peanut butter, parfaits, and several other menu items, even though these products have a greater profit margin.
Malamiah also went through a website redesign to simplify their layout and make it easier for customers to place online orders.
Maintaining some level of business activity was important to Eddie. He says, "We need our brand to be known so that when this is over, we can go full force ahead with what we were planning."
Owning a business while Black
Pivoting a business during a global pandemic is no easy task. Eddie has faced additional obstacles as a Black business owner.
Eddie has been applying for small business grants and loans to sustain Malamiah Juice Bar throughout the pandemic. He wonders, "With all the relief that's out there, how do we as small, minority-owned businesses get our hands on some of that?" Obtaining business loans has been challenging for Eddie's entire entrepreneurial career.
Mr. Eddie notes, "The inequities in our country have really come to light for a lot of people during this time, even though a lot of us already knew it was unequal treatment."
Black Michiganders have been disproportionately impacted by COVID-19. The rate of cases and deaths per million is higher for African Americans than any other race.
Mr. Eddie quotes an old saying that captures the racial inequities succinctly: "When America catches a cold, Black America gets pneumonia."
In addition to the health concerns that come with running a food business during a pandemic, Eddie reflects on the racist violence that he could face as he works. "It's a big risk when you have a lot more of this unhidden racism come to the forefront. I'm putting myself at risk for that as I walk to someone's front door, deliver juice to the back door or the side door or wherever they would have it go to. I recognize that I have to be extremely cautious to even maintain my business and life."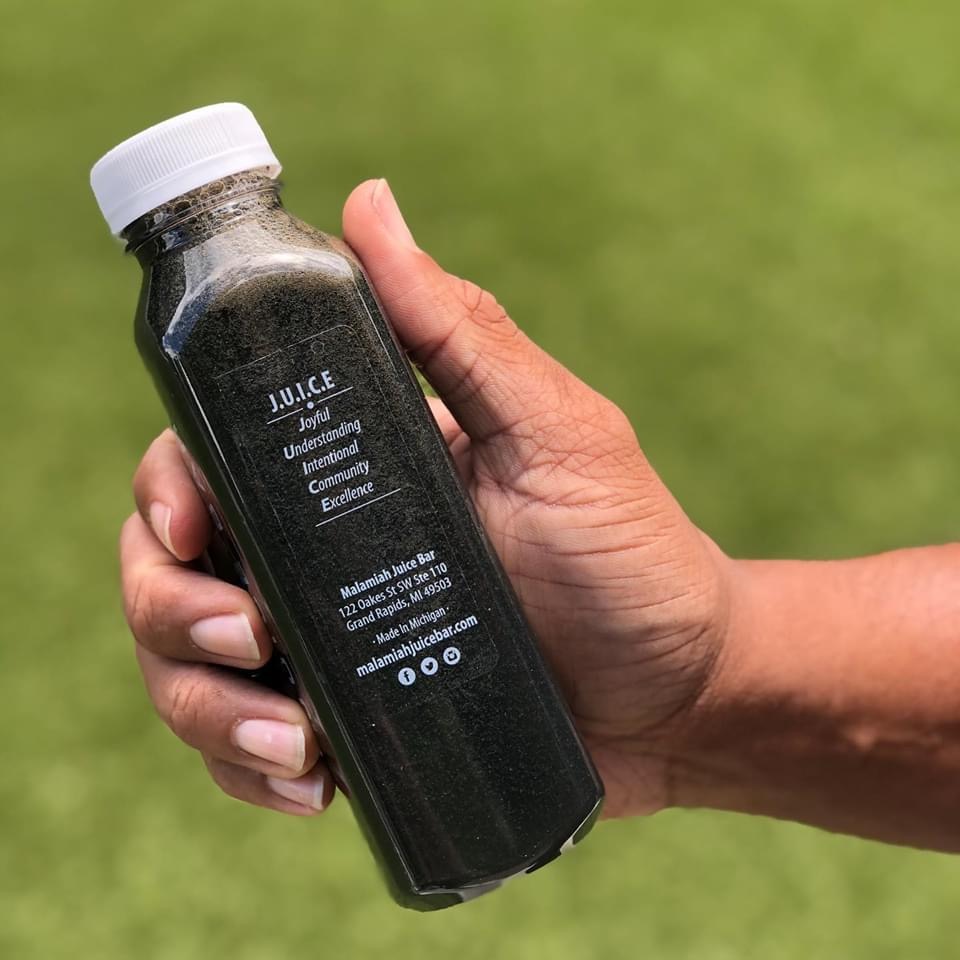 In response to the recent killings and attacks on Black Americans, Malamiah Juice Bar donated 25% of the profits from their product Justice Juice to the Black Visions Collective in Minnesota.
Between May 30 and June 6, Malamiah raised $530 for the Black Visions Collective. They offered Justice Juice again between June 15 and 20 to recognize Pride Month and raised $200 for the Grand Rapids Pride Center. Malamiah also donated 25% of Justice Juice profits to Bump to Birth Doula Services, an organization that supports the birthing community, especially Black women and women of color. They raised $100 between June 22 and June 26.
"The community has really been supporting us," says Eddie. "I'm just out there trying to keep my business going because this was an investment for how I might be able to generate generational wealth. I'm trying my best not to lose it overnight like so many others are."
Black and minority-owned businesses working together
While Eddie has been adjusting to sustain his business during the pandemic, he has also been supporting other community businesses to do the same.
He says, "I've spent a lot of time helping other small businesses, specifically minority-owned and Black-owned businesses, apply to some of these applications, helping them think through how to shift or pivot their business so they can still continue to have income and not close their doors."
Eddie collaborated with three other Black-owned businesses in Grand Rapids to create what was originally called the Bounce Back Pack. The gift box featured products from Malamiah Juice Bar, Mosby's Popcorn and Daddy's Dough Cookies. Adding handwritten cards by Shannon Cohen and partnering with Pack Elephant, they rebranded the box as the Wakanda Mother's Day Box and sold over 120 boxes. They relaunched the collaboration for Father's Day with the Wakanda Father's Day Box and sold 90 boxes.
"COVID-19 forced us to get creative and make that happen," says Eddie. "We didn't have to think of anything new. We just had to put in play what we already had in mind."
Mr. Eddie has also offered business support through one of the Michigan Good Food Fund's virtual Peer-to-Peer sessions. One takeaway from the session he co-led was to focus on how a small business can support its community throughout the pandemic. He says, "I think that the community is going to remember those businesses that did more than just think of themselves."
Eddie has been sharing his knowledge with other businesses long before the pandemic. In 2019, he offered a session on overcoming hurdles as a new food entrepreneur at MSU Product Center's Making it in Michigan Conference.
The road ahead
Many uncertainties remain. Mr. Eddie wonders, "What will spending be like from the general public? I'm thinking about month three, month six. I'm wondering if we're going to be able to do enough business now and in the next couple of months to sustain ourselves." Eddie also wonders what business might look like if there were to be a second surge of the virus.
Mr. Eddie says that Malamiah Juice Bar is "not downshifting but upshifting." He and his family are continuing to think of creative ways to pivot their business and support their customers and employees through this time. For one, Malamiah Juice Bar is now offering curbside/contactless pickup.
Eddie foresees many changes on the horizon. Knowing that that people are looking to support local businesses during this time encourages him to keep going.
Eddie says, "I believe that people are supporting Malamiah Juice Bar because of the community work we've done, because of the relationships we've built, and what people have heard about us. I think people have seen the investment we've put into the community, and now it's coming back to us."
---
Note: An addition was made on July 13, 2020 to mention Mr. Eddie's participation in the Making it in Michigan conference.