Michigan State University blueberry breeder awarded USDA grant to improve blueberry and cranberry fruit quality
Patrick Edger, assistant professor in the MSU Department of Horticulture, was awarded a four-year, $1.13 million grant to discover genes associated with superior fruit quality traits in blueberries and cranberries.
Patrick Edger, assistant professor in the Michigan State University (MSU) Department of Horticulture, was awarded a four-year, $1.13 million grant, including matching funds, from the U.S. Department of Agriculture (USDA) to improve blueberry and cranberry fruit quality traits.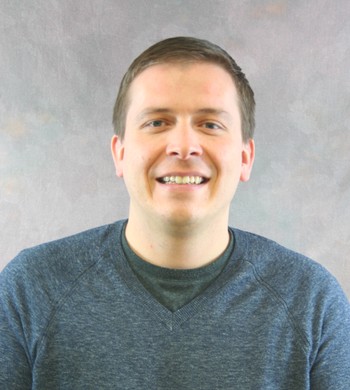 Edger's lab is leading the effort to generate the first pangenome, the entire set of genes present in a species, for the genus Vaccinium, which consists of shrub species, including those that grow blueberries and cranberries. Called the Vaccinium Coordinated Agricultural Project, or VacCAP, this will help guide future breeding efforts for blueberries and cranberries, and includes a network of collaborators at universities and USDA partners throughout the U.S.
"Our goal is to discover the genes that are associated with superior fruit quality traits," Edger said.
Genetic Analysis
Along with Ph.D. student Alan Yocca, Edger is working to generate genomes for 24 blueberry cultivars, or cultivated plant varieties, and 12 cranberry cultivars. These genomes will help shed light into the existing genetic diversity for these two important crops.
Unlike a single genome, a pangenome is able to capture all of the genetic diversity present within a species. Edger estimates that at least 30% of genes may be present or absent, depending on the cultivar.
"If we base all our analyses on a single genome, we're going to miss a lot of genes," Edger said. "On a fundamental research level, we're really interested in better understanding how genomes evolve and what mechanisms contribute to the observed gene content variation present within a species."
Constructing a pangenome requires substantial computational resources. Edger is collaborating with the MSU Institute for Cyber-Enabled Research (ICER), which provides researchers with access to high-performance technology, to meet these needs.
"We're delighted that the Institute for Cyber-Enabled Research will contribute to the VacCAP project by solving its computational and data storage needs," said Brian O'Shea, ICER director.
By building a pangenome, Edger and Yocca hope to identify new genes that could ultimately yield a firmer, more flavorful and aromatic blueberry.
"The aim of this grant is really to construct a roadmap," Edger said. "What genes and variants of genes are important if our goal is to improve firmness and overall fruit quality?"
Industry Impacts
Firm fruit is easier to machine harvest, and machine harvesting can help blueberry growers increase their profit margins.
"Labor for picking fruit is scarce," Edger said. "For growers, not to have to hire people to pick fruit — if they can be harvested by machines — increases their profitability."
Labor costs for hand harvesting account for more than half of blueberry production costs.
While planning for this project, Edger and Yocca conducted a national survey of 500-plus growers, breeders, processors and others in the blueberry industry. Machine harvestability was a top priority across all regions throughout the U.S.
"Developing new cultivars that propel an entire industry forward is really exciting and rewarding," said Edger. "This is a huge priority and I'm looking forward to helping the blueberry industry in Michigan."
Michigan typically ranks in the top five states nationally for blueberry production.
"For years we have mechanically harvested for the processing market, but unveiling a blueberry bush that produces fruit that ripens more uniformly, and firmer, will undoubtedly be more suitable for machine harvest," said Kevin Robson, executive director of the Michigan Blueberry Commission. "We look forward to seeing the results of this research project, and how it will help make Michigan's blueberry industry more sustainable."
Related Articles
This article was published in Futures, a magazine produced twice per year by Michigan State University AgBioResearch. To view past issues of Futures, visit www.futuresmagazine.msu.edu. For more information, email Holly Whetstone, editor, at whetst11@msu.edu or call 517-355-0123.