Michigan Farms Becoming Environmentally Verified
Farmers across Michigan take great pride in the food they produce. Farm work is a labor of love and producing the best they can is generally nothing but a given and a life-style.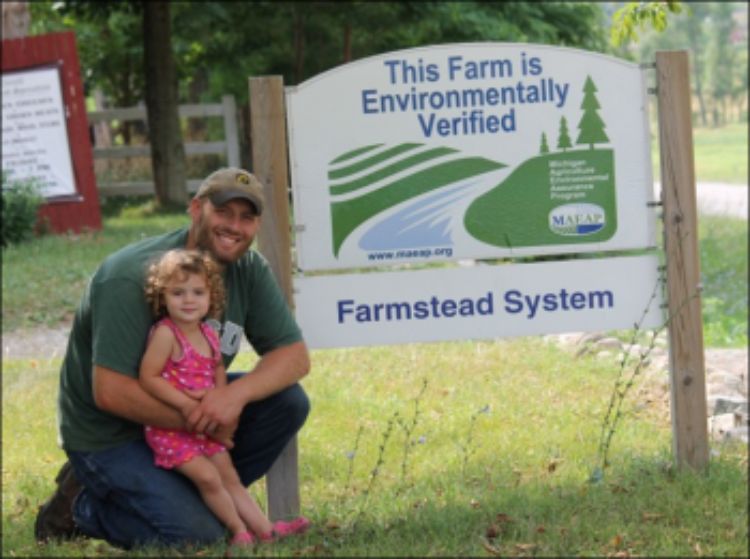 By Jude Barry, MSU Center for Regional Food Systems
Farmers across Michigan take great pride in the food they produce. Farm work is a labor of love and producing the best they can is generally nothing but a given and a life-style. Stewardship of the land they farm is also a no-brainer. Farmers tending the land are tending their assets and their future business.
The Michigan Agriculture Environmental Assurance Program (MAEAP) is a state government-coordinated voluntary program that is designed to support farmers of any size or commodity in meeting environmental standards and Generally Accepted Agricultural Management Practices (GAAMPs). The program aims to educate farmers about different processes and actions that can prevent or minimize certain agricultural pollution risks. Through working with their local conservation districts, farmers that make any necessary changes on their farm, can obtain MAEAP verification – a certification that they meet a list of environmental standards.
The Tirrell family at their Farmstead Specialties shop. Photo courtesy Jude Barry.
Ensuring our food system is environmentally sustainable or "green" is part of the vision of the Michigan Good Food Charter. MAEAP and the farmers that work towards MAEAP verification are supporting agenda priority 14 of the Charter through supporting environmentally sustainable farming.
Ben and Jessie Tirrell of Tirrell Farmstead Specialties in Charlotte, MI (www.micheese.com) are farmers who take the stewardship of the animals and land they own very seriously. In addition to producing grass-fed beef, they are the only sheep dairy in Michigan and make a variety of cheeses. They farm about 300 ewes, which they lamb annually and milk year round. It takes Ben 2.5 hours a day to milk their ewes in his custom-built milking parlor. They also have a dairy on-site where they produce a wide range of cheeses in an age-simulator cave. Their cheese products range from Pecorino, to Stilton, to strong, hearty cheddar. The Tirrells sell their products at farmers' markets, online and also out of their new Tirrell Farmstead Specialties shop – an old school house building that they have renovated across the street from their farm.
Ben Tirrell, whose farm was originally verified in 2007, says, "The reason we got verified is to show our customers that we are trying to do things in the right way. We had to make some basic changes to our farm to ensure we were in accordance with MAEAP verification requirements and the environmental standards. Many of these things were common sense things, but as a result have improved the processes we operate our farm under."
Country Mill Orchards also in Charlotte MI (http://countrymill.com), grows apples, peaches, blueberries, sweet cherries, sweet corn and pumpkins. The farm was originally MAEAP verified in 2008. Steve Tennes the owner sees MAEAP as a great way to provide continuing education for farmers. He says "Through MAEAP trainings, I am always learning new and better ways to benefit the environment while maintaining a competitive business that can produce food that is affordable to the consumer". He believes that changes he has made have had an impact on the environment through reinforcing good practices and preventing potentially hazardous spills to the environment. He states "One thing we did before we were first verified is move our fuel storage and give our fuel storage a secondary container. If we ever have a fuel spill now, the spill will be contained and the hazard is away from water ways." Verifications are updated every three years.
Nearly 2000 verifications have occurred in Michigan and this number continues to grow with Michigan agriculture's goal of 5000 verifications by the end of 2015. Farmers continue to strive for good quality food in Michigan and as more become MAEAP verified we have a measure of more farms striving to meet environmental standards. For more information on MAEAP please visit www.MAEAP.org or contact your local conservation district.