Michigan Good Food in Higher Education: Feeding Bodies and Minds
The first goal of the Michigan Good Food Charter - "Michigan institutions will source 20% of their food products from Michigan growers, producers and processors" - is gaining momentum in higher education.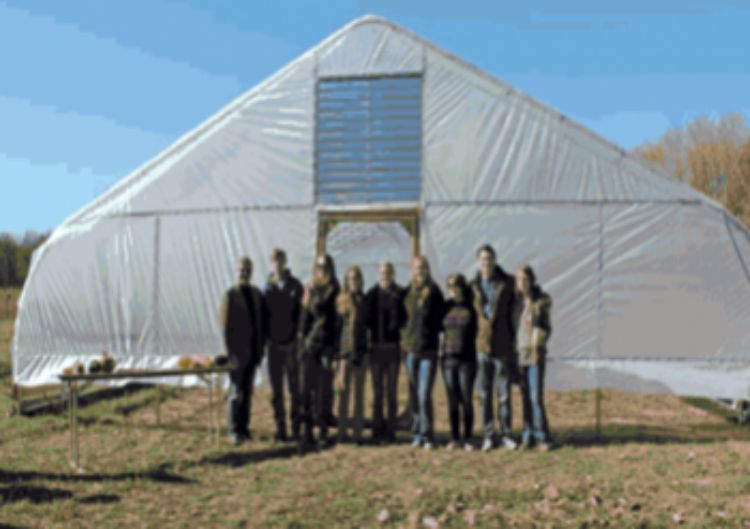 By Jude Barry, CRFS Food System Specialist
The first goal of the Michigan Good Food Charter – "Michigan institutions will source 20% of their food products from Michigan growers, producers and processors" – is gaining momentum in higher education. As students become more aware of the benefits of locally produced foods, the demand for regional food production is increasing and colleges and universities are responding by actively seeking to purchase from regional growers and suppliers. A number of Michigan's college campuses are challenging themselves to meet Good Food Charter goals. Many college campuses are also striving to become more environmentally conscious throughout their operations and integrating regional food into their programs in order to meet their goals of sustainability.
Albion College (Albion, MI) has partnered with Bon Appétit Management Company, to supply their campus food needs. Bon Appétit operates on a nationwide basis, but has an infrastructure that supports a very regional movement of food. Their farm to fork program, running since 1999, requires their chefs to procure 20% of the ingredients that they use from small farms within 150 miles of the college campus. David Lauffer, General Manager of Bon Appetit at Albion College observed "Michigan is agriculturally very blessed. As an agricultural leader the state is well positioned to develop our mission of sourcing locally produced foods." Produce grown on the student farm also makes its way to Albion College dining facilities, which helps them achieve their local sourcing goals. David Lauffer says "Students are becoming aware and interested in the processes behind what makes their food choices possible. Classroom education about how personal and societal choices impact our bodies, the environment, animal welfare, and overall community sustainability has found its way to the campus dining halls as well."
The USA Today reported (June 2013) that university students nationally have a growing awareness of local food sourcing. The Student Organic Farm at Michigan State University (East Lansing, MI) has contributed to that awareness through educating future organic producers in fundamental farming principles and innovative production, business and marketing skills in organic agriculture. The farm markets its produce through a year-round CSA, a farm stand that is situated on the MSU campus seven months of the year and institutional sales directly to the MSU dining facilities and food stores. Students not only can grow the food, but can also eat the food.
"Campus Grow" at Central Michigan University (Mount Pleasant, MI) is also approaching the understanding of locally produced food through hands-on "learning-through-growing." This student-run program has been expanding since 2008 and now rents out 60 plots of land to students, faculty, staff and community members. The program provides gardening tools, seeds and plants free of charge to participants of the program and, in return, students learn how to grow their own food, understand its value and share food back with their local community.
Wayne State University (Detroit, MI) has committed to collaboratively building sustainable food systems on the university campus and in Detroit's neighborhoods through their SEED Wayne program. The director of SEED Wayne, Kami Pothukuchi, says "Student leadership is both an essential goal and a crucial element of the program." Since its founding in 2008, the program has developed 3 additional campus gardens, a 4,000 square foot passive solar greenhouse at Earthworks Urban Farm on Detroit's Eastside, a healthy corner store project called Detroit FRESH, and a community nutrition initiative called Healthy Eats Project. The Wayne State Wednesday Farmers Market, another SEED Wayne program, runs June through October, supplying campus and midtown communities with a range of fresh and prepared foods.
Other Michigan campuses are actively procuring local food for their dining facilities. "Farms to K" is a local food group made up of Kalamazoo College students, faculty and staff, local farmers, the Sodexho food-service manager and the community advocacy group Fair Food Matters. The group works to increase the amount of locally-sourced food integrated in the Kalamazoo College cafeteria menu through building relationships between the college and local farmers.
Real Food Challenge (RFC) is a nationwide student organization campaigning to increase the purchase of real food on college and university campuses. They have set a national procurement goal of 20% "real" food by 2020. RFC defines "real food" as "food which truly nourishes producers, consumers, communities and the earth. It is a food system, from seed to plate, that fundamentally respects human dignity and health, animal welfare, social justice and environmental sustainability." Real Food Challenge supports a growing network of students by providing them with resources to grow the food movement on their own campuses.
A growing number of college campuses across Michigan have programs that not only enable students to have increased access to local and regional foods, but also provide our next generation of consumers with a deeper appreciation of the value of good, local food.