MSU alum combines business and horticulture to make a difference in the community
George Van Atta celebrates more than 40 years as owner of Van Atta's Greenhouse and Flower Shop in Haslett, Michigan.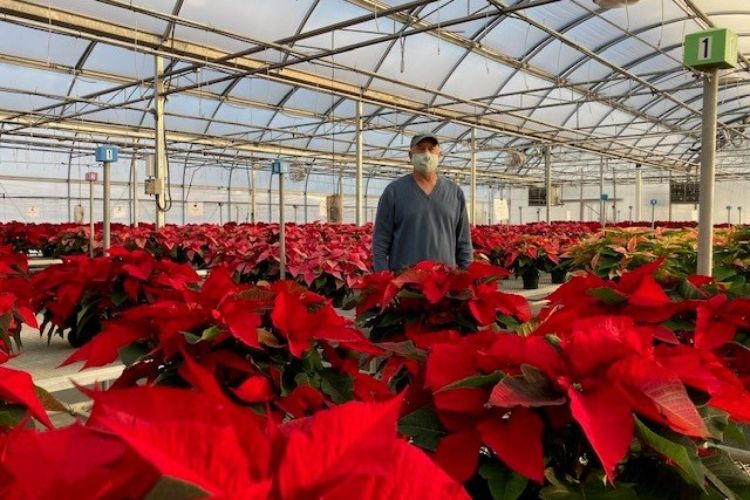 George Van Atta started Van Atta's Greenhouse and Flower Shop on a small budget in January 1980 in his hometown of Haslett, Michigan, near Michigan State University (MSU). He was 26 years old.
Van Atta didn't always want to study horticulture, though he was exposed to the field early in his life. His parents, Ted and June Van Atta, had a seasonal greenhouse business in the backyard that he helped with while growing up.
"Watching my parents run their business certainly planted the seed [for my business]," Van Atta said. "I remember working as a five or six-year-old helping mom and dad with transplanting, watering and selling plants. I've been doing this all my life."
While he enjoyed growing plants, Van Atta didn't always expect to make that his career. After graduating from high school, he took some classes at Central Michigan University and then transferred to Lansing Community College (LCC), where he earned his associate degree.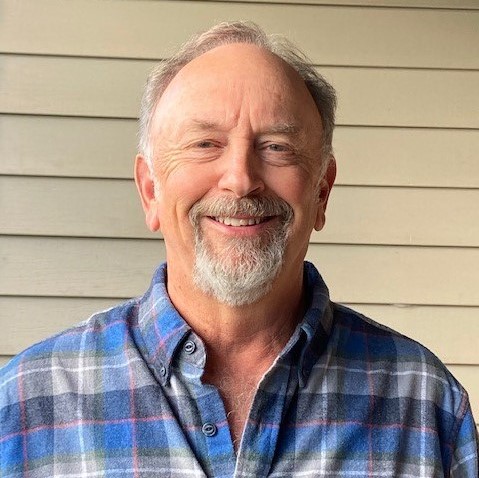 "I didn't know right away what I wanted to do. I think that's fairly common for a lot of people," Van Atta said. "I was always intrigued by the idea of having my own business. Doing your own thing resonated with me."
After LCC, he transferred to MSU to study fisheries and wildlife. Van Atta changed his major to social work and then to horticulture. The field of horticulture stuck, while he also pursued his business interests.
"I had almost as many business classes as I had horticulture classes," Van Atta said. "Along with my hands-on experience in my parents' greenhouse, my education at MSU really helped me set the foundation for what I was going to do in the future. To excel in your field, it helps to have a combination of experience, as well as the education."
To help other horticulture students gain experience, Van Atta generously provided $5,000 for the 2020-21 academic year to support an MSU Horticulture Teaching Greenhouse internship.
Van Atta first told fellow students that he dreamed of starting a business during an internship with Paul Ecke Ranch poinsettia farm in Encinitas, California. He graduated from MSU in 1978, eager to get started.
"It's interesting when you set those dreams, put the focus on it, and have a goal. Things can happen. I'm proof of it," he said. "That whole idea developed as I went along."
Keep learning, keep growing
Van Atta's first job after graduation was with Henry Mast Greenhouse in the Grand Rapids area. He also worked for Christians Greenhouse and Garden Center in Haslett, and during that time, he started building his own simple greenhouse and pole barn.
The idea was to have a one-stop place for plants, trees, shrubs, cut flowers and gardening supplies. In the beginning, it wasn't easy.
"I started the business on a shoestring budget. My parents put a second mortgage on their house to help me finance my first greenhouse. I owe my parents a lot of gratitude for all they did to help me get the business started," he said. "I don't think I would have made it without them."
Gradually, the business expanded by increasing greenhouse facilities and production, and adding more mechanization and equipment. Today Van Atta's Greenhouse and Flower Shop employs between 20-25 people during the winter and between 80-85 during the busy spring and summer seasons.
"Along with my hands-on experience in my parents' greenhouse, my education at MSU really helped me set the foundation for what I was going to do in the future." George Van Atta, owner of Van Atta's Greenhouse & Flower Shop
"We built this business on putting out a quality product with a great selection. We've kept doing that," Van Atta said.
About 17 years ago, Van Atta hired general manager Jason Innis to help manage the day-to-day work. He now also employs four other managers for different areas of the business.
"I walk into the greenhouse and marvel at the work my people do," he said. "I'm very blessed to have the staff that I have. They love what they do. They do a great job, and it shows in what we produce and the feedback we get from our customers. That's very important to me."
"Part of the evolution of the business has been me letting go and delegating. That's key to growing a bigger business because you can't do everything yourself," he said. "I can't tell you how many times I've heard from other business owners, 'Nobody can do it as good as I do it.' You have to give up that thinking process."
Ongoing community support
Van Atta's Greenhouse and Flower Shop had to temporarily close last spring for five weeks due to COVID-19 and state restrictions. The business opened again at the end of April with increased demand throughout the spring and summer.
"Because of COVID, we've actually done really well this year. Everything sold fast this year," Van Atta said. "I think people are looking for ways to spend their time when they are home. We're blessed to have a business that's a fun thing to do. It's a diversion that takes you away from some of the hard realities that are out there right now."
COVID-19 has also changed how Van Atta's Greenhouse and Flower Shop runs logistically to protect employees and customers. Additions included plastic shields around checkout areas, arrows on floors to help with traffic flow, hand sanitizer stations, and a mask requirement for all, both inside and outside.
"Most people were appreciative of these measures, but we did have a few who walked away," Van Atta said. "I know we did the right thing."
Remaining a fixture in the Lansing community has taken a lot of hard work, and Van Atta is starting to step back from the business into semi-retirement to enjoy the fruits of his labor.
"There is a commitment you make when you own a business. There are a lot of sacrifices," he said. "I have a lot of gratitude for where I'm at today and the success we've had, the community support we've had. Now I'm figuring out what I do with that success, and what my plans are in this next stage of life."