MSU Places Sixth in National Collegiate Landscape Competition
An MSU student team placed sixth at the National Association of Landscape Professional's National Collegiate Landscape Competition in North Carolina in March 2022.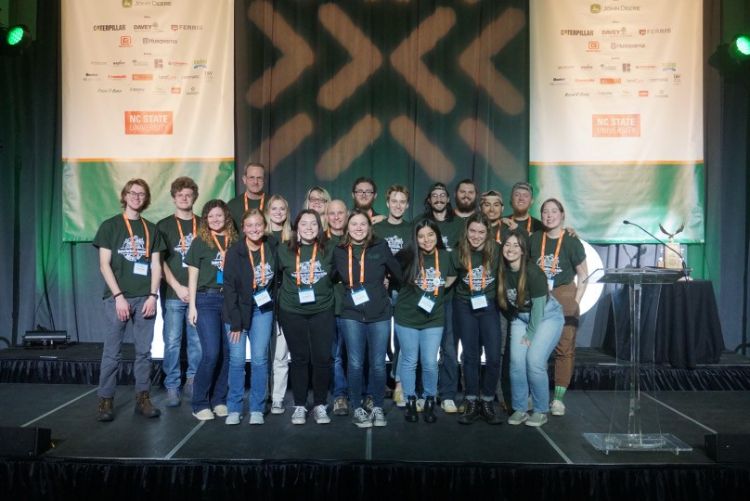 Michigan State University's Student Horticulture Association landscape team participated in the 46th Annual NALP (National Association of Landscape Professionals) National Collegiate Landscape Competition during March.
The event was hosted by North Carolina State University in Raleigh, NC. The four-day event consisted of educational workshops, a career fair, and 31 competitive events which have been termed the Landscape Olympics. Team members competed against 543 students representing 43 colleges and universities from across the United States. MSU once again made a strong showing finishing in sixth place.
MSU Team
The team was composed of students from the Department of Horticulture and the Institute of Agricultural Technology Landscape and Nursery Management Program. Team members included LilyRose Arriaga, Anna Baker, Emma Brinks, Chandler Deering, Daniel Dick, Chloe Grabb, Emma Grant, Ian Holcomb, Drew Jepson, Joy Johnson, Hannah Kyro, Thomas Langschied, McKenna Merkel, Michael Ozolins, Garret Tinney, Rachel Wood, Joey Vredevoogd, Jared Zehr and team coaches Marcus Duck and Brad Rowe.
Top 15 performances in individual events included:
Michael Ozolins, Plant Problem Diagnosis (2nd)
Emma Brinks, Business Management (3rd)
Team of Chandler Deering and Ian Holcomb, Safety First (4th)
Anna Baker, Irrigation Design (6th)
Team of Anna Baker and Emma Grant, Irrigation Troubleshooting (6th)
Team of Drew Jepson and Joey Vredevoogd, Truck and Trailer Operation (6th)
Joy Johnson, Business Management (7th)
Thomas Langschied, Computer Aided Landscape Design (7th)
McKenna Merkel, Sales Presentation (7th)
Hannah Kyro, Maintenance Cost Estimating (8th)
Joey Vredevoogd, Compact Track/Skidsteer Loader Operation (8th)
Thomas Langschied, 3D Exterior Landscape Design (9th)
Rachel Wood, Annual and Perennial ID (9th)
Jared Zehr, Construction Cost Estimating (9th)
Rachel Wood, Interior Plant ID (9th)
Ian Holcomb, Landscape Lighting (10th)
Ian Holcomb, Robotics Technology (10th)
Drew Jepson, Maintenance Cost Estimating (11th)
Joy Johnson, Turf and Weed ID (11th)
Garret Tinney, Exterior Landscape Design (11th)
Garret Tinney, Interior Landscape Design (11th)
Team of Thomas Langschied and Joey Vredevoogd, Hardscape Installation (11th)
Garret Tinney, Flower and Foliage ID (12th)
Team of Emma Brinks and Joy Johnson, Employee Development (12th)
Chloe Grabb, Woody Plant ID (13th)
Team of Daniel Dick and Drew Jepson, Landscape Maintenance Operations (14th)
Joey Vredevoogd, Mini Track Loader Operation (15th)
Jared Zehr, Tractor Loader Backhoe Operation (15th)
Top scorers for MSU were Joey Vredevoogd (389), Drew Jepson (329), Daniel Dick (302), Jared Zehr (288), Garret Tinney (232), Thomas Langshied (203), Joy Johnson (191), Emma Brinks (190), and Anna Baker (186). Among the 543 students competing, Joey placed fifth for the most total points scored by an individual.
Support
Team members worked diligently all year raising money to finance the trip through Student Horticulture Association activities such as their Spring Show. They would also like to acknowledge industry donations of nearly $13,000 from the following companies (received as of March 22):
Barker Creek Nursery, Williamsburg, MI
Bartlett Tree Expert Co, Northbrook, IL
Davey Tree Expert Co, Kent, OH
DJ's Landscape Management, Grand Rapids, MI
Drost Landscape, Petoskey, MI
Greenline, Inc. Landscape and Garden Center, Hudsonville, MI
Grunder Landscaping, Dayton, OH
Guardian Tree Experts, Ann Arbor, MI
Jonker's Garden, Holland, MI
Landscape Design Services, Holland, MI
Luke Landscape Company, Haslett, MI
Rivertown Landscapes, Rockford, MI
Vredevoogd Heating and Cooling, Grandville, MI
Witte Lawn Maintenance, Wyoming, MI
Future Competitions
Next year's competition will be hosted by Mississippi State University.