MSU Extension creates online programs and resources to reach Michiganders in their homes
When Michigan's "Stay Home, Stay Safe" executive order went into place in March, 2020, the 100+ year old organization Michigan State University Extension had to quickly re-envision the way it performed its mission.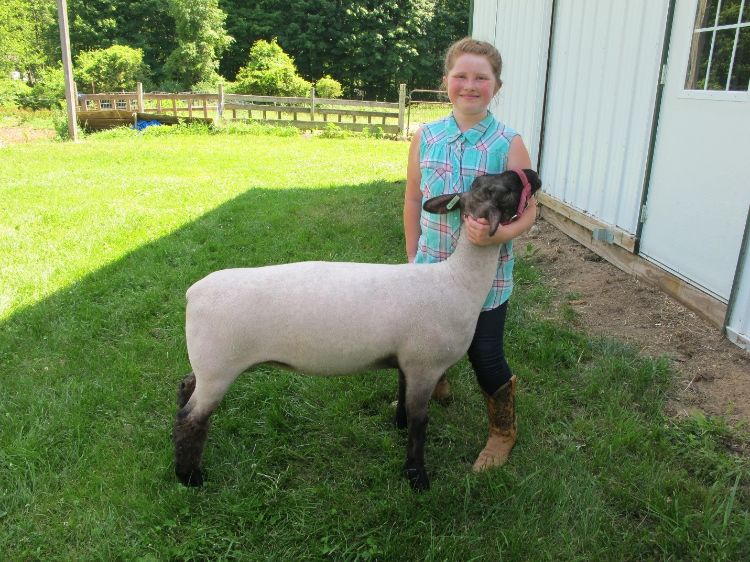 Sydney Graftema, a 10 year-old Michigan 4-H'er from Ottawa County, was one such recipient of MSU Extension's online programming, participating in an Ottawa County virtual showcase.
"One thing I learned was how to treat a medical problem with a lamb. I also learned that with feeder cows, they need to be walked to make good muscle," said Graftema.
Like many Michigan 4-H'ers across the state, Graftema looks forward to her summer fair experiences in order to showcase what she's learned through their projects. But because of the novel coronavirus pandemic, fairs across the state have been canceled to keep families safe. MSU Extension and Michigan 4-H, the signature youth development program of MSU Extension, partnered with counties statewide to find a creative alternative for youth.
"We contracted FairEntry to provide an online fair experience that allows youth to showcase the skills they learned through 4-H, receive feedback and accolades, and in some cases, still auction their market animal projects," said Jacob DeDecker, State Leader of Michigan 4-H Youth Development.
Local MSU Extension 4-H staff members were able to work with their respective county fairs to provide the virtual experience for youth.
"The Ottawa County 4-H Virtual Showcase was truly a partnership between 4-H volunteers, the Berlin Fair Board and the MSU Extension Ottawa County 4-H staff," said Melissa Haug, MSU Extension 4-H program coordinator in Ottawa County. "Without the dedication of multiple individuals, this project could not have been successful. 4-H volunteers dedicated numerous hours helping to build the virtual platform and getting it ready for 4-H youth."
"I am a nurse who has been working crazy hours and my kids having something to work towards has been a blessing. I feel this was the true spirit of 4-H." Stephanie Nelson, 4-H parent
For the 4-H virtual showcase and auctions, youth had the opportunity to upload videos or photos of their projects for an evaluation by judges.
"This year, I showed a pen of lambs and a feeder cow," said Graftema, who won Grand Champion for the beef feeder calf and was the Reserve Champion junior sheep showman as part of the virtual auction.
Graftema was grateful for the opportunity to participate in 4-H, and looked on the bright side of being home.
"This year, having more time to spend with my animals, they were better trained and I enjoyed my time more," she said.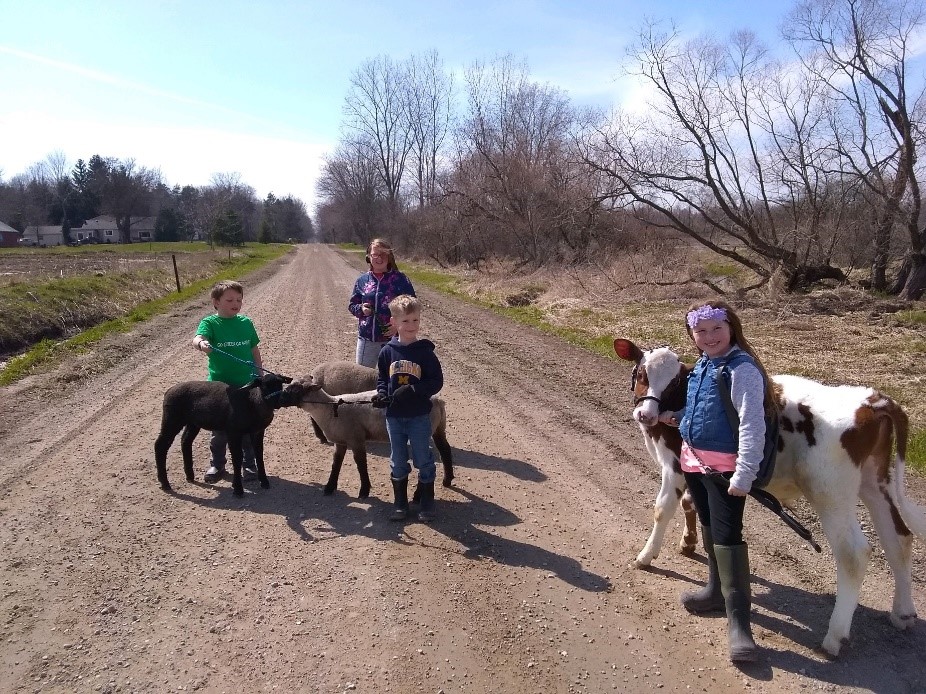 Online for Michigan: Making remote learning accessible 24/7
County fair experiences were just one of the experiences that MSU Extension staff and volunteers worked to transition to virtual this year. Since the governor's "Stay Home, Stay Safe" order in March, MSU Extension has mobilized to provide Michigan residents, and many across the country, with a suite of virtual programs, resources and services.
Within six days of the governor's executive order to stay home, MSU Extension launched its Remote Learning and Resources (RLR), where Michiganders could access all of Extension's virtual offerings. MSU Extension staff worked around the clock to create at-home learning resources for Michigan students at home. They developed a section of the website, Educational Resources for School Closures, with activities for youth at home covering STEM, health and nutrition and more. Families could also access health and stress management programs, financial management programs, and COVID-19-related food safety information.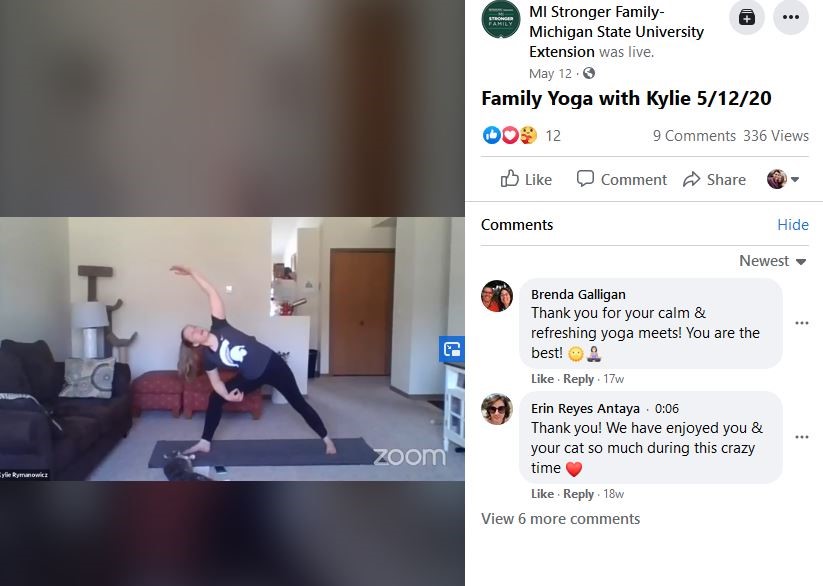 At the same time, MSU Extension youth development staff began working on programs to engage youth while they were at home.
For example, in April and May, MSU Extension staff members launched a virtual series called Adulting 101. The program helped to prepare youth for adulthood through topics such as renting, cooking, finances and household chores.
MSU Extension educator Michelle Neff was pleased that the class went viral, bringing together over 3,000 participants.
"Adulting 101 is important because the knowledge and skills learned during these classes help young people because successful adults," Neff said. "The amount of parents and teachers that appreciated the offering and having this opportunity was very powerful. It is very much needed in our society and I was glad to be able to help meet that need."
Within two months, the RLR site received over 34,000 views. From March 24 to July 14, the MSU Extension website received 5.2 million visitors, an increase of 73% from the same time the year before.
With youth safe at home, Michigan 4-H, the signature youth development program of MSU Extension, had to evolve to engage youth in non-traditional ways, putting together online camps and other virtual experiences.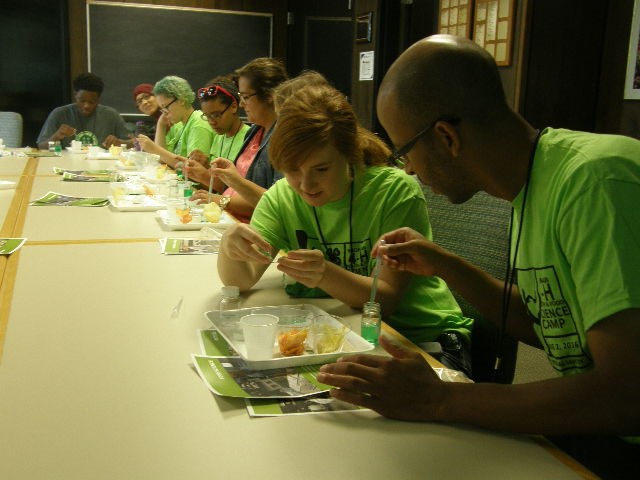 Traditional in-person 4-H camps moved to virtual experiences modeled after the camps to keep youth safe during the pandemic. For example, MSU Tollgate put together weekly themed camp pages on their Experience Tollgate website filled with videos, excursion ideas, and easy to do activities to keep at-home campers busy, learning and exploring. In other parts of the state, MSU Extension staff members put together kits to help youth continue their summer learning.
"We put together summer kits for Whittemore-Prescott Elementary students to complete and post on the school's Facebook page," said Karen Collins, MSU Extension program instructor based in Iosco County. "We have a very low number of students that have internet service in our rural area, therefore the kits will allow them to complete fun and educational projects throughout summer and stay engaged in learning and being a part of our Cardinal Kids Club!"
Combating COVID blues with dreams of garden greens
One of the most popular series was Cabin Fever Conversations, 11 webinars for home gardeners, which had more than 500 participants for each session.
"It was also great to have it at a time when people were spending more time thinking about their gardens, being mindful in the garden, or just starting to get into gardening," said MSU Extension educator Isabel Branstrom. "I have seen things that we discussed play out in the garden all summer, and I hope others have too."
Each session was lighthearted covering topics such as houseplants, container gardening, pollinators and seeds.
Branstrom teamed up with fellow MSU Extension educator Abigail Harper to host the sessions featuring MSU researchers, Extension colleagues and external partners as guests.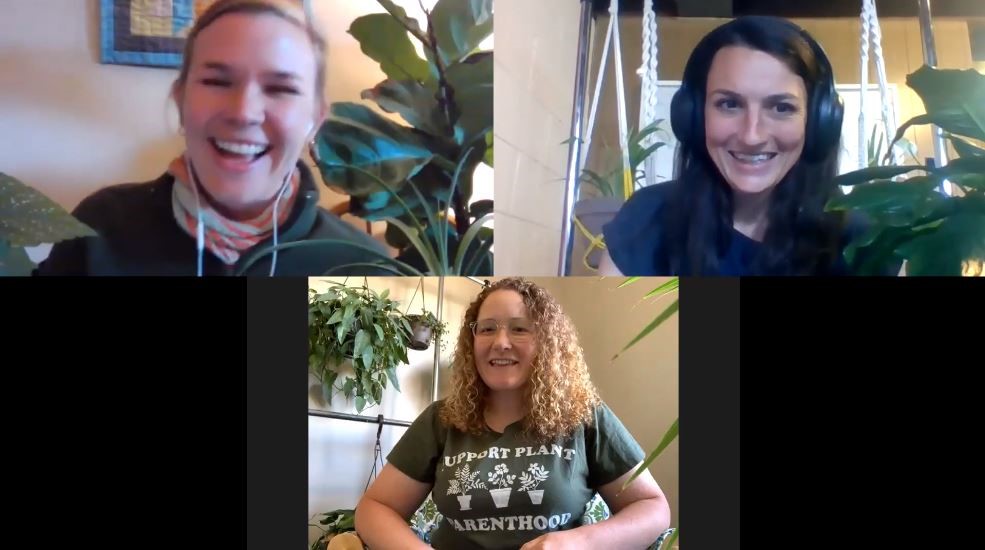 "We heard from so many attendees about the importance this series played in providing levity during the early days of Coronavirus, when people's routines were turned upside down and there was a lot of anxiety and fear. I think it helped provide a break from the 'new normal' and provide a space to connect even while being remote, while also exposing folks to the variety of work MSU Extension does in the process," Harper said.
"I so wish I could fully convey the delight and gratitude, the pure uplift from you – and your guests, everyone so generously and fascinatingly sharing knowledge. You really did make life so good for those special hours every Friday – sharing so freely at this difficult time for the world. Thank you, Abby and Isabel, and your tech gurus and guests. What phenomenal givers of good, green bounty (plus the bugs, butterflies, and soil!) and ambassadors for MSU." Cabin Fever Conversations Participant
Cabin fever to canning fever – safely
In addition to helping them plan for their summer gardens, MSU Extension staff members helped Michiganders safely prepare and preserve their garden harvest.
"We are seeing an increase in calls to our Food Safety Hotline -- people are preserving more this summer than we have seen in many years," said Lisa Treiber, an MSU Extension educator who focuses on food safety education.
Before the pandemic, the team traditionally held in-class food preservation courses such as canning, because of the opportunity to do hands-on demonstrations.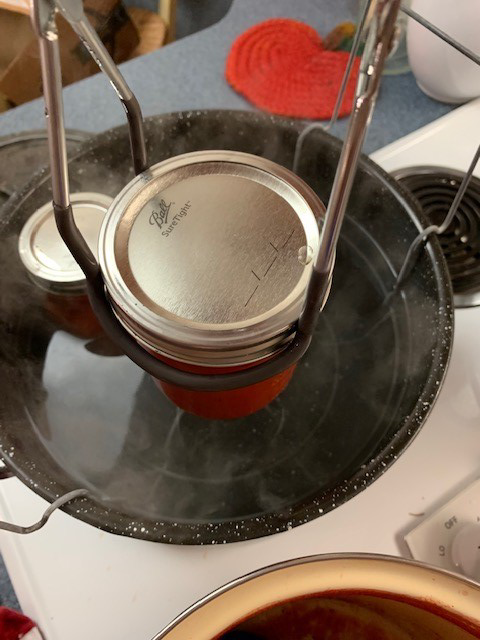 With more people growing, cooking and preserving their food as they were staying home, the team turned their programs into virtual offerings.
"If people have never preserved before and are unsure of which preserving method to use, it's important they can attend one of our online classes to learn more and ask questions," said Laura Messing, another MSU Extension educator focused on food safety. "Following the simple concepts of chill, cook, cool and clean sound basic, but can prevent foodborne illness."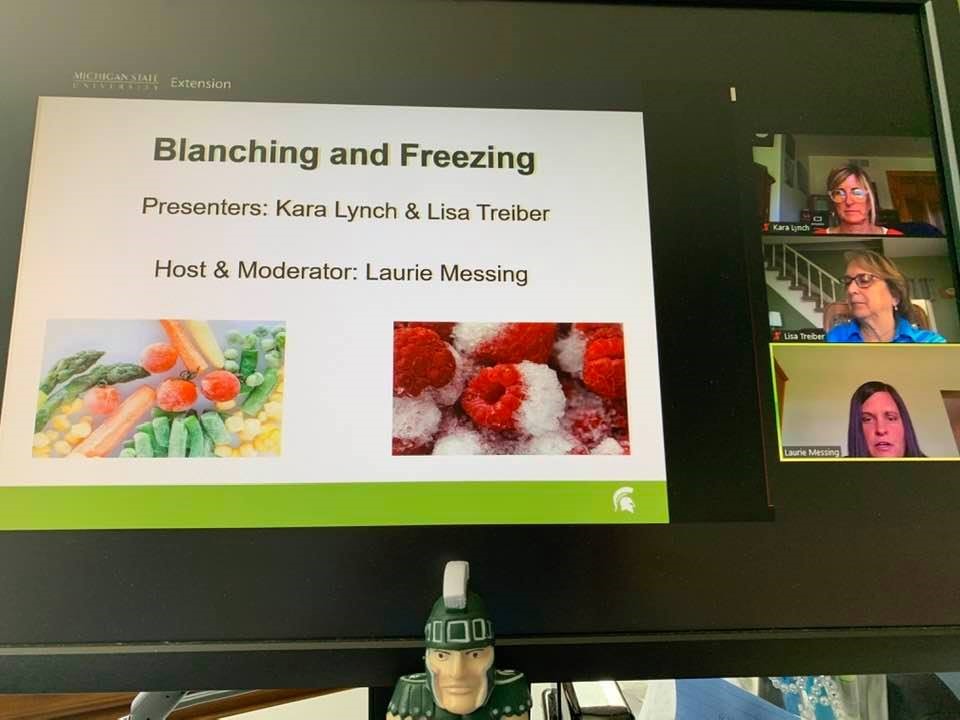 "Washing hands, working in a clean workspace, keeping food hot or cold, are fundamental practices we teach to consumers" Treiber said. "Taking it a step deeper with food preservation, we encourage participants to follow research-tested recipes, stick to prescribed process times, and work with fresh quality produce to ensure a safe product when they consume it months later."
We hope people will walk away from any of our food safety programs with an understanding of the importance of taking food safety seriously." Lisa Treiber, MSU Extension educator
Protecting essential works and a safe food supply
MSU Extension, tightly knit to the Michigan agricultural community, also evolved to help farmers respond to the disruptions to supply chains, limited employee availability and increased human biosecurity needs due to the pandemic. The Rapid Response for Agriculture microsite provides a single point for farmers to access resources to help them manage operations and keep staff safe while still meeting consumer demands for fresh, safe food. MSU Extension educators have continued to meeti with farmers virtually throughout the growing season, and recorded their educational sessions so that farmers can connect at a time that works best for them. MSU Extension educators have also offered stress management programs virtually and are piloting a teletherapy link program for farmers to help them care for their mental health.
MSU Extension also relied on partnerships in order to support employees, employers, businesses and the agriculture industry adapt to COVID-19 workplace safety requirements.
"Early conversations we had with farmers revealed that they and other agricultural business owners felt exasperated and overwhelmed by the scope of what needed to happen as well as the time frame set forth by the executive orders," said Jeremy Jubenville, MSU Extension floriculture educator. "The situation caused by the pandemic sent the agricultural community searching for ways to protect their work force and their customers."
Melissa Millerick May, assistant professor of medicine from the MSU Department of Human Health with an Extension appointment teamed up with her MSU Extension colleagues, including Jubenville, to help to develop the COVID-19 Hazard Assessment and Mitigation Program (CHAMP). This tool helps users design a pandemic preparedness plan tailored to their specific farm operation or business.
"Farmers recognized their obligations but weren't sure how to meet them," Millerick May said. "We designed the tool to support the 'how to', as well as to provide quick and straightforward approach to conducting a hazard assessment, frequently asked questions and the determination of appropriate and effective mitigation strategies tailored to business operations, with enough flexibility for cross-commodity application."
The plan identifies daily tasks, the risks associated, and helps to develop the mitigation practices the business or operation will need to reduce the risk of disease transmission.
"In short, the CHAMP tool helps farmers protect themselves, their workers, their customers, and their communities." Melissa Millerick May, associate professor, MSU Department of Human Health
Supporting communities during a pandemic
MSU Extension also brought together essential information for local Michigan governments to help them adapt to function in a virtual environment.
"Local governments play a crucial role in responding to the outbreak of novel coronavirus, providing essential information to residents, and ensuring the health and safety of their resources," Eric Walcott said. He is the state specialist with MSU Extension's Government and Public Policy programs. He worked with faculty on campus and educators throughout the state to put together educational resources.
"Local governments also face the challenge of figuring out how to continue to function during this time," he said. "We wanted to pull together useful resources that we had published as well as helpful information we came across and make it easy for local governments to access it."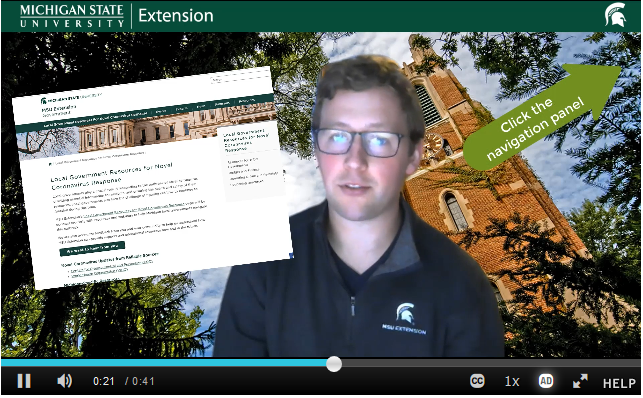 MSU Extension educators created a variety of resources ranging from budgeting and finance to creating plans for safely reopening.
"Our hope is that these resources support leaders across the state in making informed decisions as they work to respond to the ongoing challenges brought on by the COVID-19 pandemic," Walcott said.
As the outreach arm of the university, MSU Extension has long offered a diverse suite of programs and services in youth development, agriculture, health and community development and natural resources. , many historically offered in-person. But while the COVID-19 pandemic has forever changed their way of doing business, it hasn't changed their commitment to serving Michigan residents.
"For over 100 years, MSU Extension has adapted to the needs of Michigan residents," Jeff Dwyer, MSU Extension director said. "In fact, in the beginning of Extension, agents would provide educational demonstrations for people in their homes. Of course, as we sought to reach more people, we began offering educational programs in community spaces. But now, we've come full circle – we're back to providing people educational programs in their homes, but virtually, while connecting them to a statewide community."
To view more virtual programs and resources, visit MSU Extension's Remote Learning and Resources webpage.
This article was published in In the Field, a yearly magazine produced by the College of Agriculture and Natural Resources at Michigan State University. To view past issues of In the Field, visit www.canr.msu.edu/inthefield. For more information, email Holly Whetstone, editor, at whetst11@msu.edu or call 517-355-0123.