Workforce education and training opportunities in Michigan's local and regional food system
DOWNLOAD
May 21, 2020 - Author: Judith Barry, Jeannine La Prad, Anna Hughes, Mary Freeman, Kaitlin Wojciak, Rachel Bair, Rich Pirog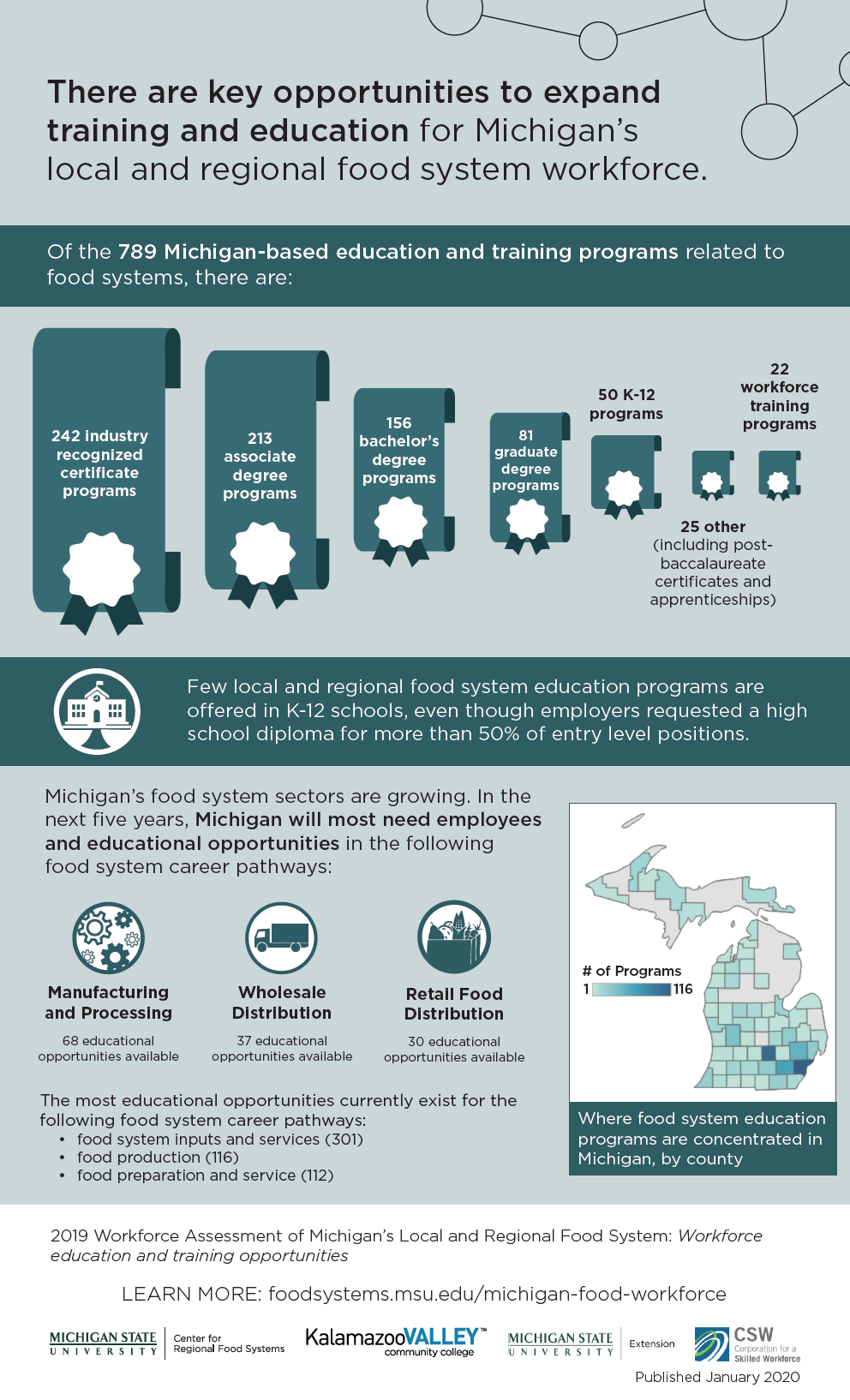 Michigan's local and regional food system development work is designed to improve lives and provide equitable outcomes for all.
Availability of quality jobs is critical to improving Michigan communities and the economy. Over 1 million (29%) of Michigan's households work to make a living but still have insufficient income to make ends meet.
Alongside the need for quality jobs is the need to have communities trained and qualified to fill those jobs.
This research reviewed available jobs and training opportunities in Michigan's local and regional food system. We identified potential training gaps and sought to better understand how people are employed in local and regional food system and what their training and educational opportunities are.
There were four key observations in this education and training scan:
There are gaps, and thus opportunities, at the secondary education level to improve education and training for the workforce. We observed a notable gap in local and regional food system education opportunities at the K-12 level, given that the labor market data and employer feedback suggest that many local and regional food system jobs hire people with a high school diploma or vocational training (55%) and no more than two years of experience (44%).
There are gaps, and thus opportunities for training, in wholesale food distribution, supply chain logistics, inventory management, storage, and food processing and manufacturing.
Not all trainings offered had a specific focus on local and regional food systems in food system curriculum. Trainings such as culinary, agri-science, retail sales, and equipment maintenance were less likely to contain education with a specific local and regional food focus but were documented due to the transferability of skills. Further curriculum review would be valuable to more accurately assess the local and regional focus of the programs.
There appear to be gaps in geographical coverage of training opportunities across Michigan. Our analysis showed very limited youth programming and education opportunities in the Upper Peninsula of Michigan. In general, the northeast and central/east portion of Michigan's Lower Peninsula appear to lack opportunities in food systems education and training. The more highly populated areas in Michigan are home to a higher density of education and training programs.
Download the report to read more detailed findings and recommendations!
---
Watch past webinars in this series:
Access the directory of food system workforce education and training opportunities in Michigan:
Infographic citation
Mensch, L., Barry, J., Wojciak, K., Bair, R., La Prad, J., Pirog, R., & Weiss, A. (2020). There are key opportunities to expand training and education for Michigan's local and regional food system workforce [Infographic]. Michigan State University Center for Regional Food Systems. https://www.canr.msu.edu/resources/2019-workforce-assessment-education-scan