A scan of jobs in Michigan's food systems: employment, wages, the future, and more
DOWNLOAD
January 24, 2020 - Author: Judith Barry, Rich Pirog, Jeannine La Prad, Anna Hughes, Mary Freeman, Kaitlin Wojciak, Rachel Bair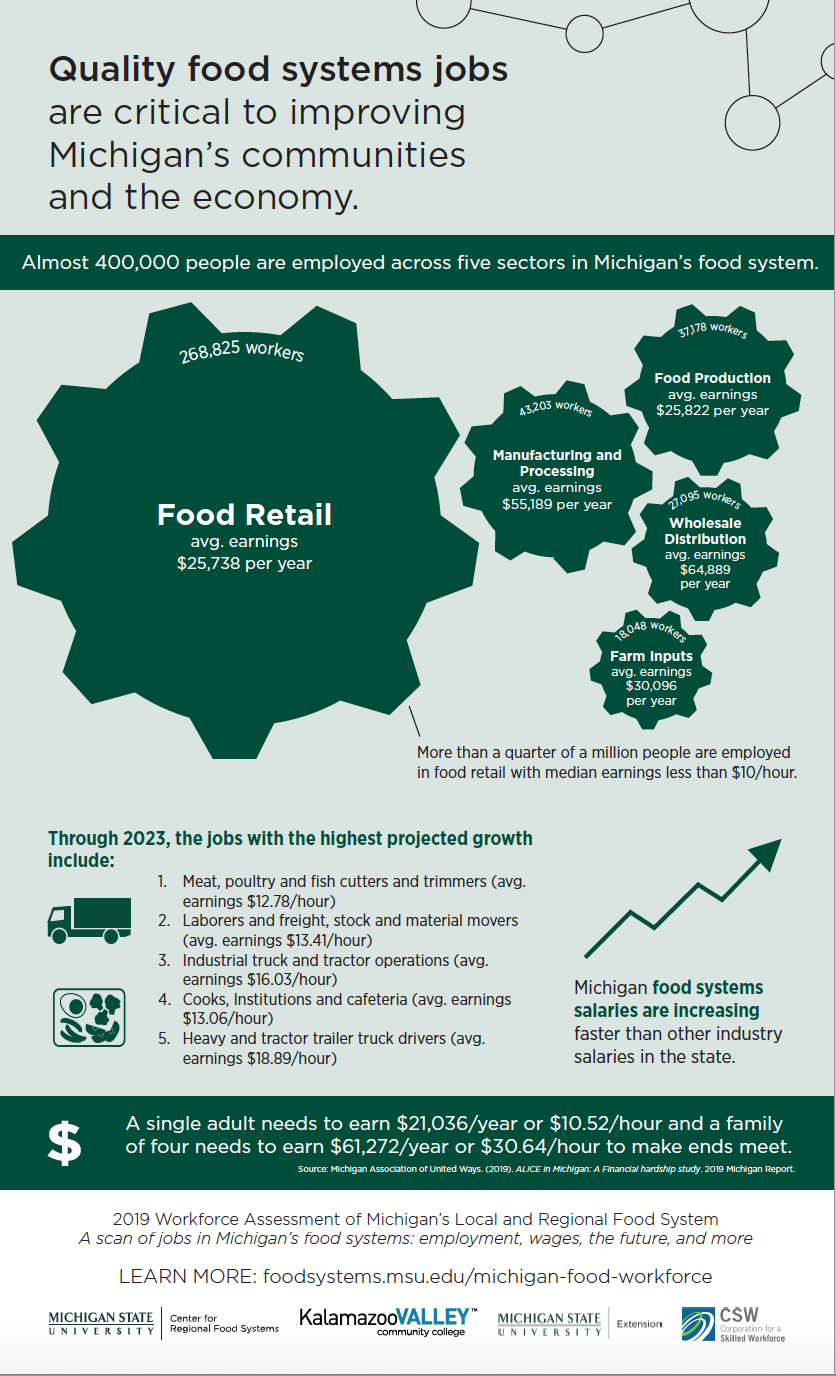 Michigan's local and regional food system development work is designed to improve lives and provide equitable outcomes for all.
Availability of quality jobs is critical to improving Michigan communities and the economy. Over 1 million (29%) of Michigan's households work to make a living but still have insufficient income to make ends meet.
Over 400,000 people are employed in Michigan's food system. Michigan food system wages, overall, have been rising at a higher average annual rate than other industries in the state.
There is limited information on the types of jobs and earnings in the local and regional food system. This food systems job scan provides a better understanding of the labor market and enables us to see the types of jobs in different sectors, what the earnings for those jobs are, where there is projected growth in employment, and where there is unfilled demand.
The data shown is not necessarily exclusive to local and regional food systems. This is due to the limitations of this project and the inability to disaggregate data available from broader food systems data. Still, these findings provide a basis for understanding the types of jobs that exist both in broader food systems and in local and regional food systems, including wage data, skills required, and growth opportunities within the workforce.
The goal of this analysis was to better understand:
the local and regional food system job categories that represent the most significant areas of employment within the food system,
the wage data associated with those jobs,
the skills that are required to fulfill those jobs, and
growth projections in specific fields of employment.
This job scan analyzed the following core industries within local and regional food systems:
food production,
farm inputs,
wholesale distribution,
manufacturing and processing, and
food retail.
Allied industries were also included in the data analysis.
Occupations span multiple industry categories. This shows that there is opportunity to follow career pathways and for employees to move between sectors within the food system. This also means that there are education opportunities to train across sectors for careers in the food system. For example, there is a high demand for heavy and tractor-trailer truck drivers in several sectors: food production, manufacturing, and processing and wholesale distribution.
Our findings show that food retail represents the largest proportion (79%) of food systems jobs in the state of Michigan. However, due to challenges in disaggregating the local and regional food systems data from the broader food systems data, food retail may not be proportionally as high in local and regional food systems.
Results showed that the food retail sector employed the most individuals by far in Michigan's food system (Table 1), but the average earnings were the lowest ($25,738 per year). Within food retail, the median wage of the majority of key occupations fell below the minimum livable salary identified in Michigan's ALICE (Asset Limited, Income Constrained Employed) report. According to the ALICE report, earnings need to be a minimum of $10.52/hour for a single person to make ends meet. The majority of people work within the retail sector, but large numbers (235,533 people) are paid below $10/hour.
The highest average earnings were in the wholesale distribution sector ($64,889 per year) and food manufacturing and processing sector ($55,189 per year).
The level of education required by employers tends to vary depending on the job role. Many jobs in all sectors of the food system require no higher than a high school diploma for entry-level positions. However, on-the-job training is required for all entry-level jobs in all sectors. Jobs in the food manufacturing and processing sector require the most on-the-job training.
---
Watch past webinars in this series:
Infographic citation
Mensch, L., Barry, J., Wojciak, K., Bair, R., La Prad, J., Pirog, R., & Weiss, A. (2020). Quality food systems jobs are critical to improving Michigan's food system and the economy [Infographic]. Michigan State University Center for Regional Food Systems. https://www.canr.msu.edu/resources/2019-workforce-assessment-job-scan