Developing Michigan's local and regional workforce: challenges and opportunities identified by surveying business owners
DOWNLOAD
January 31, 2020 - Author: Judith Barry, Rich Pirog, Jeannine La Prad, Anna Hughes, Mary Freeman, Kaitlin Wojciak, Rachel Bair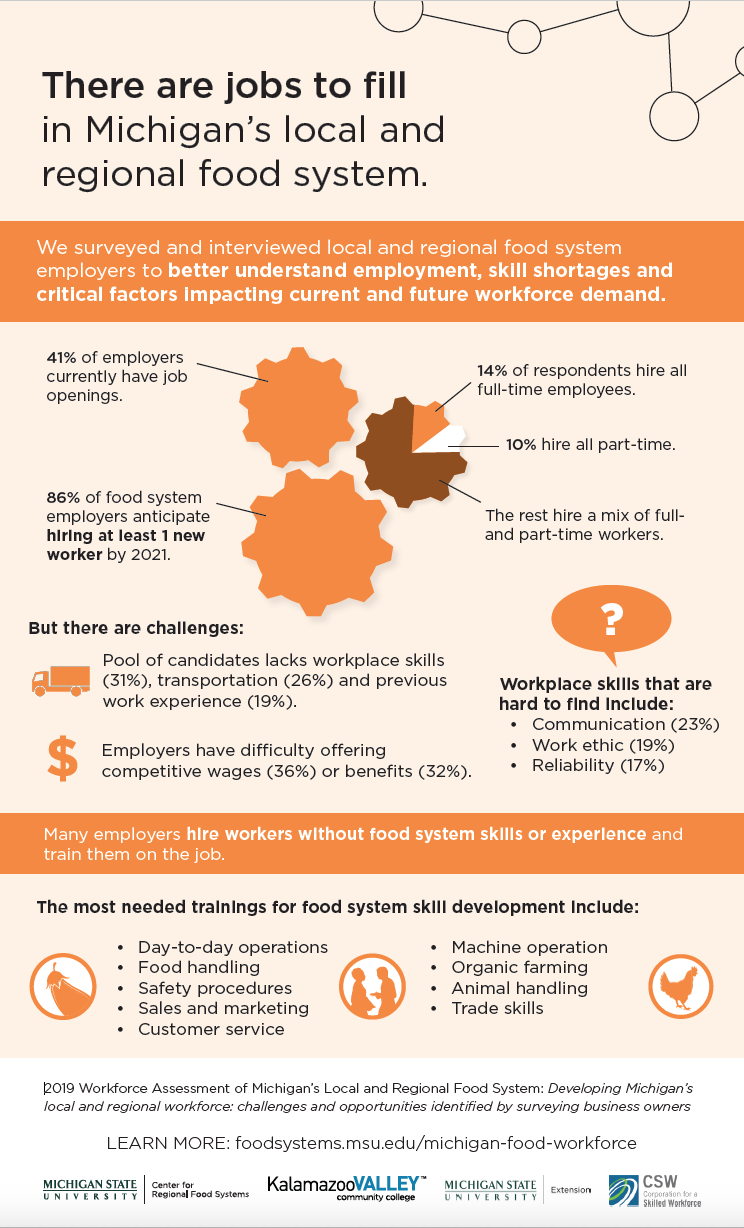 Michigan's local and regional food system development work is designed to improve lives and provide equitable outcomes for all.
Over 400,000 people are employed in Michigan's food system. Employers have many challenges and opportunities when it comes to hiring skilled workers and retaining them.
The project research for this section of the workforce assessment included an employer's perspective of Michigan's local and regional food system workforce. This involved:
Surveying employers to better understand employment, skill shortages and critical factors related to current and future workforce demand.

A 31-question survey was sent in the spring of 2019 to approximately 2,046 individuals and organizations.
The goal was to target employers of businesses or organizations operating within the regional food system.
We received 143 responses (response rate: 7%).

Interviewing local and regional food system stakeholders to complement the survey data and better understand the current and future mix of jobs, potential career pathways, and availability of and gaps in education and training needs.
There was a wide variety of types of organizations that responded to the survey. Food production, food retail, and nonprofit organizations were most commonly represented.
Most organizations had a mix of full- and part-time workers. Only 14% of respondents had exclusively full-time employees and 10% had only part-time staff. When looking at seasonal versus year-round employment, most respondents said their businesses employed four or fewer seasonal employees.
Despite respondents with job openings (41.2%; n = 135) citing that many of their openings are due to replacement of individuals, respondents stated that overall they considered high turnover in their staff relatively uncommon. Over the next one to three years, 86% of respondents expect to hire at least one new worker. Currently, openings span a broad spectrum of food systems jobs. Entry- or lower-level roles in food service or food retail were the most common, as were crop production and farming roles.
Employers face a number of challenges when hiring qualified workers. Their biggest challenge is the inability to provide competitive wages or offer benefits (36% and 32% of respondents, respectively; n = 101). A tight labor market was also a reason given for a lack of qualified candidates for a given job, or for losing candidates to other employers offering better wages and benefits. This tight labor market trend was particularly noted in interviews with food retail and food service employers. Employers mentioned that competition largely came from national businesses that could offer higher wages for what employees perceived to be less stressful work.
When referring to their pool of potential job applicants, employer respondents said they see a lack of workplace skills (31%), transportation issues (26%), and a lack of previous work experience (19%) among these individuals, making it difficult to hire or retain staff. Of the workplace skills, job readiness skills such as communication (23%), work ethic (19%), and reliability (17%) were in particularly high demand from employers (n = 78). Facing a deficit in these desired skills, more than half of respondents (52%) said they hire otherwise strong candidates and train them on-the-job. Others (22%) opt to forego hiring until they can find a qualified candidate.
The employers were asked to describe what they would need in order to hire additional workers. Their responses coalesced around six common themes:
Access to capital/resources
Increased revenue/sales
Planned expansion
Public policy
Industry/market growth
Commodity pricing
Interviewees also emphasized other considerations that could impact future hiring, including:
Equity and inclusion
Technology
Climate change
Survey respondents' areas of greatest training needs for common food system skills include:
Customer relations/customer service for warehouses, storage and distribution, and retail and food service businesses
Day-to-day operations, food handling, safety procedures, and sales and marketing across all business sectors. Sales and marketing training were especially needed in food processing.
Machine operation, organic farming, safety procedures, animal handling, and trade skills training for food production business operations.
Employers suggest there will be significant hiring opportunities over the next three years in local and regional food systems, which could be strengthened by business support and assistance (such as access to capital, public policy, marketing, and sales) and workforce training in specific skill sets and experiential opportunities.
Download the report to read more detailed findings!
---
Watch past webinars in this series:
Infographic citation
Mensch, L., Barry, J., Wojciak, K., Bair, R., La Prad, J., Pirog, R., & Weiss, A. (2020). There are jobs to fill in Michigan's local and regional food system [Infographic]. Michigan State University Center for Regional Food Systems. https://foodsystems.msu.edu/resources/2019-workforce-assessment-employer-survey