The Demonstration Gardens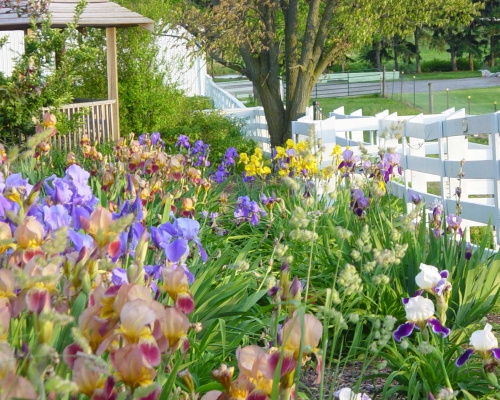 The Demonstration Garden area is a combined effort between MSU and local landscape businesses. The area is designed to include educational programming opportunities for homeowners and professionals. The Americana Foundation, English Gardens, Castle Landscape, Telly's Greenhouse, Detroit Concrete Products, and John Deere Landscapes have all contributed greatly to these beds.
The garden includes landscape elements such as a gazebo, brick patio, wooden bridge, and a grape vine pergola. There are collections of ground covers, grasses, arborvitae, spirea, and lilacs as well as a stunning collection of shade tolerant perennials. And so much more to see packed around a parking lot!

Starting at the driveway and proceeding clockwise around the beds, many interesting plants are presented. South of the gazebo are red and yellow twig dogwoods, variegated red twig dogwood, bald cypress, and larch. Past the gazebo is the crab apple and hawthorn collection on the left and dwarf conifer and ornamental grass collections on the right. The pergola stands in the northwest corner of the garden area. A separate variety of grape is being trained to each leg of the pergola. A small rhododendron collection, a callery pear, assorted perennials, an amur maple, and a paper bark maple are also in this area. A little further is a catalpa. Blood grass and Houttuynia act as ground cover in this area. Travelling east we arrive at the spirea and arborvitae collections. On the east side of the parking area are the lilac and dogwood tree collections. On the south side is a shade garden that boasts a variety of shade perennials.
For more information about this garden, check out this video produced by Katie McMaster:
Demo Native Plant Garden Brochure