2017 American Floral Endowment Awards
The American Floral Endowment has awarded two MSU horticulture students scholarships, each receiving $2,200 and $3,200 respectively.
July 27, 2017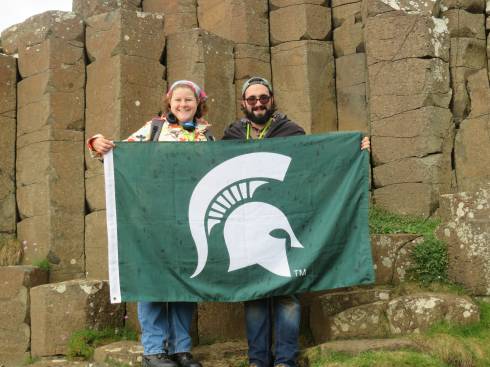 Award Winners
Melissa Eggleston, a junior majoring in horticulture and minoring in agribusiness management at MSU, received the Ball Horticultural Company Scholarship and the Edward Tuinier Memorial Scholarship totaling $1,000 and $2,200, respectively. Eggleston has a goal to become a greenhouse grower at Shenandoah Growers and grow herbs for a living. "My goal with Shenandoah Growers is to hopefully be asked back after my internship, and potentially have a job as a grower when I graduate," she said.
Anthony Soster, a junior majoring in horticultural science and focusing on floriculture/bedding crops at MSU, also received the Edward Tuinier Memorial Scholarship totaling $2,200. "I hope to further the field of floriculture through lifelong learning and education. I want to get people as excited about horticulture as I am, and show people that working hard and getting your hands dirty can be one of the most gratifying ways to work," said Soster.
About the Scholarships
Ball Horticultural Company is a leading international breeder, producer and wholesale distributor of floriculture products. Ball brings the beginnings of color, foliage, fruit and form to professional growers around the world for the retail and landscape markets. The Ball Horticultural Company Scholarship is intended for junior or senior students pursuing a career in commercial floriculture.
Owner of Post Gardens Ed Tuinier loved the greenhouse business, building his firm to one of the top 50 U.S. companies and inspiring his children, all of whom work in one of the two Post Gardens locations. A graduate of MSU, Tuinier was a major benefactor of the MSU horticulture program and demonstration gardens. The Tuinier Scholarship is awarded to sophomore, junior or senior undergraduate students enrolled in the floriculture program at MSU.