Student Profile: Q&A with Beth Copeland
Q&A with Beth Copeland, Landscape and Nursery Management, Freshman Internship Location: Gee Farms
July 15, 2016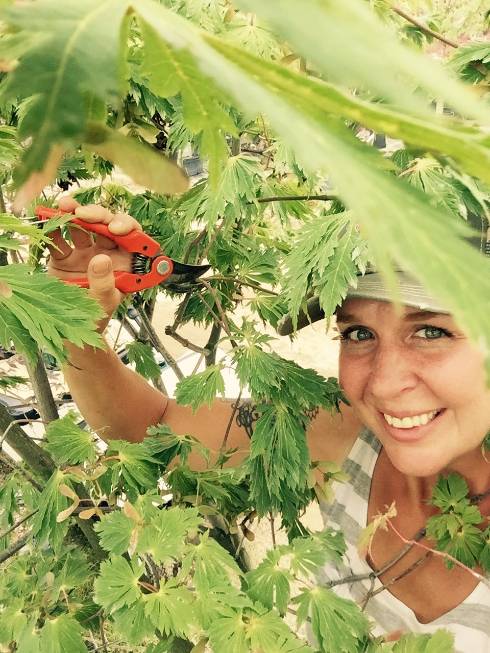 Q&A with Beth Copeland
Landscape and Nursery Management, Freshman
Internship Location: Gee Farms
Q: How did you choose your internship?
A: I chose Gee Farms because I felt completely comfortable.
My boss, Kary Gee, expected nothing from me. That's right, she said she expected me to know nothing, and that I would learn more from my internship at Gee Farms and her family than I would probably learn anywhere else.
Q: Summarize what you are doing this summer at your internship.
A: I first learned the sales side of the business. We take our customers out and around the 80-acre nursery on golf carts and show them the farm. I also tend to the plants, of course: watering, pruning, weeding, potting, and moving them from one spot to another and back just to make things interesting.
My summer project is to remap the nursery, which in the end will be awesome, since we are moving things and building new beds and greenhouses all the time. I have learned to use our drone for this task, which is always fun and also awesome.
Q: What is the most important thing that you have learned from your internship?
A: The most important thing that I have learned from my internship so far is that we support each other no matter what.
I have gained so much knowledge about the plants that we sell and the possibilities that this job gives to each of us. Although making sales is what keeps us going, it is not always about the sale. Our customers get the whole experience, we enjoy sharing our knowledge and love of this business and want them to enjoy what they get to take home with them.
Q: What will you miss the most when your internship ends?
A: I will probably miss my new family the most. The Gee's, as well as our other employees, have really embraced me and taken me in as one of their own. It won't be long until I graduate however, and I will be back. They aren't getting rid of me that easily.
I have to say though, that I will definitely miss being able to be around the beautiful plants that I love so much, every day, I mean, what could be better than doing what you love? All the time! I am really blessed to have found my passion and these people who have the same passion as I do.
Q: What was the biggest hardship, adjustment, or challenge of this internship?
A: This may sound crazy, but it's always just felt right. I guess if I had to choose something, the biggest challenge is that this internship does not allow me enough time to complete everything that I would like to accomplish within the time allotted.