Student Organizations
A good way to get involved in the College of Agriculture and Natural Resources at MSU is by joining a club! Clubs are open to everyone and cover a diverse group of subjects and interests.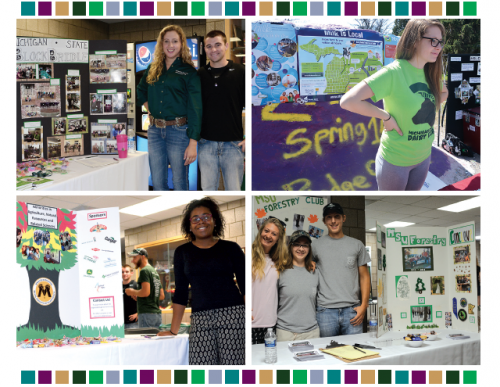 For more detailed information about specific clubs and organizations, check out the list to see what clubs interest you!
The AFNR Education Club is directed toward students who are interested in or are currently majoring in AFNR Education.

The Michigan State University Agronomy Club is a professional and social student organization that strives to improve the MSU community while promoting scientific agriculture and environmental management, with an emphasis on crop and soil sciences.

Alpha Gamma Rho is a social, professional fraternity with deep roots in the agricultural community.

An organization of undergraduate students that participates in research projects related to animal science, and eventually presents these projects at fairs like UURAF and ASURF.

Avian Science Club provides members with the opportunity to receive hands on experience with raising poultry, as well as networking with professionals in the industry at international and national conferences.

The B&B Club at MSU strives to provide members an opportunity to promote agriculture and forge new relationships through multiple livestock, social and community service events.

The Collegiate Farm Bureau is a great club for all students interested in agriculture.

The Dairy Club allows its members to experience the dairy industry beyond the classroom.

Forestry Club is the nation's oldest continuous forestry club. Est. 1902. They participate in a wide variety of activities, ranging from timber sports, volunteer workdays at Fenner Nature Center, to making their own maple syrup.

The MSU Horsemen's Association is dedicated to the education and promotion of the horse industry, while acting as a liaison between Michigan State students, the local horse industries, and university faculty, staff, and administration.

The MSU Hunt Seat Equestrian Team gives undergraduate students the opportunity to ride and show hunt seat through the Intercollegiate Horse Shows Association (IHSA).

LEAF is a group for students looking to get involved in environmental activities.

NAMA is a student-led organization that focuses on personal development, networking opportunities, and preparing members for careers in the agricultural industry.

PVMA is an undergraduate club for aspiring veterinarians, vet technicians, researchers, and numerous other animal-related professions.

The mission of Rodeo Club is to promote and teach the western lifestyle and the sport of rodeo.

The Student Horticulture Association is composed of students who are passionate about Horticulture.