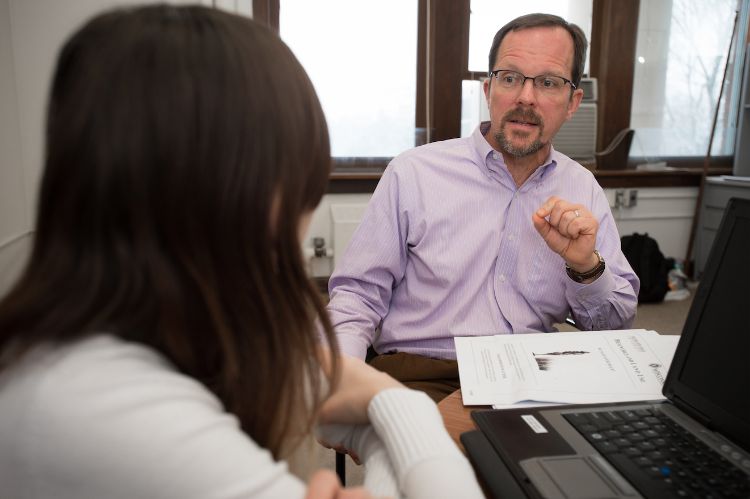 Scott Swinton, Ph.D., professor in the Michigan State University (MSU) Department of Agricultural, Food and Resource Economics (AFRE) has been named a University Distinguished Professor.
"It's a huge honor because it's given based on the evaluation of other distinguished professors at MSU," Swinton said. "It's awarded to people who have basically spent their careers at this university. In that sense, it's a really special honor."
The MSU Board of Trustees awards University Distinguished Professor honors to select faculty members whose achievements have garnered national and international recognition, have superior teaching skills and an impressive record of public service and scholarly achievements.
"I'm very excited about the selection of Scott Swinton as a University Distinguished Professor at MSU," said AFRE chair Titus Awokuse. "He is an excellent and accomplished scholar who is globally recognized for his many outstanding intellectual contributions to the field of agricultural and applied economics. He is also well-known for his exemplary citizenship and service as a servant-leader."
A native of New York, Swinton has been at MSU since 1991, when he joined AFRE as an assistant professor. He served as the associate chairperson for AFRE from 2011-16. In 2015, Swinton received MSU's William J. Beal Outstanding Faculty Award, given for outstanding total service to the university.
"Scott is a role model for others in our college, his dedication to students, his colleagues and his college are exemplary," said Ron Hendrick, dean of the College of Agriculture and Natural Resources. "We are a better college and university because of Scott's contributions."
Swinton said he particularly enjoys working with students.
"I enjoy the social part of getting things accomplished and working on policy problems, economic problems, management problems that are important in one way or another. I just find it fun," he said.
Swinton's research focuses on how to create better-performing agricultural systems. He concentrates on crop pest, pollination and nutrient management, economic and environmental impacts, technology and teaching. He has worked in Latin America and Africa on agriculture and natural resource management.
"I'm interested in relationships among things in systems, and in particular, how plants and animals grow, how people manage that, how people manage agriculture as an ecosystem and the kinds of things that we can do to make systems perform better via changes in technology, changes in the state of knowledge about the system, and changes in policy incentives," Swinton said.
Swinton has authored over 90 journal articles, edited three books, written 25 book chapters, and contributed to two National Academies of Science volumes. He has also advised nearly 30 graduate students and received approximately $4.5 million in external and internal grant funding.
"I like to work on research that makes a difference," said Swinton. "That's the fundamental idea in the land grant system, that we're not just kind of doing research and education because it's interesting, but we're doing it because it helps improve people's lives."
Swinton is involved in many professional organizations, including the Agricultural and Applied Economics Association (AAEA), of which he is outgoing past president. During his tenure with AAEA, Swinton lead the creation of a new publication on teaching resources in applied economics, worked on initiatives to better reach and include women and minorities, and helped implement a professional code of conduct and anti-harassment policy.
Swinton said the most rewarding part of his work is collaborating with others — faculty, researchers and students across disciplines — to create change.
"The interaction with other people and feeling like you've jointly done things that you can be proud and excited about, and you've learned new things together is the most rewarding part of what I do," he said. "What comes along with that is a certain amount of helping to build the next generation of scientists. To me, it's more about the experience of joint discovery and getting excited about agriculture."