Fair Food from Fair Labor – Regional and National Resources
The 2018 Michigan Good Food Summit offers a breakout session on food fairness programs led by Migrant Legal Aid and the Coalition of Immokalee Workers.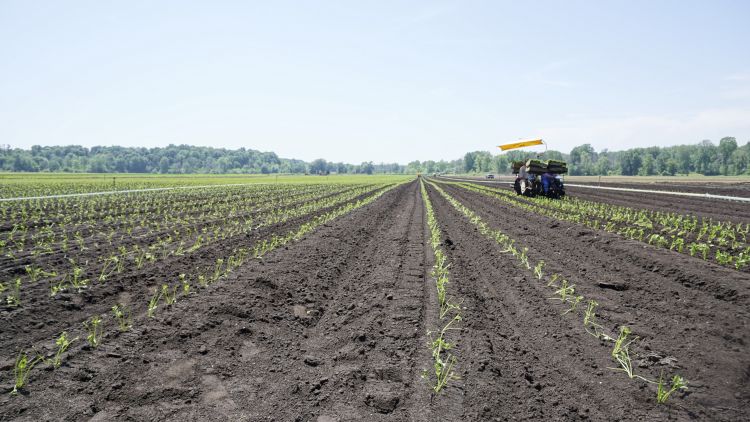 Michigan farmers rely on migrant and seasonal farm laborers to harvest Michigan crops we love, like blueberries, cherries, apples and asparagus. While some commodity crops are harvested by machines, fresh produce often must be harvested by hand. This is because some produce is delicate or because there is no mechanized way to harvest it.
Farm workers face a unique set of challenges, including long hours working in extreme weather conditions, pesticide exposure and physically exhausting labor. Migrant and seasonal workers live on or near the farms on which they work, sometimes with families and young children. They are often completely dependent on the amenities provided by the farmers who employ them.
Migrant Legal Aid, located in Grand Rapids, Michigan, devotes its work to ensuring that migrant workers and their families are treated equitably in this line of work. Migrant Legal Aid's Fair Food Pledge, part of the organization's Fair Food Project, is a partnership with food retailers and producers that sets standards for treating farm laborers fairly and ethically.
Attendees at the 2018 Michigan Good Food Summit on October 22 will have the opportunity to participate in a breakout session on food fairness programs with Teresa Hendricks-Pitsch, Executive Director of Migrant Legal Aid, and Nely Rodriguez from the Coalition of Immokalee Workers (CIW). Based in Immokalee, Florida, the CIW is a worker-based human rights organization known for its nationally renowned Fair Food Program (FFP).
According to the CIW website, the FFP is "a unique partnership among farmers, farmworkers, and retail food companies that ensures humane wages and working conditions for the workers who pick fruits and vegetables on participating farms. It harnesses the power of consumer demand to give farmworkers a voice in the decisions that affect their lives, and to eliminate the longstanding abuses that have plagued agriculture for generations."
The CIW is also known for making groundbreaking Fair Food Agreements with the four largest fast-food companies and three largest food service providers in the U.S.
The Good Food Summit breakout session, entitled "Fair Food from Fair Labor: National and Regional Tools to Reduce Exploitation," will share resources and tools to ensure:
a dignified livelihood for farmworkers,
a stable and well-trained agricultural workforce for growers, and
a safer, more sustainable food system for retailers and consumers.
The Racial Equity sub-committee of the Michigan Good Food Charter Steering Committee is sponsoring the Coalition of Immokalee Workers to attend the Good Food Summit in order to further the sub-committee's efforts to improve the lives of migrant and seasonal farm workers in Michigan.
Visit www.michiganfood.org/summit to register for the Good Food Summit and to read more about this and other interesting breakout sessions.