Food Access Opportunities within MI Food Retail Industry
Residents who struggle with food access typically live in remote rural areas or poor urban neighborhoods where stores with healthy food options either do not exist or are too far away to conveniently access.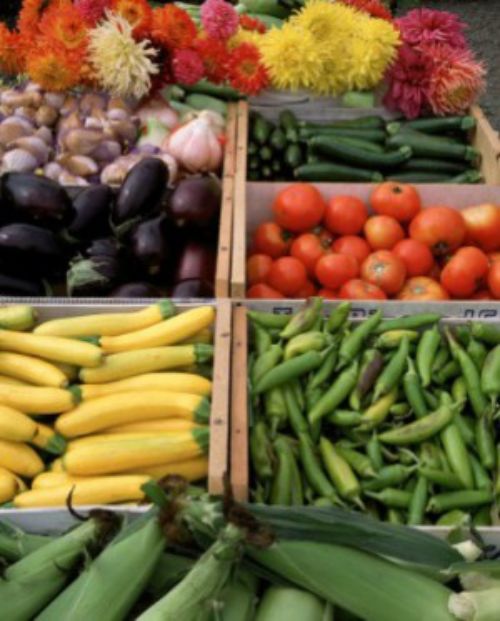 Michigan's food retail industry is an important sector of the state's economy. According to an economic contribution report released by the MSU Center for Regional Food Systems, major types of food retail stores include:
food and beverage stores (e.g. supermarkets, smaller grocery stores and specialty food stores),
health and personal care stores (e.g. retail pharmacies),
gas stations (e.g. gas stations with convenience stores),
general retail stores (e.g. supercenters or warehouse clubs).
The report found that in 2014, Michigan's food retail industry contributed a net $15.4 billion in total value added to Michigan's economy (3% of the state's gross domestic product) and directly supported 198,000 full- and part-time jobs (5% of the state's overall employment). Food retail stores also support other industries in Michigan, such as real estate and transportation, as well as the regions in which retailers are located.
It is also important to recognize that Michigan's food retail industry can be instrumental in ensuring that all Michigan residents have easy access to affordable, fresh, healthy food. In many Michigan neighborhoods, residents have limited retail options from where to purchase food and those options may not include fresh fruits and vegetables or other healthy choices.
The 2016 Good Food Report Card includes the following statistics about food insecurity in Michigan:
Nearly 1.5 million people in Michigan are food insecure—that's 15.1% of the state's population (according to Feeding America's Map the Meal Gap 2015 data).
Over 1.8 million Michigan residents, including an estimated 300,000 children, live in lower-income communities with limited supermarket access (according to The Food Trust).
More than 650,000 Michigan households receive Supplemental Nutrition Assistance Program (SNAP) benefits (17% of total households in the state), but within that percentage, Wayne county households account for more than a quarter (26.2%).
In order to address this crucial problem, one of the agenda priorities of the Michigan Good Food Charter is to provide outreach, training and technical assistance to launch new grocery stores and improve existing stores to better serve people in urban and rural underserved areas. The Charter proposes two main strategies to address this priority area:
Improve and increase grocery stores. One strategy to addressing food insecurity is building more grocery stores—specifically stores that carry fresh, healthy foods. Further, as written in the Charter, "linking farmers and the development of regional food systems infrastructure to Michigan grocery stores, both small and large, will also help ensure that more people have the opportunity to choose Michigan-grown and produced foods and our retailers support Michigan farmers and agri-food businesses" (pg. 19).
Create healthy corner stores. Another strategy is converting existing corner stores into neighborhood markets that carry a variety of healthy options. This transition would include infrastructure measures, such as adding refrigeration units, as well as increasing financing opportunities for store owners who make these changes.
The Michigan Good Food Fund (MGFF) is playing a key role in improving food access in neighborhoods lacking adequate food retail options. MGFF is a $30 million public-private partnership loan fund launched in 2015 that focuses on healthy food financing. MGFF aims to help address food insecurity in low access neighborhoods by offering loans, training, technical assistance, and other resources to new and existing grocery stores and corner stores. (For further details about the work of MGFF, visit their website, migoodfoodfund.org).
Other programs, such as the Fair Food Network's Double Up Food Bucks (DUFB), further enhance the presence of food retail outlets in low access neighborhoods. DUFB was originally launched as a farmers market program in 2009 but expanded to include select grocery stores in 2013. The program allows users to double the value of their Supplemental Nutrition Assistance Program (SNAP) dollars (up to $20) when purchasing fresh fruits and vegetables. Visit Fair Food Network's DUFB website for more details.
Efforts are also being made to give a greater number of Michigan residents the opportunity to buy locally grown produce at their neighborhood retail stores. For example, Michigan Food and Farming Systems' (MIFFS) "Meet the Buyers" events connect businesses that want to purchase local produce with regional food growers and producers. Such relationships are beneficial to Michigan farmers, local businesses, and the state and local economy, as well as to Michigan residents, who get to enjoy Michigan's wide variety of fruits and vegetables. Considering that Michigan ranks second in the United States for diversity of agricultural production, incorporating more locally grown produce into Michigan's food retail industry is a key part of creating a thriving, equitable and sustainable food system.
These efforts and others highlight just some of the organizations and programs addressing food insecurity in Michigan and working to achieve the goals of the Michigan Good Food Charter. It is clear that Michigan's food retail industry will continue to play a crucial role in ensuring that all Michigan residents have access to healthy, fresh, high quality foods.