Gratitude to Mike Hamm and Lessons from His Career
Mike Hamm, C.S. Mott Professor of Sustainable Agriculture in the Department of Community Sustainability and founding director of the MSU Center for Regional Food Systems retired from MSU on June 30, 2021.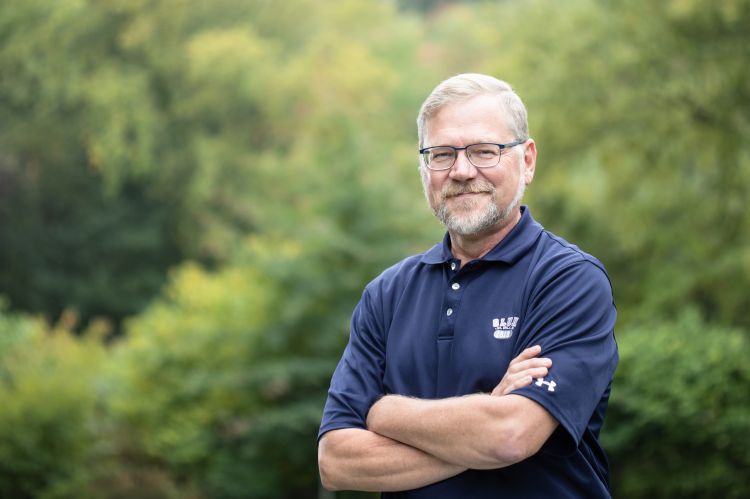 Mike Hamm, C.S. Mott Professor of Sustainable Agriculture in the Department of Community Sustainability and founding director of the MSU Center for Regional Food Systems (CRFS), will retire from Michigan State University as of June 30, 2021. In honor of Mike's fruitful and influential career, I talked with him about his path as a sustainability scholar.
It was a delightful conversation, full of Mike's signature candor and anecdotes to illuminate how his journey has progressed.
Mike's interest in sustainability started in his school years. As a high school student, he requested an excused absence to attend festivities on the first Earth Day in May 1970. Mike then wrote his high school advanced biology research paper on the amount of trash and pollution the senior class's families created. These are the early beginnings of decades of meaningful contributions and influence in community food security and community, regional, and sustainable food systems.
Three themes emerged as I talked with Mike about his career. Along these themes, I'll summarize some of the reflections Mike shared with me. Those who know Mike can insert the candor.
Be informed about what the world needs, act accordingly, and persevere.
In major transitions of society, there are large groups of people whose ways of life are upended. Moving to more sustainable practices, like transitioning to sustainable food systems, overturns the dominant paradigm to create something new.
"One of the toughest things about this work is that people will fight change to keep doing things the old way," Mike says.
But change is essential to success. To make the point, Mike told the story of Charles Stewart Mott, whose fortune created the C.S. Mott Foundation and established the endowment for the C.S. Mott Professor of Sustainable Agriculture position that Mike has held at MSU.
In the early 1900's, C.S. Mott inherited a company that manufactured wheels and brakes for carriages in New Jersey. Mott relocated to Flint when invited to manufacture automotive wheels and brakes for a new company, General Motors. Most carriage-related businesses dissolved in that era because they didn't adapt to the gas-powered car. C.S. Mott succeeded because he adapted to the new ways of the world.
"In this work, it might seem like the science is pretty clear about what we need to do, but people will resist it again and again because they don't want to change," says Mike, "You just have to keep going knowing that it's the right thing to do."
Explore and be opportunist.
Although Mike initially planned to study community nutrition in graduate school, he was advised to complete his PhD in nutritional biochemistry. A better respected discipline at that time, nutritional biochemistry provided more opportunities. So, how did Mike get back to community nutrition and, eventually, sustainability?
Upon achieving tenure at Rutgers in nutritional biochemistry, Mike took sabbatical to reflect on what he wanted the rest of his career's focus to be. A book he read in graduate school, The Feeding Web by Joan Dye Gussow, lingered in his mind. So did some recent – and then cutting-edge – papers on dietary guidelines and sustainability by Gussow and Kate Clancey. Mike decided to move into community nutrition and sustainability.
Unapologetically embracing the opportunity provided by tenure, Mike returned to Rutgers, closed his biochemistry lab, and reached out to Cooperative Extension colleagues to start community gardens in a couple of public housing projects. The community members asked for youth programs, so Mike and colleagues created a youth farm stand. This early exploration into community food systems had an impact statewide when the New Jersey Attorney General incorporated their youth farm stand program into a statewide community policing initiative.
While at Rutgers, Mike was the faculty member who helped get the Cook Student Organic Farm off the ground. Students weren't allowed to drive the loaned tractor, so Mike was behind the wheel when, for example, they needed to spread manure. That farm is now 26 years old.
Mike has been a key champion for maintaining the MSU Student Organic Farm, as well – contributing significant funds from the endowment to help build infrastructure.
Mike recalls that at the time he came to Michigan he saw the Midwest as a sort of "ground-zero for sustainable food systems." Unsustainable practices filled the Midwestern landscape and the possibility of moving the Midwestern land grant system toward sustainable food systems had big ramifications for the rest of the country.
The rest, Mike says, has been a continual growth process driven by taking advantage of opportunities and not being afraid to explore.
Invest in people.
I asked Mike which of his achievements he is most proud of. All of them center around investing in people – whether through influence or with funds made possible through the C.S. Mott endowment. Here's his list:
Establishing the C.S. Mott Group for Sustainable Agriculture (2003)
Influencing MSU Extension toward doing more sustainable food systems work
Attracting investment from the MSU Vice President for Research and Innovation to create the Center for Regional Food Systems (2011)
Investing in the careers of others. Mike estimates that with the endowment he funded over 100 years of graduate students' studies – mostly other faculty's students. He also used endowment funds to help new faculty get started.
Finally, best put in Mike's own words, "My most gratifying achievement is having been able to hire so many good people over the years, then turn things over to them, provide a space for them to flourish, run cover if needed with the prestige of the endowment, and just let people do good work." He strongly emphasizes that "people at the Mott Group and CRFS did all the work."
Mike's colleagues and graduate students emphatically affirm his role empowering them to achieve their goals.
"The most important thing that I learned from Mike is the importance of a full and meaningful life. It wasn't part of my formal education, but through our interactions Mike showed me that a successful academic need not spend all of their time working. As a doctoral student, I saw how much his family meant to them, and how much he loves soccer, swimming and pottery."
-Betty Izumi, Associate Professor at Oregon Health & Science University and Portland State University's joint School of Public Health
"Studying with Mike completely changed my life. Mike was always patient, kind, and believed in me 100% and that was what helped me to finish my PhD. "
- Jess Daniel, Program Design and Organizational Systems Independent Consultant
"Consistently over the 30 years that I've known Mike, his advice has helped me whenever I needed it. When I was an undergraduate student, Mike was incredibly generous with the time he would spend with me. I appreciate this even more now having been an educator myself. "
- Chris Peters, United States Department of Agriculture Agricultural Research Service
Best wishes with gratitude
What now for Mike? He says that he plans to do some independent consulting, spend more time on pottery, ride his bike, read, and travel.
All of us at CRFS express our deep gratitude to Mike for his contributions as a colleague and scholar and wish him rewarding new ventures as he moves on from MSU.
As C.S. Mott Professor of Sustainable Agriculture Mike was affiliated with the departments of community sustainability; plant, soil and microbial sciences; and food science and human nutrition. His appointment encompassed teaching, research and outreach. Mike founded the C.S. Mott Group for Sustainable Agriculture in 2003, was founding director of the MSU Center for Regional Food Systems (CRFS) from 2011-2015, and senior fellow with CRFS from 2016-2021. Prior to coming to MSU, he was Dean of Academic and Student Programs for Cook College, Rutgers University. As a faculty member at Rutgers University, he was co-founder and director of the New Jersey Urban Ecology Program and founding director of the Cook Student Organic Farm. He was also facilitator for the New Jersey Cooperative Gleaning Network and a board member/board president of the Northeast Organic Farming Association of New Jersey.