Managing disease for better growth, storage and processing of sugar beets and potatoes
Jaime Willbur, assistant professor in the Michigan State University Department of Plant, Soil and Microbial Sciences, analyzes the impact of pathogens to prolong the health of key Michigan crops.
Michigan is a national leader in sugar beet and potato production, respectively ranking 4th and 7th in the United States for planted acres. Jaime Willbur, assistant professor in the Michigan State University (MSU) Department of Plant, Soil and Microbial Sciences (PSM), examines disease management methods in both of these economically important crops.
Her research focuses mainly on Cercospora leaf spot, a fungal disease that appears on leaves of sugar beets and postharvest in both sugar beets and potatoes.
"I'm very passionate about the research that we do and the industries that we serve, but also the mentoring opportunities that this comes with," Willbur said. "That is one of the parts of the program that I really, really enjoy — being able to bring the students into our program, connect them to these agricultural issues, and help them do research that is directly impactful to our growers."
She currently mentors three graduate students, with each of them studying one of these issues. Program field coordinator Chris Bloomingdale, and undergraduate research assistants Cameron Pincumbe and Alyson Ervinck, as well as numerous former undergraduate and high school assistants, are also critical members of this program.
Cercospora Leaf Spot
Master's student Alex Hernandez is researching management strategies for Cercospora leaf spot, which causes tan to dark brown circles with reddish-purple borders to appear on the leaves of a sugar beet plant. The leaves can eventually turn yellow, collapse and die.
"It affects the entire cycle of sugar beets and processing, but it starts with the leaf spots on the leaves. Through the season, the spots increase in number and size and can lead to full defoliation of the plant," Willbur said.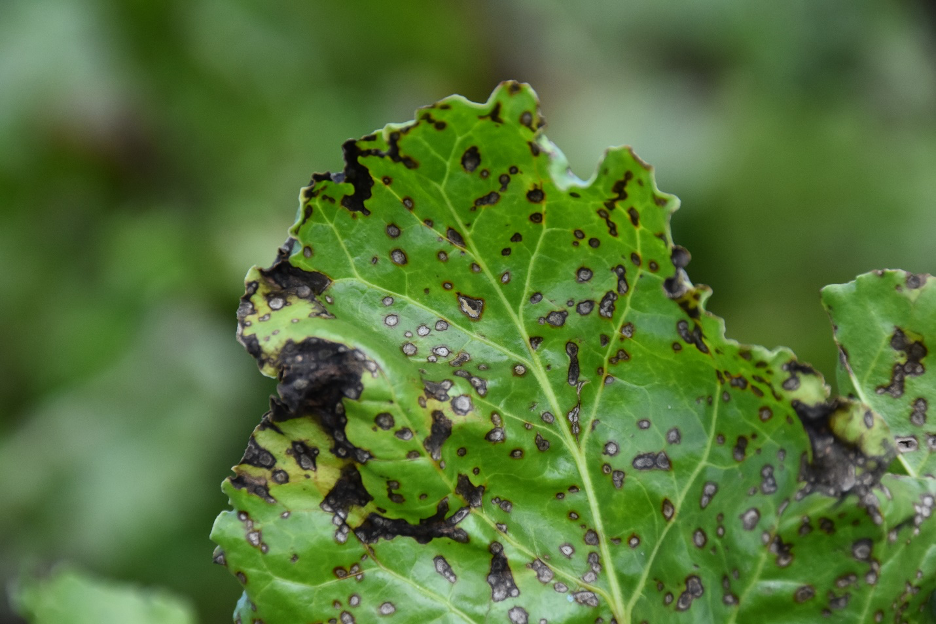 Cercospora leaf spot causes yield loss in terms of the amount of sugar produced and root weight, which can be as high as 40%.
"Once the leaves die, new leaves grow, and that uses energy in the form of sugar that's stored in the root, and the sugar is what we want," Willbur said. "All of the energy used weakens the distressed plant, so it's more susceptible to other diseases that can cause issues in storage and processing for sugar extraction. At every stage, there's a negative impact."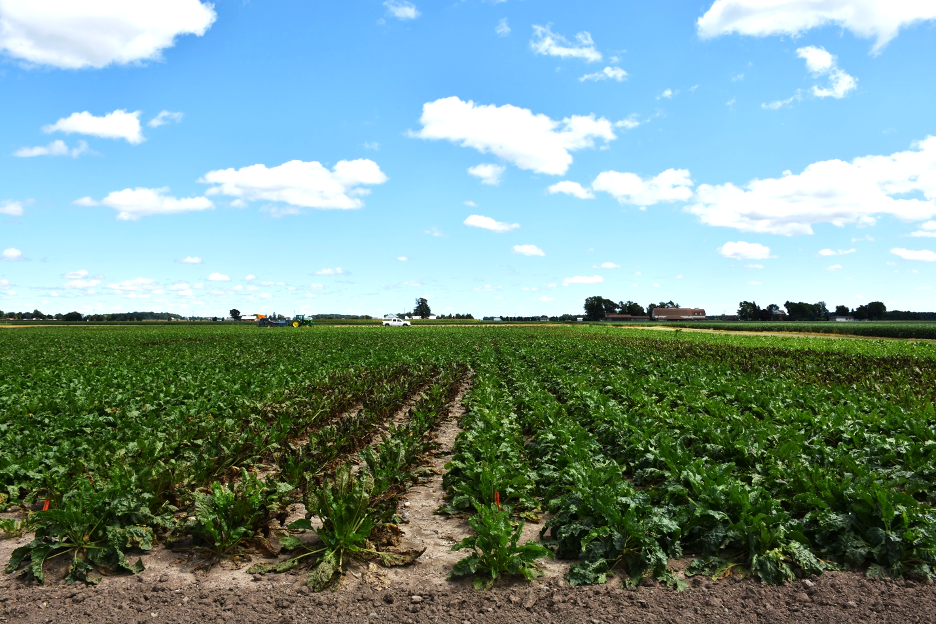 This project, funded by Project GREEEN, is a collaboration between Willbur's research group, the U.S. Department of Agriculture – Agriculture Research Service (USDA-ARS) Sugar Beet Pathology unit, Michigan Sugar Company and MSU Extension.
Postharvest Diseases in Sugar Beets
Michigan's sugar beet harvest runs from August until November. After harvest, the beets are stored outdoors in uncovered piles fitted with a framework of pipes for ventilation throughout the winter.
Carly Hendershot, a Ph.D. student, will examine the impact of in-season foliar diseases on storage quality in experimental breeding lines and commercial varieties of sugar beets this fall at the Saginaw Valley Research and Extension Center.
"Prior to processing, during the storage period, breakdown can occur in outdoor sugar beet piles, and we're trying to better understand the pathogens that are prevalent and the impact that they're having on storage and processing," Willbur said.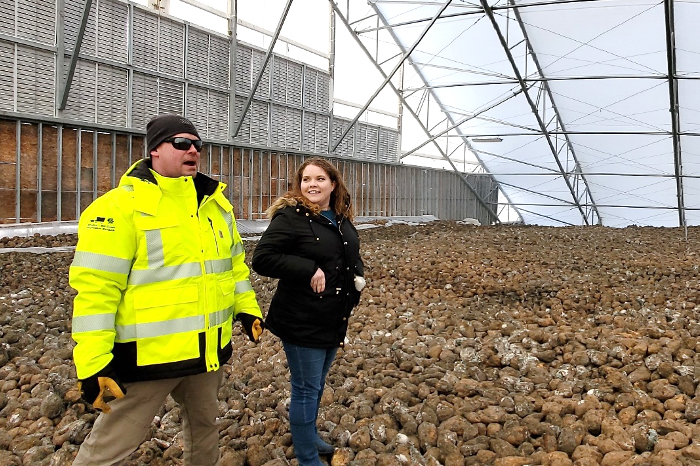 Botrytis and Fusarium spp. are prevalent postharvest fungal pathogens in sugar beets. Botrytis cinerea causes a gray mold on the root and can cause penetrating rot which occurs when a pathogen that starts on the surface and progresses into the root itself, compromising plant health and root structure. Fusarium spp. also cause a penetrating rot that affects beet storage.
"Sugar companies need beets to last all winter for regular processing, but postharvest rots affect both how long we can store beets and how easily and efficiently we can extract the sugar from them," she said.
Willbur collaborates extensively with the USDA-ARS, led by PSM adjunct faculty member Linda Hanson, on sugar beet postharvest research, including root rots.
"These diseases are obviously impacting the livelihoods of our farmers and their families," said Willbur. "They're also impacting the amount of sugar that we can produce nationally, either by defoliating the beets or reducing their root yield."
Postharvest Diseases in Potatoes
Unlike sugar beets, potatoes are stored indoors in controlled environments.
"Potatoes require oxygen and a humid environment to maintain their quality," said Willbur. "However, the temperature and humidity also need to be monitored to keep the potato diseases, or pathogens, more dormant -- prevent them from causing disease."
Master's student Emma Schlachter is working to identify and manage pathogens and diseases in potatoes postharvest at the Michigan Potato Industry Commission Demonstration and Storage Facility, located at MSU's Montcalm Research Center. The MSU Potato Outreach Program and MSU Potato Breeding and Genetics program are partners on the project.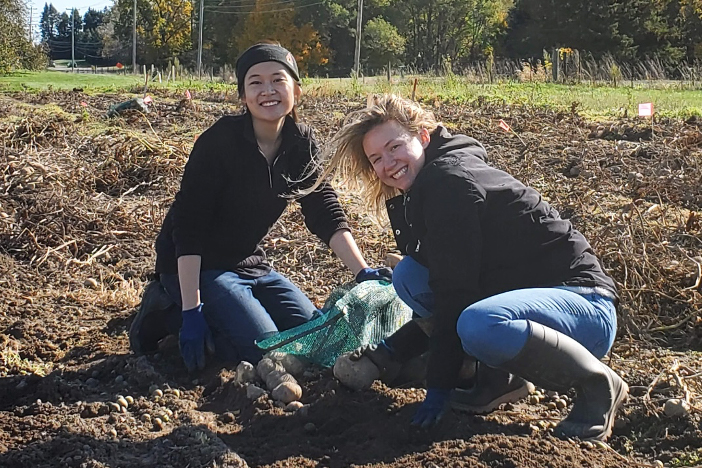 "Unfortunately, in potatoes, there are many pathogens and diseases that contribute to overall post-harvest disease concerns," said Willbur.
Some of the main postharvest diseases are Fusarium dry rot, bacterial soft rot, Pythium leak and pink rot. Dry rot results in large cavities in the tuber. Soft rots break down the potato, causing it to become smelly and mushy. Pythium leak causes the potatoes to have a spongy texture. Pink rot, named because the inside of an infected potato turns pink when exposed to air, also causes a spongy rubbery texture. All these diseases result in potatoes that are unfit for consumption or processing.
Approximately 70% of potatoes grown in Michigan are used for potato chip processing. Michigan ranks No. 1 in the nation in potatoes grown for chipping. Postharvest diseases, as well as blight, present potential threats to the industry.
"All these diseases can reduce the total crop yield in Michigan and other potato-producing states, which reduces the number of potatoes and potato products available nationwide," Willbur said. "In Michigan, these diseases mean we have less potatoes for making potato chips."
Grower-Guided Research
Willbur believes working with industry and stakeholders is crucial for managing the impacts of diseases in potatoes and sugar beets.
"We're really trying to build a program that interacts closely with our stakeholders. We interact with and collaborate with other researchers and our industries to build a strong foundation," she said.
"Our research is directly guided by grower input. Seeing their interests and concerns come to us, developing the projects around them, integrating our students and fellow researchers, and then being able to deliver the results back to our growers and our industry stakeholders, that brings joy and satisfaction to my heart."
This article was published in Futures, a magazine produced twice per year by Michigan State University AgBioResearch. To view past issues of Futures, visit www.futuresmagazine.msu.edu. For more information, email Holly Whetstone, editor, at whetst11@msu.edu or call 517-355-0123.