New MSU research supported by sustainable agriculture fund
Researchers are studying land management decisions made by owners of both farmland and woodland. The work is supported by MSU alumni Doug and Maria Bayer.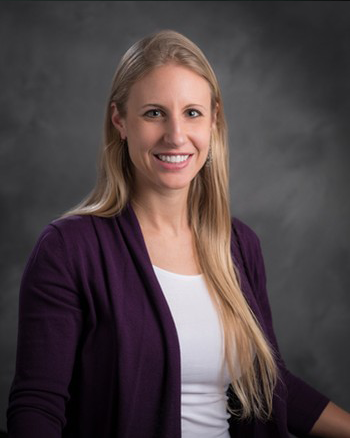 EAST LANSING, Mich. — A new Michigan State University research project has been funded with nearly $50,000 from the Douglas and Maria Bayer New Initiatives Fund for Sustainable Agriculture.
The multi-institutional effort is led by Emily Huff, an assistant professor and social scientist in the Department of Forestry. Her research program focuses on the human dimensions of forestry, such as the effect people have on the availability and quantity of natural resources.
For the new project, Huff and her team — which includes scientists from MSU, Ohio State University, the University of Wisconsin-Madison and the U.S. Forest Service — will examine management decisions made by owners of both agricultural land and woodland. Many studies have explored how farmers and forest owners independently manage their acreage, but the behaviors and considerations of those who own both aren't as well-researched.
The group plans to survey Michigan farmers to gauge interest and measure current participation in programs linked to emerging carbon and ecosystem service markets, agroforestry practices and tree planting, non-timber forest products, and woodland management.
Detailed case studies will be generated for farmers who also own woodland, with an emphasis on beginner, female and minority farmers. Huff said previous research suggests these groups may make decisions and approach sharing knowledge in nontraditional ways. The surveys will inform related work in Ohio and Wisconsin.
Huff will then assess how agriculture and natural resources professionals view policy and implementation of programs that integrate the agriculture and forestry sectors. By bringing farmers together with these experts, Huff believes symbiotic strategies can be developed that utilize forest habitats in agricultural settings.
"This project will improve both the ecological health and social well-being of Michigan's farms and farmers, and bring two sectors (agriculture and forestry) together in a unique capacity," Huff said. "Our whole team deeply appreciates the vision and generosity of the Bayers to support our research and outreach."
A more resilient, sustainable future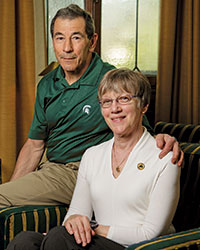 The Douglas and Maria Bayer New Initiatives Fund for Sustainable Agriculture was established in 2015 through a $1 million pledge from MSU alumni Doug and Maria Bayer.
Doug Bayer is a retired software engineer who received a doctorate in nuclear physics from MSU, and Maria Bayer is a retired teacher who earned a bachelor's degree in education from the university.
The fund is administered by the College of Agriculture and Natural Resources on behalf of MSU, while MSU AgBioResearch leaders led the request for proposals (RFP) process that chose Huff's project. The RFP encouraged collaborative research that can eventually be leveraged for larger external grants.
"The support provided by the Bayers is kickstarting new research to promote sustainable agriculture," said Dana Infante, associate director of MSU AgBioResearch. "It allows MSU scientists to form partnerships with colleagues from outside of our university to develop cutting-edge approaches for tackling emerging challenges, and also to compete for further resources. The gift is a catalyst for transforming agriculture into the future, and the outcomes will be a legacy for change."
The donation to create the fund — which has since been supplemented by additional gifts — was prompted in part by meeting Michael Hamm, the now-retired C.S. Mott Professor of Sustainable Agriculture in the Department of Community Sustainability. Hamm, who is also the founding director of the Center for Regional Food Systems, and his efforts in food security and environmental stewardship resonated with the Bayers.
"Doug and I are fascinated by the big picture of food production for the world, and we are passionate about the environment," Maria Bayer said. "When Mike talked about some of the things he was doing, it was the 'aha' moment for us."
Like Hamm, Jason Rowntree, the new C.S. Mott Professor of Sustainable Agriculture in the Department of Animal Science, is keenly interested in the long-term future of food systems.
Rowntree leads a $19 million project backed by the Foundation for Food & Agriculture Research and the Noble Research Institute. The endeavor is aimed at promoting regenerative agriculture principles, and understanding how grazing management decisions affect soil health and producer well-being.
Support from the Bayers makes work like this possible.
"The Bayers are a wonderful, sustainability-minded couple who care about bringing people together to discuss big ideas and ways of addressing challenges and opportunities," Rowntree said. "They helped us convene our first MSU Center for Regenerative Agriculture Dialogue that hosted 50 leaders in agriculture and the supply chain from across the nation. Their support has led to opportunities for projects and grants with a focus on agriculture and climate."
For the Bayers, the admiration is mutual.
"We have a tremendous amount of respect for Jason," Maria Bayer said. "The idea of regenerative agriculture and improving resilience of the land is a very relevant topic today, so hopefully that provides more opportunities for him to go after bigger external grants."
While the fund was originally administered by Hamm, the recent move to supporting more MSU scientists on a broader level pairs well with the Bayers' goals.
"The direction the fund has taken now is exciting because we want to give several researchers the chance to get startup funding," Doug Bayer said. "We want to support a wide range of projects, and work like Emily's and Jason's resonates with us."