Partnership trains students to bring drones to agriculture
A partnership between the Michigan State University Institute of Agricultural Technology and Northwestern Michigan College to train students in the use of unmanned aircraft systems kicked off its second year last week.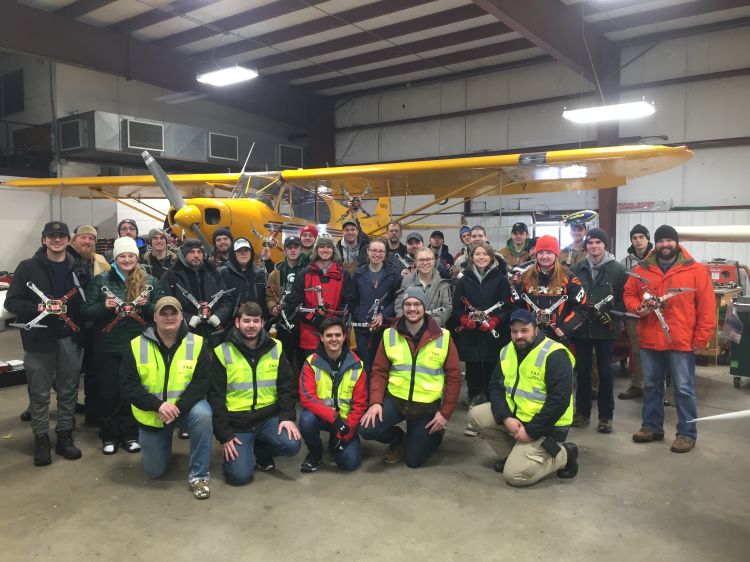 TRAVERSE CITY, Mich. – A partnership between the Michigan State University (MSU) Institute of Agricultural Technology (IAT) and Northwestern Michigan College (NMC) to train students in the use of unmanned aircraft systems (UAS) kicked off its second year last week.
The program, called UAS in Agriculture, provides IAT students with hands-on training in UAS technology and its applications as an emerging tool in agriculture. Participating students receive the opportunity to build their own drones, earn Federal Aviation Administration (FAA) remote pilot certification and work directly with growers on a range of crops throughout northwestern Michigan.
Brian Matchett serves as IAT program coordinator in Traverse City and helps oversee the program.
"We're taking students who have a passion and a drive for agriculture and providing them with UAS as a tool they can use in their careers," Matchett said. "Drones are a new and emerging technology for agriculture, and we're making sure our next generation understands and can benefit from its full potential."
The primary application for UAS technology in agriculture today is in plant health. Using a multispectral camera sensor, drones can cover and determine the photosynthetic activity of large acreages of cropland, allowing farmers to determine a number of important characteristics of their fields, including seed emergence rates and areas where pest or disease pressure might be occurring. Using thermal imaging cameras, drone operators can also gauge the effectiveness of irrigation systems, particularly in vineyards, high-density orchard systems and hops yards.
"Instead of having to walk the rows of their orchards, farmers could simply conduct a 30-minute flight," Matchett said. "This technology allows quick access to a lot of information."
Though FAA regulations currently do not allow the use of drones for spraying crops, students in the program are trained on the Agras, a drone capable of aerial spray applications. If regulations change in the near future, IAT graduates will be on the cutting edge of this new UAS application.
NMC began a UAS training program nine years ago, one of the first institutions in the country to do so, and has since been recognized as a national leader in the in the field. Following a 2016 pilot program between MSU and NMC that studied the utility of drones in cherry production, the UAS in Agriculture program began in earnest last year with 15 participants. This year, 28 students enrolled.
The program's growing reputation has attracted students from across the state who hope to put this new technology to work on Michigan's farms.
"I came in not knowing anything about drones, but I've already learned a lot about how they're built, programmed and flown," said Kelsie Sangsland, an IAT student enrolled in the program. "I'm hoping to use them to scout fields and, eventually, spray crops, as well as teach others about how they can be used."
This year, the course was opened to two agriculture industry representatives, including Cole Iaquinto, north regional representative for Michigan Farm Bureau.
"This is new territory for our industry, and we want to be able to offer survey and data analytic services to farmers wishing to utilize the technology," Iaquinto said. "It's exciting to talk with the students and see where they want to take this new training as they move forward."
Preparing IAT students to push this new frontier forward lies at the heart of the program.
"I think whenever we can help our students be on the forefront of new and emerging technology, that's going to have a positive effect on agriculture," Matchett said. "It's exciting that the MSU Institute of Agricultural Technology is able to provide students with trainings that will help them become more effective and proficient toward the integration of available technology into our agricultural sector."
For more information, contact: Brian Matchett, matchet4@anr.msu.edu, 231-995-1719