Adding Pronouns to MSU Technology Applications
See the instructions below for adding pronouns to:
Adding Pronouns to Profiles in MSU Zoom Accounts
The Zoom Pronoun feature allows you to add your pronouns directly to your user profile, as shown below, when logged in at http://msu.zoom.us. Please note, you must be on Zoom version 5.7 or later to use this feature. To learn how to update your version of Zoom visit: How to Update Zoom Software.
You can choose when or if your pronouns are shown during a meeting you host or join. If you are hosting a webinar, you can choose to share your pronouns if you are a host or panelist. Pronouns for webinar attendees are not visible. For more details visit: Adding and Sharing Your Pronouns.


Adding Pronouns to Profiles in MSU D2L Accounts
Faculty, staff, students, and Guest Account users of the Michigan State University D2L system (learning management system for online courses) can add pronouns to their D2L profile. This will allow pronouns to display when selecting a profile card in a class list, discussion forum, and ePortfolio. To add pronouns to a D2L profile, select your account icon, the Account Settings option, and select the box to "Allow others to see my pronouns." When changes have been made select the Save and Close button.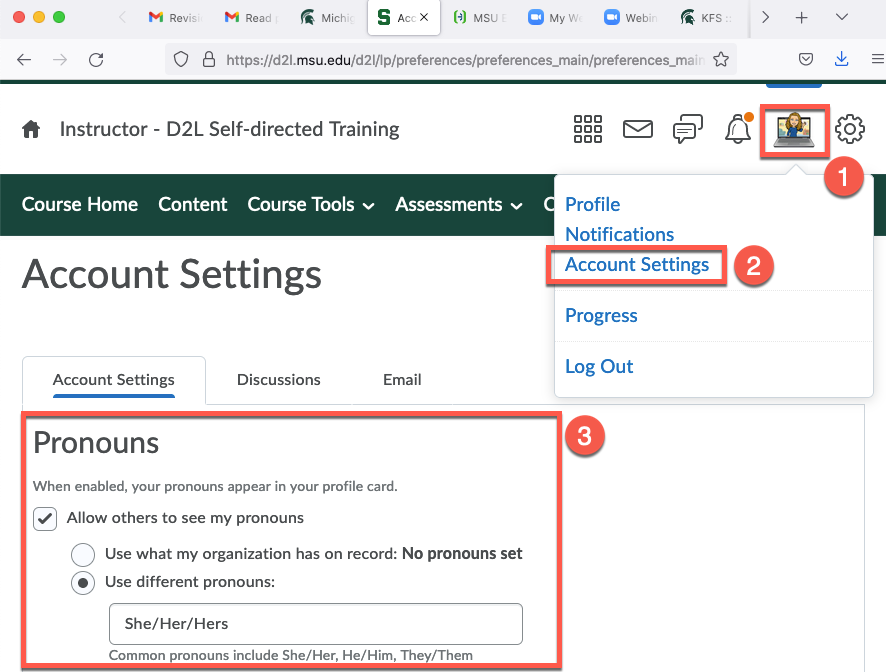 Adding Pronouns to Email Signature
To edit your signature follow instructions found in the links below. For guidance on what to include in your signature please refer to the MSU Extension Email Signature Guidelines.
Adding Pronouns to Spartan 365 Teams Chat
To add pronouns to your profile in Spartan365 Teams:
Log into Teams
Click on your Profile picture
Select the Edit Status Message link
Enter your pronouns
Select an expiration for the message
Click the Done button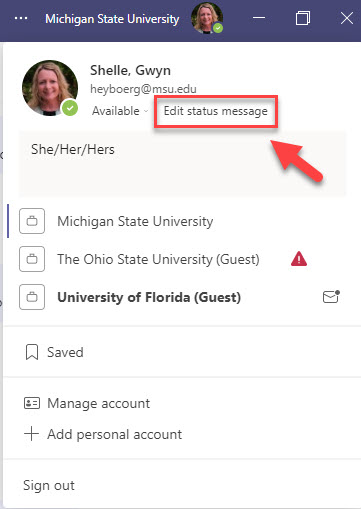 Adding Pronouns to Zoom Chat
To add pronouns to your profile in the Zoom Chat feature.
Log into the Zoom application
Click on your Profile picture
Select the option to Set a personal note
Enter your pronouns
Select a display time
Click the Save button