Lorraine Weatherspoon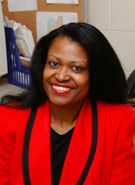 Department of Food Science and Human Nutrition
Professor and Director of Didactic Program in Dietetics
Telephone: 517-353-3328
Fax: 517-353-8963
G.M. Trout FSHN Building, 469 Wilson Rd, Room 140, MSU, East Lansing, MI 48824
---
Degrees:
PhD, Pennsylvania State University, 1992; MS, West Virginia University, 1987
Research Interests:
Role of dietary, lifestyle and ecological factors in the risk, prevention and management of diet-related health disparities and chronic diseases. Special Interest in Type 2 diabetes, maternal and child nutrition, and nutrition in HIV/AIDS.
Instructional Activities:
Serve as Didactic Program in Dietetics Director. Instructional activities in food, nutrition and human development.
HNF 453 – Nutrition & Human Development
HNF 406 – Sociocultural Aspects of Food & Eating
Recent Publications:
Weatherspoon LJ, Quilliam ET, Paek H, Kim S, Venkatesh S, Plasencia J, Lee M, Rifon NJ. 2013, "Consistency of nutrition recommendations for foods marketed to children." Preventing Chronic Disease, DOI: http://dx.doi.org/10.5888/pcd10.130099
Rifon, Nora J., Elizabeth Taylor Quilliam, Mira Lee, Hye-Jin Paek, Lorraine Weatherspoon, Sookyong Kim, and Karen Smreker (forthcoming), "Age Dependent Effects of Food Advergame Interactivity and Brand Integration." International Journal of Advertising (accepted for publication September 2013.
Paek H-J, Quilliam ET, Kim S, Weatherspoon LJ, Rifon NJ, Lee M. "Characteristics of Food Advergames That Reach Children and the Nutrient Quality of the Foods they Advertise." Internet Research. In press
Saxe-Custack, A.M and Weatherspoon, L.J. "A Patient-Centered Approach Using Community Based Paraprofessionals to Improve Self-Management of Type 2 Diabetes," American Journal of Health Education, accepted for publication in 2012, in press
Jose Jackson, Lorraine Weatherspoon, Maria Nnyepi, Leapetswe Malete, Lucky Mokgatlhe, Philemon Lyoka, Maurice Bennink "Sorghum bean composite porridge nutritional quality and acceptability" (NFS-Mar-2012-0024) Nutrition and Food Science. 2013
Venkatesh S and Weatherspoon L. Social and Health Care Provider Support in Diabetes Self-management: Perceptions of Asian Indian Adults. Am J Health Behav 2013;37(1):112-121.
Lorraine J. Weatherspoon, Sumathi Venkatesh, Mildred A. Horodynski, Manfred Stommel & Holly E. Brophy-Herb, 2013, Food Patterns and Mealtime Behaviors in Low-Income Mothers and Toddlers, Journal of Community Health Nursing, 30 (1): 1-15
Dave D. Weatherspoon, James F. Oehmke, Assa S. Dembélé,Marcus A. Coleman, Thasanee Satimanon & Lorraine J. Weatherspoon, 2013, Price and Expenditure Elasticities for Fresh Fruits in an Urban Food Desert, Journal of Urban Studies, 50(1) 88–106
Dave D. Weatherspoon, James F. Oehmke, Marcus A. Coleman, Assa Dembele and Lorraine J. Weatherspoon; Choices, Agricultural & Applied Economics Association, JEL Classifications: I14, I32, P46l; "Will Long Term Food Desert Consumers Purchase Fresh Fruits and Vegetables?" 2012
Venkatesh S, Weatherspoon L, Kaplowitz S and Song W. Acculturation and Glycemic Control of Asian Indian Adults with Type 2 Diabetes. J Community Health 2012, June (DOI) 10.1007/s10900-012-9584-6
Horodynski, Mildred, Stommel, Manfred, Brophy-Herb, Holly, Weatherspoon, Lorraine. 2010. Public Health Nursing Manuscript PHN-09-0151.R2 ("Low-Income African American and Non-Hispanic White Mothers' Self-efficacy, "Picky Eater" Perception, and Toddler Fruit and Vegetable Consumption."
Horodynski, Mildred, Brophy-Herb, Holly, Smith, Katherine, Weatherspoon, Lorraine. 2009. Toddler Feeding: Expectations and experiences of low income African American mothers. Health Education Journal. 68(1) 14-25
Horodynski, Mildred, Stommel, M, Brophy-Herb, Holly, & Weatherspoon, Lorraine. 2009. Mealtime Television Viewing and Dietary Quality in Low-Income African American and Caucasian Mother–Toddler Dyads, Maternal and Child Health Journal. http://www.springerlink.com/openurl.asp?genre=article&id=doi:10.1007/s10995-009-0501-2