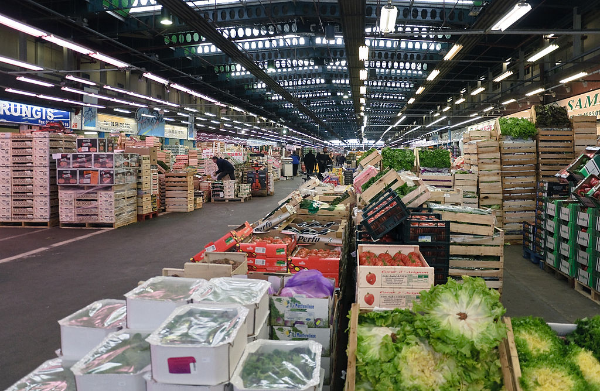 A Feasibility Report for a Food Hub: Serving a 14 County Region of Northwest Michigan
DOWNLOAD
October 30, 2013 - Author: Development Economics LLC
This report seeks to answer the question of the feasibility of a specific type of food hub in Northwest Michigan. Specifically, is there a viable for-profit business model for infrastructure that would aggregate the production of the existing farms in the region for the intermediate/wholesale market, i.e. distributors, institutions, retail outlets and restaurants?
It is the finding of this analysis of the potential for a food hub that two things are necessary before any substantial increase in the consumption of local produce can be realized. The local production of produce must increase dramatically and new infrastructure must be built, or rebuilt, to move that produce into local market channels. A food hub to aggregate that produce is not feasible at this time given the production of produce in the region, its quantity but more important the way in which it is produced.
For the purposes of this feasibility study the term "local" is used to refer to the 14 county region bounded on its four corners by Mason and Clare on the south and Leelanau and Crawford on the north. Although this is the general description of the area from which produce might be aggregated due to the efficiencies of aggregation, the "local" area which might be served by the sales of a hub in this region would include the sales territory of any distributor that might buy from the hub, which might reasonably be expected to include much of Michigan.
---
This Feasibility Report has been compiled and is presented by Development Economics, a Michigan corporation, and it has been conducted under the authority of the Tax Increment Finance Authority of the City of McBain and Marilyn Knak. It was supported in part by a grant from USDA Rural Development.
All representations made in this Report are made by Development Economics, LLC, which takes full responsibility for the contents herein, and any errors or omissions found in this Report are the sole and exclusive responsibility of its author.
The author wishes to thank the following persons and organizations who offered generous assistance with this document: The Michigan Field Office of the National Agricultural Statistics Service, Patty Cantrell of Regional Food Solutions, LLC, Colleen Matts and her research staff at the Center for Regional Food Systems at Michigan State University, Evan Smith of Cherry Capital Foods, Dawn Paulin of DP Computer Consulting, Marilyn Knak and the Tax Increment Finance Authority of the City of McBain.