A new book by AFRE Food Security Group team
Strengthening Regional Agricultural Integration in West Africa: Key Findings & Policy Implications Edited by: John M. Staatz, Boubacar Diallo and Nathalie M. Me-Nsope
June 28, 2017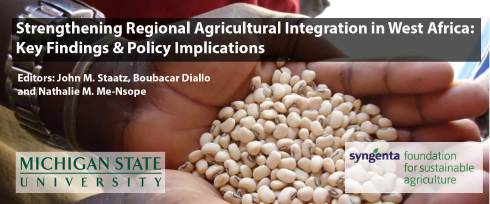 Strengthening Regional Agricultural Integration in West Africa: Key Findings & Policy Implications consists of 14 chapters, written by key participants in the program. It summarizes many of the findings from the SRAI program (Phase 1 and Phase 2) and their policy implications and is an essential reference for anyone interested improving food policies in West Africa.
Key findings and policy implications include:
West African governments were able to reduce the transmission of global price shocks to their markets, but at high cost.
West African agrifood system actors are responding to new opportunities, but face high transaction costs.
Food consumption patterns in West Africa are changing profoundly, affecting where future food polices should focus their attention.
West African agriculture can be competitive, but only if the entire value chain is addressed.
Greater regional integration is crucial to addressing many of the challenges facing West African agriculture.
The regional trade policy agenda needs to go hand-in-hand with a social-protection and risk-mitigation policy agenda.
Policy implementation is a greater challenge than policy design.
In addition to these findings, the Strengthening Regional Agricultural Integration program also revealed some broader lessons about the agricultural policy process itself.