Dr. John Staatz awarded "Officer of the National Order of Mali" by President Ibrahim Boubacar Keita
AFRE Professor John Staatz receives prestigious "Officer of the National Order of Mali" award from President Ibrahim Boubacar Keita in Bamako, Mali.
December 2, 2013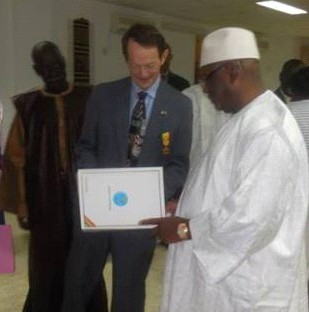 Bamako, Nov. 23, 2013 - Malian President Ibrahim Boubacar Keita bestowed on Dr. John Staatz the title of "Officier de l'ordre national du Mali" for his longstanding contribution to food policy analysis and capacity building in Mali.
John M. Staatz is a professor emeritus in the Department of Agricultural, Food and Resource Economics, and of African studies, at Michigan State University. Over a period of 28 years, Professor Staatz helped strengthened scientific cooperation between MSU and agricultural research and training institutions, and market organization and information systems in Mali.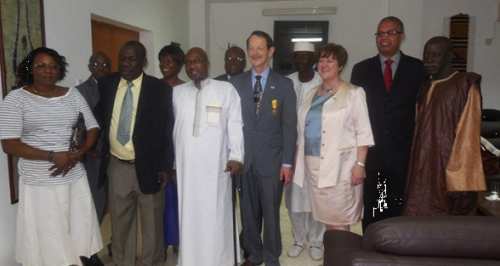 The ceremony was attended by Mary Beth Leonard, US Ambassador, Gary Juste, USAID Director, Cheick Diarrah, the Minister of National reconciliation and the Development of the North and former visiting scholar at MSU and Dr. Nango Dembele, Vice Minister of Livestock, Fisheries & Food Security, and coordinator of the MSU Project to Mobilize Food Security Initiatives in Mali until his recent appointment.
A timeline of Staatz's contributions to Malian agricultural, marketing, food security and human capital development, and related involvements in other West African countries follows: