Garnache's goal: smarter decisions, cleaner environment
AFRE assistant professor Cloe Garnache considers the great outdoors to be more than just a place to enjoy her hobbies of rock climbing and backpacking.
September 14, 2015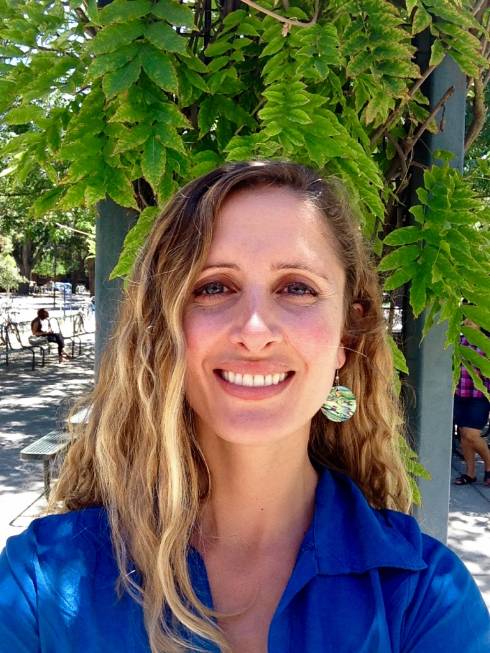 AFRE assistant professor Cloé Garnache considers the great outdoors to be more than just a place to enjoy her hobbies of rock climbing and backpacking. It is also a resource to be studied to find out how much people value it and how it can be managed to maximize its value to society.
Garnache came to Michigan State in 2013 after completing her Ph.D. at the University of California, Davis. She joined the MSU Global Water Initiative, a campuswide endeavor seeking to make the university a leader in water-related issues both around the globe and here at home.
Through the Water Initiative, Garnache is working with a team of experts across campus to study the link between phosphorus use in agriculture and the loss of freshwater ecosystem services such as beach recreation, fishing and lake-front amenities.
"We're trying to understand how farmers may respond to a suite of policies aimed at reducing phosphorus runoff and how those changes in farmers' behavior may affect the value of the services provided by freshwater ecosystems in the Great Lakes region," Garnache said.
On an international level, she was named a fellow in the Academy for Global Engagement to work on improving access to safe drinking water in sub-Saharan Africa. Garnache said she wants to know why so few people use water treatment technologies at the point of use, despite their low cost and proven effectiveness.
"It's really important to understand household preferences so we can design policies that mitigate the barriers to adoption and incentivize use," she said, explaining that this particular project aims to examine the tradeoffs that households make between the efficacy of the water treatment technology, its convenience, its price and the availability of traditional sources of water.
Garnache, who was raised in France, said she realized early on while studying biology and chemistry that simply knowing the science was not enough to influence the decision-making process that ultimately would determine the future of the world's natural resources.
"You can have the best science and technology, but if you don't understand how people respond to incentives, then you cannot know what is going to happen. That led me to take classes in natural resource and environmental economics," she said.
A desire to learn more about resource management in the United States led her to California to work with professors in natural resource economics at UC-Davis, where she received a Ph.D. in agricultural and resource economics. She also holds master's degrees from AgroParisTech in energy and environmental economics, and agronomic and life sciences engineering.
During her time in California, Garnache also became interested in the comprehensive climate policy that the state legislature passed in 2006, which includes a cap-and-trade program that has been in effect since 2013. The California Air Resources Board, which is in charge of the rule making, is considering allowing the agricultural sector to participate in the cap-and-trade program. Along with a colleague from UC-Davis, Garnache is evaluating the cost effectiveness of various payment schemes for reducing greenhouse gas emissions from the agriculture sector.
"Agriculture," Garnache said, "could provide low-cost emission reductions relative to other capped sectors, and what matters is reducing carbon emissions wherever you can, from whichever sector is the cheapest," she said. "So I am looking at what role agriculture could play in lowering the cost of achieving the state's emissions cap."
An American by birth, Garnache grew up in the French Alps and said her interest in natural resources began with forests and how they are used around the world. Currently she is involved in a project
in southern California with the U.S. Forest Service to study four national forests surrounding the Los Angeles metropolitan area. Garnache is examining how human and environmental stressors such as wildfires, climate change and urban growth affect the value of ecosystem services that these forests provide to the public.
"These national forests see millions of visitors every year, so understanding how various stressors affect how much the public values the forests will help inform policymaking to manage these resources in accordance with the value the public places on them," Garnache said.
Since her return from the forests and mountains this fall, Garnache is co-teaching applied microeconomics for graduate students and ecological economics for undergraduates.
"I love teaching because it is a great opportunity to bring research into the classroom to engage the students and illustrate the class material using case studies that draw from applied research," she said.
by Christine Meyer