MSU professor recognized for national contributions in Mali
Michigan State University (MSU) Professor Emeritus John M. Staatz is something of a celebrity in Mali. But that was never his goal.
December 18, 2013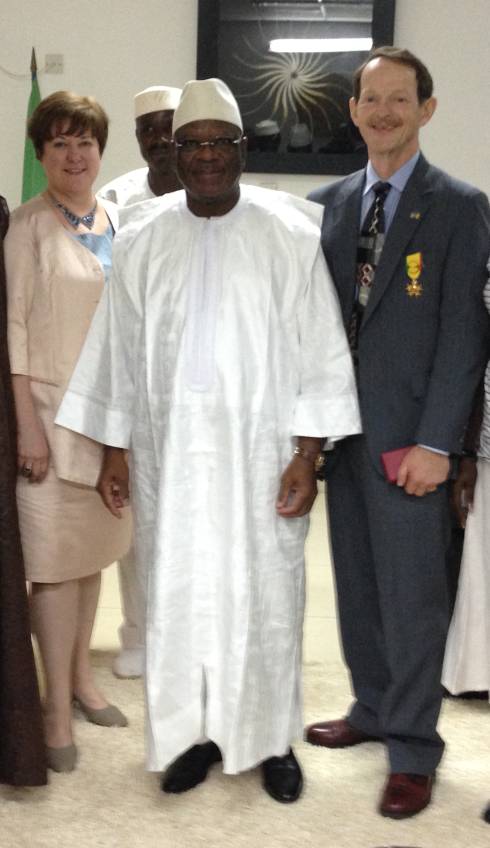 Michigan State University (MSU) Professor Emeritus John M. Staatz is something of a celebrity in Mali. But that was never his goal.
His goal was to help make the world a better place. Some say he's succeeded in Mali.
During his last visit to the African nation, Staatz was named "Officier de l'ordre national du Mali" (Officer of the National Order of Mali) by Malian President Ibrahim Boubacar Keita. Staatz received the honor for his longstanding contribution to food policy analysis and capacity building in Mali.
Although colleagues in Mali told Staatz the award might be forthcoming, he was surprised to be receiving the award in November during his most recent trip there.
"It's not an everyday experience," Staatz said of the event.
He cites his biggest enjoyment of the 28-year Malian experience as that of his and his team's building of "long-term partnerships and cooperative work with some very capable and welcoming Malian colleagues. Mali has a strong tradition of hospitality. It has been a joy to work there."
Since 1975, Staatz has focused his career on issues of agricultural development in Africa. He has been a faculty member at MSU since 1984. Between 1997 and 2008, he served as co-director of MSU's Food Security Group, which carries out research, outreach and capacity building throughout sub-Saharan Africa.
The ceremony at the Presidential Palace was attended by Mary Beth Leonard, U.S. ambassador, and Gary Juste, U.S. Agency for International Development (USAID) director. Others attending included Cheick Oumar Diarrah, the minister of National Reconciliation and the Development of the North and former visiting scholar at MSU; and Nango Dembele, vice minister of livestock, fisheries and food security, and until his recent appointment, an MSU faculty member based in Bamako. Dembele served there as coordinator of MSU research and outreach programs on food security in West Africa.
Staatz's research and graduate teaching focused on improving food system organization and performance (particularly in West Africa), agricultural marketing and international trade, design of market information systems and policy reform as well as improving the performance of farmer cooperatives.
Staatz's best advice for students hoping to make a difference is to "focus on the fundamentals, such as building strong partnerships with good people who are also dedicated to making a difference," he said. "Don't put too much emphasis on the material aspects of life – work on trying to make the world better off for those who don't have all the advantages you have, often by accident of where you were born."
For more than 28 years, Staatz helped lead MSU's work on agricultural development in Mali and has provided backstopping to work on agricultural marketing and policy reforms in numerous other countries.
Staatz played a key role in developing and implementing the Partnership to Cut Hunger and Poverty in Africa and has frequently been called on to advise USAID, the World Bank, the United Nations Industrial Development Organization (UNIDO), the Food and Agriculture Organization of the United Nations, CILSS, and other international development organizations as well as the government of Mali. He mentored scores of young African professionals and played a key role in building MSU's partnerships with research and training organizations in Africa.
In 2003, he was awarded the Ralph Smuckler Award for Advancing International Studies and Programs at MSU. In 2010, he was elected as a distinguished fellow of the African Association of Agricultural Economists, based on his scholarly contributions, leadership in the field of agricultural economics and contributions to African agriculture over many years.
He retired as professor emeritus from MSU in 2011, and he has continued working with the MSU Food Security Group in implementing food and agricultural development projects in Mali and other areas of West Africa.