Rob King: An Unexpected Path
The day Rob King arrived at the MSU, few would have predicted that he would become president and fellow of the Agricultural and Applied Economics Association (AAEA) and chairperson of a leading department of applied economics.
June 18, 2015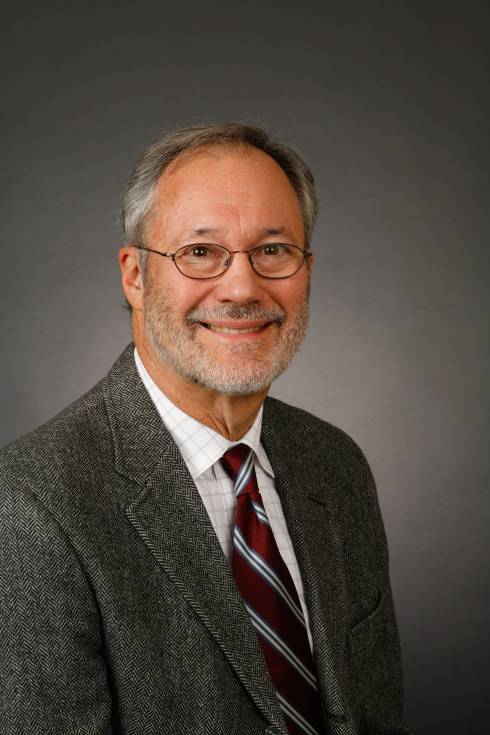 The day Rob King arrived at the MSU Department of Agricultural, Food and Resource Economics, few would have predicted that he would become president and fellow of the Agricultural and Applied Economics Association (AAEA) and chairperson of a leading department of applied economics.
The Ohio native graduated from Yale University in 1972 with a degree in anthropology and then enrolled in the Peace Corps for a two-year stint working with farmers in Benin. Upon his return, King visited with friends at MSU and was introduced to Prof. Carl Eicher, who at the time had several large, ongoing projects in West Africa.
"Eicher encouraged me to apply for the graduate program in agricultural economics, which
I did," King said. "Thankfully, it was a very flexible program. It was very unusual to find a program of that stature willing to accept someone who, at that point, had never taken an economics course.
"So I spent that summer taking intermediate micro- and macroeconomics courses, had the good fortune to start work with Derek Byerlee on my master's thesis ("An Analysis of Rural Consumption Patterns in Sierra Leone and Their Employment and Growth Effects") and then quickly realized that I had found my life's work."
King received his master's degree in 1977 and doctorate in 1979 under the guidance of major professor Warren Vincent, with Lindon Robison serving as Ph.D. dissertation supervisor. After teaching at Michigan State for one semester, he moved on to Colorado State University, where he was an assistant professor in the Department of Economics for four years. In 1983, he moved to the University of Minnesota as an associate professor to take up the E. Fred Koller Chair in Agricultural Management Information Systems in the Department of Applied Economics, which he occupied from 1983 to 2004. He subsequently served as department head from 2004 to 2008.
King currently teaches undergraduate and graduate courses on managerial economics and food systems. He served as coordinator of the agricultural business management undergraduate major (1988-90), director of graduate studies in the Department of Applied Economics (1994-97) and in '96 received the Distinguished Teacher Award from the College of Agricultural, Food, and Environmental Sciences. He also has been active in international teaching programs, lecturing in Brazil, Hungary, The Netherlands and Poland over the past several years.
In addition, King has served on the board of directors of the Minnesota Institute for Sustainable Agriculture, the Administrative Council for the North Central Region Sustainable Agriculture Research and Education program and the International Advisory Board for the Mansholt Graduate School of Social Sciences at Wageningen University in the Netherlands.
In 2011, King was elected president of the Agricultural and Applied Economics Association (AAEA) after serving on its board of directors. Three years later, he received the AAEA's highest honor, designation as a fellow. He said that one of the most rewarding aspects of his term as president was watching how the association "opened up to agricultural and applied economists from all over the world, especially those from countries with the lowest per capita incomes."
As for future applied economists -- perhaps even those who earn their bachelor's degrees in unrelated fields -- King offers these recommendations:
"Look for questions, issues and problems that are of interest to you and are important for others: connect to the real world. Then let the problem dictate your research strategy -- don't let methods define the problem.
"As a teacher, focus on learning activities that develop 'generative' students with insight and ability to adapt and use an idea, method or tool in many different settings. Case study analyses, problem sets and even exam questions should not be treated as 'one-off' exercises to be finished and forgotten. They should be carefully crafted illustrations of problem-solving processes that can be applied in many ways.
"Be open to and follow up on hunches, even though most of them will not pan out. Creativity often comes out of logical leaps to ideas that may be true. While economics gives us a very useful way of looking at the world, it also can be useful to approach problems with a 'beginner's mind' that is free from disciplinary blinders."
King followed a hunch more than four decades ago that panned out well and has rewarded him, his students and his colleagues many times over. The former anthropology major continues to dig for agricultural solutions across the globe in ways that, at one time, he might never have imagined.
-- Mark Meyer