Scorsone measures legacy costs to Michigan cities
Time is not on Detroit's side, explains Eric Scorsone, as the embattled Motor City slogs its way through a bankruptcy case that recent news reports have indicated might conclude by September.
April 29, 2014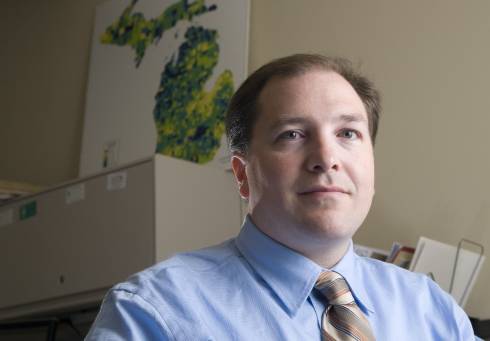 "Time is not on Detroit's side," explains Eric Scorsone, as the embattled Motor City slogs its way through a bankruptcy case that recent news reports have indicated might conclude by September.
In his 2013 Michigan State University Extension report, "Funding the Legacy: The Cost of Municipal Workers' Retirement Benefits to Michigan Communities," Scorsone estimates the price tag for providing health care benefits to Michigan's retired municipal workers will approach a staggering $13 billion over the next 30 years. Michigan municipalities (cities, townships and villages) are not required to reserve money for promised retiree health benefits. As a result, Scorsone says, the debt grows out of control and the governing bodies face the likelihood of higher taxes, reduced services or severed agreements with retirees.
In Detroit, several important decisions and deadlines in the bankruptcy case will be reached this April, including whether or not labor unions and pension plan officials agree to emergency manager Kevin Orr's plan to shrink proposed cuts in payouts to retirees. Those who disagree contend that Michigan's constitution should prevent any cuts to public employee pensions. Orr's proposal calls for reductions of 6 percent in police and fire pension payments and a 26 percent cut for city workers.
Scorsone, an economist in the MSU Department of Agricultural, Food and Resource Economics and an MSU Extension specialist, presented his report last spring to the Michigan House Committee on Financial Liability Reform. He singled out unfunded post-employment benefits – for example, health care, dental care, life and other insurances – as "a critical public policy issue that is going to threaten local government's ability to provide public services in the future. It's a crisis now and it's only going to get worse."
Scorsone and Nicolette Bateson, a certified public accountant and MSU researcher, reviewed 1,773 Michigan cities, townships and villages and found that 311 offered some form of post-employment health care benefits. While the collective bill of funding those benefits is $12.7 billion, the bulk of it – almost $11 billion – belongs to local governments in a 10-county region of southeastern Michigan including Oakland, Macomb and Wayne counties. The city of Detroit alone will owe $5.5 billion in retiree health care costs. Other cities owing more than $300 million include Flint ($1.1 billion), Lansing ($502 million), Warren ($414 million), Grand Rapids ($325 million) and Saginaw ($311 million).
In his testimony before the House committee, Scorsone asked (and then answered): "Why was Flint put under an emergency financial manager? Why does Detroit face the prospect of being put under an emergency financial manager? Why is the city of Lansing in such financial trouble? It's because of these legacy costs … (that) are going to consume more and more of the budget."
Historically, municipalities offered retiree benefits as a way to compete for workers against the Big Three automakers and other private employers. Health care benefits also helped municipal workers such as firefighters and police officers who retired in their 50s – long before Medicare kicked in at age 65. Typically, the benefits were written into union contracts.
But municipalities have not been required to fund retiree health care during an employee's tenure. This is different from the pay-as-you-go pension system. Municipalities weren't even required to report retiree health care costs until 2007. Because of the change in reporting, economists such as Scorsone are finally determining the scope of the problem.
Other states face similar problems with unfunded legacy costs, Scorsone noted. Massachusetts, for example, has higher retiree health care bills than Michigan even though it has far fewer people. Ohio and Oregon have begun to prefund the post-employment benefit. Illinois has considered directing its pre-Medicare retirees to the insurance exchange under the Affordable Care Act.
Scorsone said state lawmakers should step in to deal with the problem.
"We believe the Legislature needs to look at policy options, needs to act, because the Legislature has power the local governments do not have," Scorsone said. "Statewide policy makes more sense than each municipality trying to fix this on their own."
-- Mark Meyer