CANR associate dean embodies leadership within the college and MSU
Kelly Millenbah, Ph.D., was named as a recipient of the MSU Simmons Chivukula Award for Academic Leadership based on her guidance and student involvement.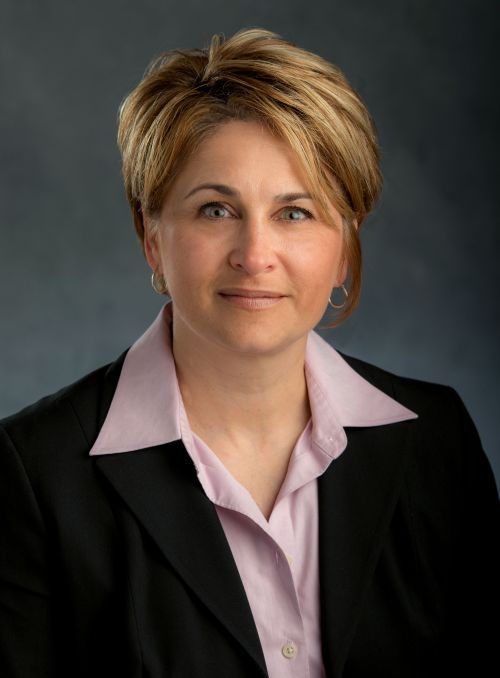 Kelly Millenbah, Ph.D., associate dean and director for academic and student affairs in the College of Agriculture and Natural Resources (CANR), and Rex LaMore, director of the Center for Community and Economic Development in the Office of Outreach and Engagement, were awarded the inaugural 2018 Simmons Chivukula Award for Academic Leadership at Michigan State University (MSU).
The Simmons Chivukula Award for Academic Leadership was designed to recognize consistently demonstrated excellence in MSU academic leadership. Nineteen nominations were received spanning appointment types and a wide range of units across campus, and a committee of five current and former administrators at various levels reviewed the materials.
The award is sponsored by a gift from Elizabeth H. Simmons, executive vice chancellor for academic affairs at Univeristy of California – San Diego and former MSU associate provost for faculty and academic staff development and dean of Lyman Briggs College; and R. Sekhar Chivukula, current MSU associate provost for undergraduate education and dean of undergraduate studies.
"Kelly embodies how we should treat each other on this campus – she includes all voices, stays curious and supports others in pursuit of success," said CANR Dean Ron Hendrick. "Our college and university are better off for having Kelly Millenbah among our ranks."
Millenbah has been in the associate dean role in the CANR since 2013 and is responsible for a range of activities associated with academic and student affairs, budgeting and research. She is also a professor in the Department of Fisheries and Wildlife. Prior to this position, Millenbah was an associate dean in Lyman Briggs College. Simmons was Millenbah's supervisor when she was associate dean for Lyman Briggs, so she said receiving this award means even more to her because of that connection.
"Elizabeth has been an important mentor and a role model for me over the years," Millenbah said. "There is something even more poignant in being honored for an award with her name on it."
Working with students
Students help give purpose to Millenbah's role in the CANR, and she is committed to meeting their needs – both academic and personal.
"There is no doubt in my mind that every one of our students is better off for Kelly's work in our college."
"It's about institutional programing, but it's also just one-on-one connection to provide support and guidance in a different way based on students' needs," she said. "Supporting and encouraging students isn't just about academic success, but whole person success."
When Millenbah found out that many of the CANR's struggling students weren't sure where their next meals were coming from and were oftentimes embarrassed to reach out to organizations like the MSU Student Food Bank, she knew the college needed to help support those needs, too.
"She is concerned about our students' food and housing security, and I have no doubt that she will make sure that MSU students who struggle will find assistance," Hendrick said. "There is no doubt in my mind that every one of our students is better off for Kelly's work in our college."
Moving the CANR forward
Some of Millenbah's accomplishments include implementing a process for curriculum revision across the CANR to ensure there are strong learning outcomes that can be assessed and are aligned to university and college learning outcomes.
"Ultimately this work has created a culture shift in our college where student learning and success has truly become a collaborative faculty-wide endeavor," she said.
Millenbah also was part of a team that secured $4.4 million to support the renovation of the MSU Fruit and Vegetable Lab and coordinate new mobile food processing units to be used at community college partner locations. These efforts will enhance and address critical workforce needs in food processing across Michigan, and will affect over 700 on-campus students and more than 100 off-campus students annually when the program launches in fall 2019.
Additionally, she and the director of the MSU Institute of Agricultural Technology expanded partnerships between high school students and the CANR through an agreement between MSU and the Michigan Department of Education Office of Career and Technical Education. This agreement allows high school students who complete a state-approved agriculture, food and natural resources education program and who received the State FFA Degree to earn six credits toward a bachelor's degree or undergraduate certificate program at MSU.
"This has been a national example of how partnership between critical high school experiences can contribute to the training and education of youth while also meeting university requirements," Millenbah said.
"We need to do our part to ensure we have the space to allow for and encourage different voices. That's how we make change happen, and not just change but effective, meaningful change."
Leadership philosophy
Millenbah doesn't just lead, she embodies leadership while inspiring students.
"Students constantly challenge me to be better," she said. "They help make us better people because of the conversations and perspectives they bring to the table."
As an academic leader in the college, Millenbah fosters a commitment to an equitable and inclusive culture while modeling integrity and honesty, humility, accountability and empowerment.
"She gives voice to the voiceless and advocates for those who may not have the experience in respective roles, rank or time at the university," said Hendrick. "Kelly continues to encourage uncomfortable conversations that lead to positive outcomes within leadership, within her unit and across the university."
To Millenbah and the CANR, it's important to support an environment where all voices are heard.
"We need to do our part to ensure we have the space to allow for and encourage different voices," she said. "That's how we make change happen, and not just change but effective, meaningful change."
Did you find this article useful?
---
You Might Also Be Interested In