Animal Science Mourns the Loss of Daniel D. Kiesling
Daniel D. Kiesling, Livestock Industries Coordinator, passed away Monday, July 11 at University of Michigan Hospital in Ann Arbor.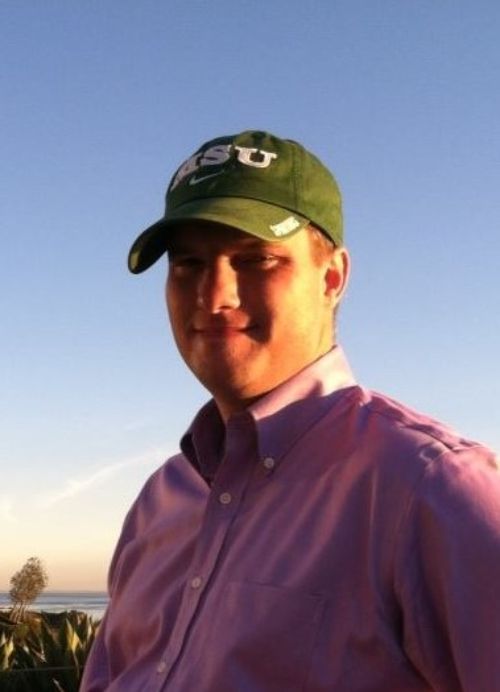 At age 34, Daniel Kiesling passed away after a battle with lymphoma and hemophagocytic lymphohistiocytosis.
Daniel was born February 14, 1982 the son of Dean and Linda (Riley) Kiesling at Owosso Memorial Healthcare. He graduated from Perry High School in 2000. Dan was active in 4-H, FFA, and student government. He served as President of the Michigan Association of FFA from 2000-2001. Dan received his Bachelor's degree in Animal Science from Michigan State University. As a college student, Dan was active in Block & Bridle (serving as club president), competed on MSU's intercollegiate livestock and meats judging teams, and worked at the MSU Sheep Teaching & Research Center.

Daniel earned his Master's degree from Iowa State University in Animal Science, while serving as the graduate student Shepherd at the Iowa State Sheep Teaching Farm. While there, Dan met Jessica Rohrig. They married on May 29, 2011 at St. Thomas Aquinas Catholic Church in Ames, Iowa.

Daniel was an Animal Sciences faculty member at the University of Arizona from 2010-2015. At the U of A, his titles included Livestock Judging Coach, academic advisor, lecturer, and club advisor to the Collegiate Cattle/Livestock Growers Association. In 2015, Dan came home, joining the faculty at Michigan State University in the Animal Science Department. He was an Academic Specialist coordinating the livestock industries (formerly beef and swine management) certificate program for the Institute of Agricultural Technology and coaching the MSU Livestock Judging Team. Dan was a member of the American Society of Animal Scientists.

Daniel was an active member of St. Mary's Catholic Church in Williamston. He was very involved in animal agriculture not only in his community but throughout the country, loving to judge a county fair. Daniel was a mentor, a friend, an educator, a leader, a professor, an avid sports fan - cheering for the Spartans, Cyclones, Wildcats, Tigers, Lions, and Red Wings; and a beloved husband. Not only did he have a passion for the livestock industry but for the young people as well. He had a heart to serve others.

Daniel is survived by wife, Jessica; his parents, Dean and Linda Kiesling; his father and mother-in-law, Brian and Kathy Rohrig; his sister Karen (Charles) Scovill, nephews Nathan and Alexander; brothers Tim Kiesling and Brian (Kim), niece Brenna and nephews Henry and Clark; brother-in-law Matt (Heidi), nephew Tucker and niece Taylor; and several beloved aunts and uncles, cousins and many special friends.

Memorial contributions are suggested for an endowment in Dan's name for the students and livestock judging team at Michigan State. Contributions can be directed to Michigan State University, Department of Animal Science, in memory of Dan Kiesling.
A Mass of Christian Burial will be held 10 a.m., Saturday, July 16, 2016 at St. Paul Catholic Church in Owosso with Father Mark Rutherford and Father Ryan Riley officiating. Burial will follow at St. Mary's Cemetery in Corunna. Family will receive friends at Nelson-House Funeral Home on Thursday July 14 from 4-8 p.m., with the Rosary being prayed at 7pm, Visitation will follow Friday July 15 from 4-8 p.m. at Nelson-House Funeral Home with a Scripture Service at 7 p.m.
"Dan touched many lives including mine. His passion for his faith, family, friends and livestock were qualities I always admired about him." - Ryan Sweeney
"Dan Kiesling was a great friend, a great Spartan, a great Stockman." - Ryan Peterson
"He was one of a kind and I will cherish all of the wonderful, fun and adventurous memories full of laughter. Those good times crossed multiple states and even foreign countries from MSU study abroad. I can't put into words how big of a loss this is and how he made all of us better people." - Brigitte Grobbel
Did you find this article useful?
---
You Might Also Be Interested In