Day 14: Rhine and Wine and Dine
Chelsey on the boat deck while curising the Rhine River
June 5, 2014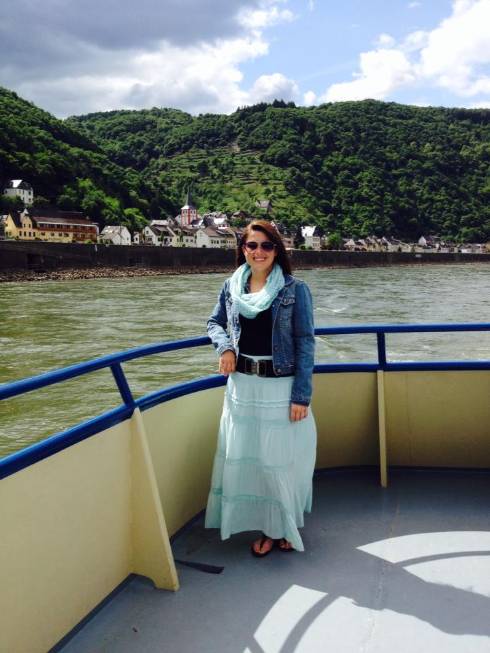 Our last day of the trip! Did two weeks really fly by so fast? We wrapped up our European education by starting the day at the market place in Bohn, Germany. Here we gathered the makings of a simple lunch on the go while shopping for souvenirs and visiting the house where Beethoven lived, which is now a museum in his honor. After reloading our bus, we travelled to Boppart for a cruise down the Rhine. The boat ride lasted for only an hour and a half, but it felt so much longer as we left the modern world behind and gazed with awe at the castles and churches that lined the banks of the river. Our last stop of the day was at Hauck vineyard, a family owned and operated business, which currently produces 45 different types of wine. We sampled five different types of wines, and each of us found a new favorite to take home. Andrea picked out a sweet Riesling and Chelsey bought a wine spout. While sampling, we learned that Germany is one of the biggest importers of wine as Germans greatly prefer dry wines, which are not usually produced in this region. Also, grape trees take three years to mature enough to produce grapes for wine, however wine trends change around every ten years. By the time producers change their grape variety to cater to recent trends, they are already about three years behind. After having our fill of wine, we
Chelsey's favorite part of the day was the Rhine Cruise. She thought it was very interesting how we were able to relax and learn more about history of the area surrounding the Rhine. She also liked being able to view three different castles at one spot; we learned it was the only place on the Rhine you are able to do so.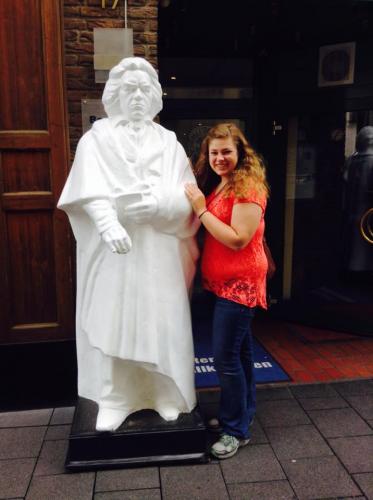 Ashley loved having the chance to see Beethoven's home. The experience came with a laugh as we got lost trying to find the house, only to find that we had walked past it on our way into town. The salmon-colored house blended in with the other neighboring houses and lacked an eye catching sign to alert us to its presence.
Andrea greatly enjoyed being able to see the hills and valley of the area surrounding the Rhine River. After the flat plains of Holland, seeing the rolling hills and steep terrain of the river valley was a nice change of pace. She also enjoyed looking at all the castles and picking out which one she would want to buy if she ever becomes a millionaire.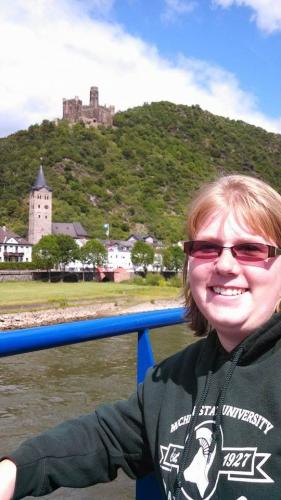 After a wonderful and relaxing day, we unfortunately have to now pack our bags and our newly bought souvenirs for our long journey home. We know that today is just one more memory that we will treasure for the rest of our lives.