Announcing the Recipients of the 2014 Jack and Betty Barnes Scholarship
Two Michigan State University (MSU) students have been awarded the Jack and Betty Barnes Scholarship from the Michigan Dairy Memorial and Scholarship Foundation for the 2013-14 academic year.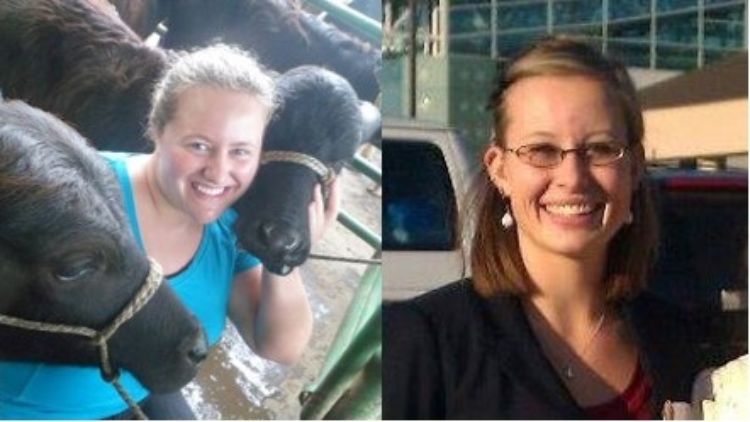 Lora Anderson, animal science senior from Mason, and Katelyn Horning, animal science and agribusiness management senior from Manchester, each received the $1,000 scholarship earmarked towards completing an international study experience. The students were selected as recipients of the scholarship based on their cumulative academic achievements and involvement in extracurricular activities.

The scholarship is named after the late Jack and Betty Barnes. Jack Barnes was employed with the Michigan Milk Producers Association (MMPA) for 39 years and served 26 of those years as general manager.

Anderson is the daughter of Bill and Paula Anderson. She studied at EARTH University, situated in the heart of the humid tropics of Costa Rica, during spring semester 2013. At EARTH, Anderson completed coursework in agriculture, sustainability and community development and spent many hours on the integrated dairy farm working with cattle and water buffalo, mastering skills in artificial insemination, milk collection, pasture management, castration, dehorning and manure management. After wrapping up her time at EARTH, she spent a month volunteering on various sea turtle research and rehabilitation projects, where she absorbed the country's culture and was adopted by local families. Upon returning to MSU last fall, Anderson continued her duties as interim laboratory manager and lead research technician for an insect microbiology lab on campus. Her principal duties include arbovirus surveillance, extracting DNA for sequencing, cloning and vector work, and axenic mosquito rearing. Anderson also began working at the MSU Animal Air Quality Research Facility where she has gained clinical experience with beef cattle and swine. She will graduate with her bachelor's degree in animal science in May, after which she hopes to secure work as an exotic animal nutrition fellow or return to Costa Rica to continue working on and lead other MSU students with the volunteer sea turtle conservation project. Anderson will begin studies at the MSU College of Veterinary Medicine in August 2014, and one day hopes to pursue work in food animal medicine while continuing to pursue opportunities abroad in the conservation of exotic species.

Horning is the daughter of Jeff and Lynda Horning. She traveled to Vietnam for a one-week study abroad experience focused on emerging issues in international agriculture. The experience offered a glimpse of the Vietnamese culture and offered a snapshot of their agriculture industry's focus on efficiency, though at times at the expense of sustainability. Horning previously traveled to the Netherlands, Belgium and France in summer 2012 as part of the two-week MSU Dairy Husbandry and Environmental Stewardship study abroad program. She completed an internship with Zoetis as its Michigan dairy sales intern in summer 2013 and one with the Michigan Milk Producers Association (MMPA) in Novi during summer 2012. At MSU, Horning is actively involved with the MSU Dairy Club and was a member of the MSU dairy cattle judging team. She is planning to return to the family dairy farm, Horning Farms, after graduating from MSU in May.