Horticulture alum manages 300 acres of vineyards
Peter Rigan's work is exciting because each season in the vineyards is different.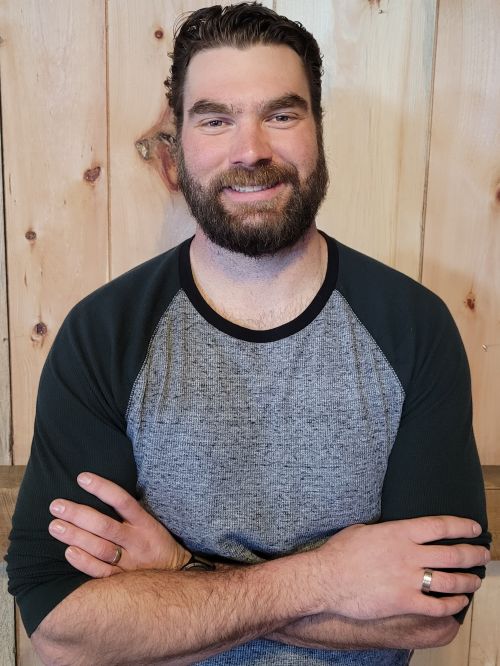 Peter Rigan earned a B.S. in Horticultural Science in 2014. He always wanted to go to MSU and he chose Horticulture because he knew he wanted to work in vineyard management and Horticulture was the best fit for his goals.
Peter's brother has a degree from MSU in Agribusiness Management, so collectively they are well rounded for running their family's vineyard on Old Mission Peninsula.
Where did you go after MSU?
After graduation, I began working at a small winery on Old Mission Peninsula before entering my current role in Leelanau County for Harbor Hill Fruit Farms as the Farm Manager.
Describe your current work. What keeps you engaged in your work?
I am the Farm Manager for Harbor Hill Fruit Farms Inc. We manage approximately 300 acres of vineyard in Leelanau County, Michigan.
We work with several wineries offering our services from "ground to glass." We aid in property selection, vineyard planting and establishment, management through harvest, including mechanical canopy management and mechanical harvest.
Another branch of our company also provides custom mobile bottling for wineries that either don't have a bottling line or aren't ready to scale to a larger line. I stay engaged in my work simply by the fact that vineyards are so dynamic, just because a vineyard has been planted for 15 years doesn't mean any one season is the same. Every year is different and every crop is different, that helps keep things exciting.
Any thoughts for current students?
Enjoy your time and try to learn a broad range of things within your field. I never thought I would work with hops and now we are going on five seasons helping to manage a hopyard in Leelanau.