Making local food the norm for schools, early care and education sites, and other institutions
A glimpse at some of the ways MSU Center for Regional Food Systems is connecting farmers, schools, ECE sites, and other institutions.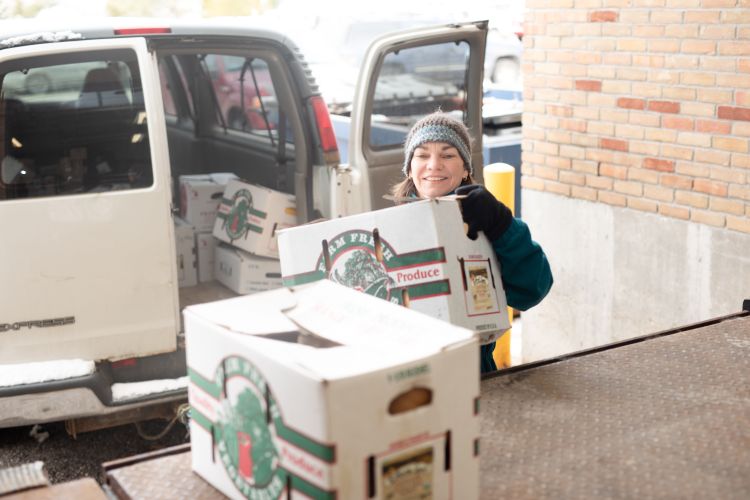 Greetings! We have been anticipating sharing this farm to institution-focused newsletter with you for some time. From documenting the impacts of the innovative 10 Cents a Meal program to a farm to early care and education (ECE) blog series and a farm to school video series, please enjoy this quick glimpse at some of the ways we're connecting farmers, schools, ECE sites, and other institutions.
Before we dive in, we are excited to introduce to you the newest members of MSU Center for Regional Food Systems (CRFS) team, Keesa V. Johnson and Megan McManus. Keesa, our CRFS Food Policy Fellow, joined us in January 2022. Megan joined CRFS as our Farm to Institution Fellow in August 2021.
---
Michigan
10 Cents a Meal for Michigan's Kids and Farms
10 Cents a Meal (10 Cents) is state-funded program that matches what schools spend on Michigan-grown fruits, vegetables, and legumes with grants of up to 10 cents per meal. MSU journalism students recently produced an article and short video featuring schools participating in the program.
You can learn more about the impacts of 10 Cents, specifically its pilot years, from our series of evaluation briefs, or this presentation to the Michigan Farm to Institution Network. For more on how the 10 Cents program works, check out this short framework document.
In March, MSU Extension Educator Mariel Borgman and CRFS Fellow Megan McManus presented together at Southwest Michigan Horticulture Days and Southwest Michigan Migrant Resource Councils Growers Conference on "10 Cents a Meal: A Win-Win for Farmers and Kids." This is another way we're working with our 10 Cents partners to spread the word and engage more schools, early care and education sites, and farmers.
Farm to ECE Grow More Awards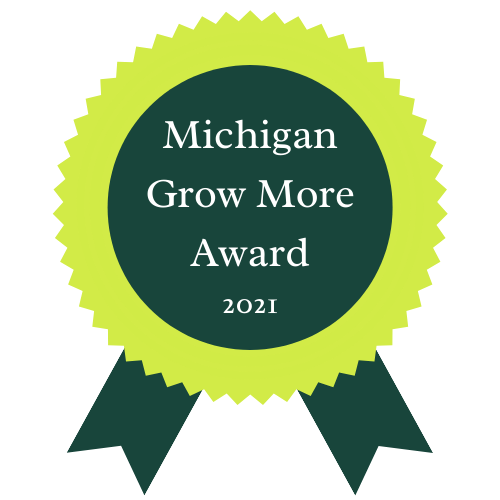 In late 2021, we recognized seven Michigan early care and education (ECE) sites with the first-ever Grow More Awards, in honor of extraordinary work in farm to ECE.
Baxter Community Center Child Development Center
Cassie's Daycare
Catching the Dream
It's All About Your Child
Meme's Daycare
YWCA Kalamazoo Children's Center
Little Daisy Daycare
Learn more about the awardees on the Michigan Farm to ECE Network website.
Farm to ECE blog series
Meagan Shedd, Assistant Professor, Farm to Early Care and K-12 Education, leads the Center for Regional Food Systems' work to increase farmers' and ECE providers' participation in farm to ECE. Shedd has recently collaborated with several partners on a blog series featuring farm to ECE across Michigan, as well as key topics in farm to ECE.
Michigan Farm to Institution Network
CRFS is part of a project led by the Michigan Department of Education and in partnership with MSU Extension Community Food Systems called "Developing Regional Specialty Crop Supply Chain Connections and Innovations to Support 10 Cents a Meal Grantees." The role of CRFS in this project includes supply chain development in support of 10 Cents grantees and hosting a series of Cultivate Michigan Marketplace events in 2022 and 2023. The marketplace events are unique regional events that connect institutional food service buyers and food suppliers of all scales. The first marketplace was hosted in April 2022 in Grand Rapids, with nearly 50 attendees representing 17 farms and food businesses and 10 institutional buyers.
The Michigan Health and Hospital Association (MHA) Green Healthcare Committee recently released a Sustainability Roadmap to support member hospital's sustainability efforts. In partnership with MHA, CRFS Value Chain Specialist Noel Bielaczyc and the CRFS farm to institution team developed a survey to assess member hospital interest and engagement around the Sustainability Roadmap's goals and create a baseline for tracking change going forward.
Farm to School video series
The Michigan Department of Education has developed a series of educational and inspirational Michigan Farm to School videos. The series features CRFS staff and partners, and is a great way to meet food service directors, farm to school coordinators, and students across Michigan. Watch the videos to learn what farm to school looks like in action and why it matters.
---
National
Farm to institution work in Michigan was recently featured in a USDA Agricultural Marketing Service (AMS) Roundtable. This roundtable highlighted expanded opportunities to support farm to institution work through the Local Agriculture Market Program grants. Colleen Matts, Director of Farm to Institution Programs at CRFS, and Emma Sirois of Health Care Without Harm were invited to speak at this roundtable. Matts shared how the Michigan Farm to Institution Network (MFIN) has evolved to be one of the strongest pieces of the collaborative infrastructure that supports Michigan's local and regional food systems. Our recent MFIN case study highlights many of the successes that Matts discussed.
National Farm to School Network (NFSN) is partnering with CRFS to implement and share the results of the forthcoming 2021 National Farm to ECE Survey. The results of this fourth national survey will be shared through an infographic and brief backgrounder in late spring, followed by state level results and a series of fact sheets in late summer 2022.
---
More farm to institution resources
2020-2021 10 Cents a Meal Legislative Report
Michigan Farm to School Track: School Nutrition Association of Michigan 2020 Virtual Conference
Michigan Farm to Institution Network meeting recordings