Mayberry Homes' Karen Schroeder receives NAHB Outstanding Industry Advisory Board Member award
The award was presented to Schroeder at the NAHB International Builders' Show, and recognizes a stand-out NAHB member serving on the Construction Management Industry Advisory Board at the nominator's university/college.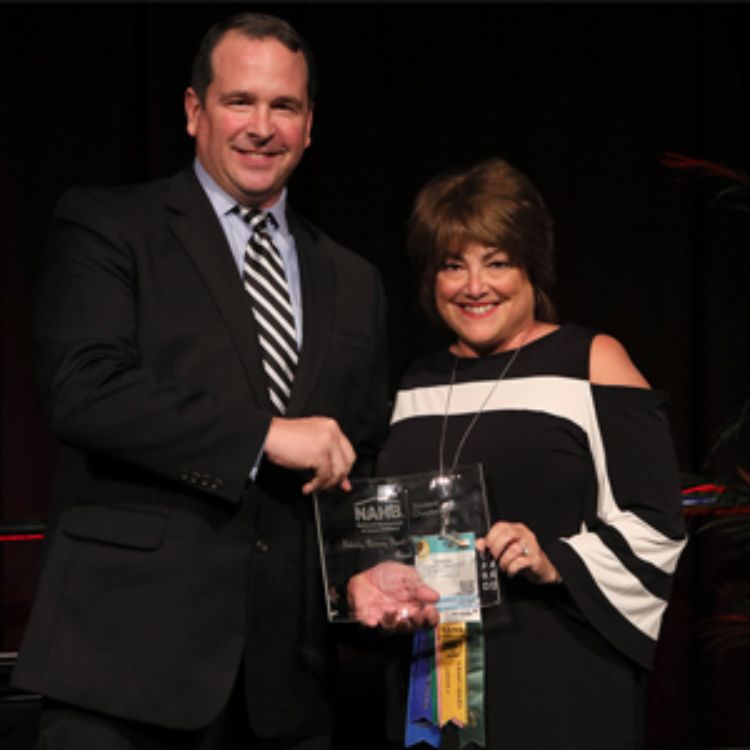 Karen Schroeder, executive vice president and partner at Mayberry Homes, recently received the Outstanding Industry Advisory Board Member award from the National Association of Home Builders (NAHB) for her dedication to the Construction Management (CM) Program at the MSU School of Planning, Design and Construction (SPDC).
The award was presented to Schroeder on Jan. 12, 2017, at the NAHB International Builders' Show, and recognizes a stand-out NAHB member serving on the Construction Management Industry Advisory Board at the nominator's university/college. To be considered, the member must demonstrate their involvement in student affairs, such as mentorships and career fairs.
Schroeder was nominated for the award by Professors Matt Syal and Sinem Mollaoglu (Korkmaz), because of her work with the Homebuilding Education Leadership Program (HELP) grant activities and students from the CM Program.
Upon finding out that she was going to receive this award, Schroeder was stunned. She joined the advisory board, because it was something that she believed in. "To be honored is icing on the cake," she said.
In 2008, Schroeder and Mayberry Homes were contacted by the ABC Extreme Makeover: Home Edition television show to collaborate on a project. This was a unique opportunity for Mayberry Homes to partner with Michigan State University, and for CM and Landscape Architecture students to get some hands-on, real-world experience. "MSU was our number one partner," said Schroeder.
In 2014, Schroeder chartered and became the first chair of the Greater Lansing Professional Women in Building Council (PWB). She opened Michigan's first chapter in Lansing with more members than the Chicago chapter. Schroeder currently serves on the NAHB PWB Board as a vice chair of the council's area trustee committee. She also serves as 2nd vice chair of the NAHB 55+ housing council.
Then, Schroeder, along with her husband, presented in November 2014 on "Homebuilding in Michigan: Surviving the Cycles" as part of the SPDC Industry Seminar Series. During their team presentation, the Schroeders shared with many students, alumni, faculty and other industry professionals the history of how Mayberry Homes came to be the successful Michigan home builder it is today.
Schroeder and Mayberry homes are also involved in the CM Summer Internship Program and have hired several CM students, some of whom are currently employed there. Typically, students "start at the bottom and work their way up" by getting out on job sites, shadowing a construction supervisor and, eventually, handling production in the office. "[These students are] young, hungry and curious. They want to work, and they want to learn," Schroeder commented.
Schroeder currently serves as a member of the HELP project advisory committee at MSU. She has relished the wonderful experience of serving, and is extremely impressed with the enthusiasm of both the staff and students.
Other boards that Schroeder is currently serving on include the Construction Management Alumni Advisor Board, the State Habitat for Humanity Board, the Homebuilders Association of Greater Lansing Executive Board, and the Wharton Center Advisory Council Board.
Schroeder believes that it is critically important for female Construction Management students to see that there is a place for them in the industry. For as long as she's been in the housing industry in Lansing, Schroeder has never felt like an outsider, or that she has more to prove. "Don't let the fact that you are a woman scare you away from this industry," she commented. "There are so many opportunities."
Please join us in congratulating Karen Schroeder for her achievement!