MSU grad talks to the Class of 2021 about the importance of relationships
CANR Outstanding Student Leadership nominee, Jessica Diaz, offers thoughts on how our communities support us and encourage our successes.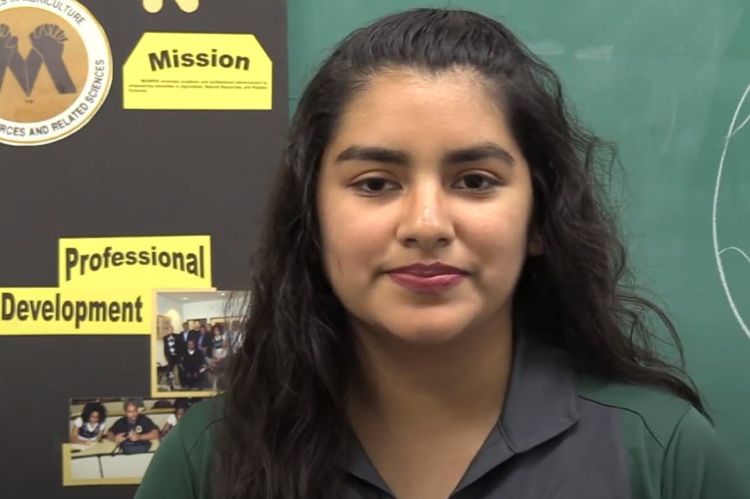 Good afternoon everyone! Buenas tardes a todos!
My name is Jessica Diaz, and I am a 2021 graduate of the fisheries and wildlife program.
I am so honored to be speaking to you today and even more to be alongside all of you celebrating our monumental accomplishment. As I reflected on my undergraduate journey these past few weeks, I kept coming back to the relationships that have helped me get here today.
Relationships are what create our community. They are reciprocal and can be manifested in many ways. Relationships with my family, mentors and peers have shaped my time at MSU. Although all of us have had our own struggles and success these past few years, I know we can all agree that family, mentors and friends are a key reason why we are here today.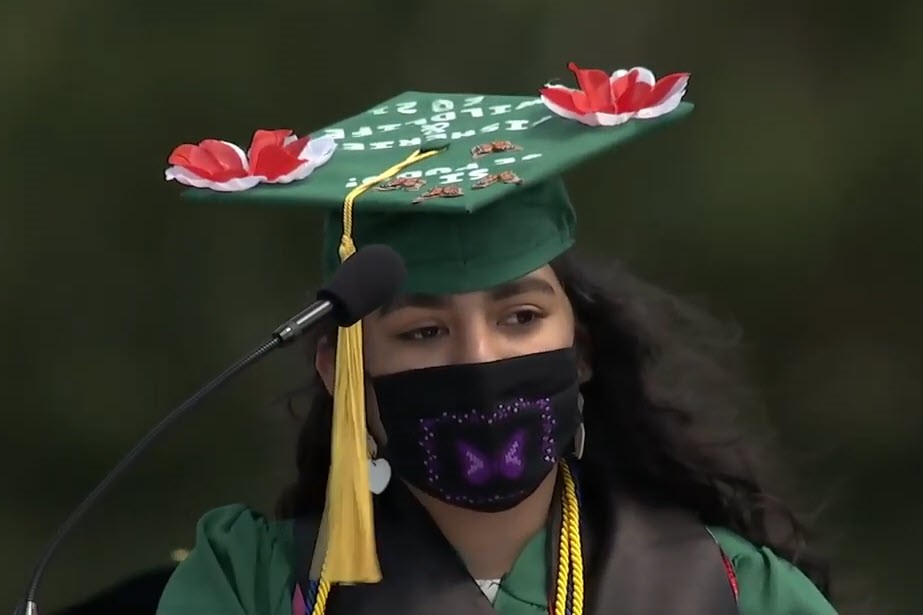 We started our final year of college in a virtual setting, where creating relationships proved more difficult than ever. Yet, for myself and maybe for you too, existing and new relationships are what got me through the year.
Even before coming to college, the first relationships we have are with our family. As a first generation college student and a daughter of Mexican immigrants, I owe it all to my parents, sisters and extended family whose unwavering support has gotten me through it all.
In times where I felt that I couldn't go on, my mom always told me "echale ganas mija, tu puedes," or "Do it with passion, you got this." Even after hearing this 10 times a week, these words of encouragement always kept me going through the late nights. I know that my success today is not just for myself, it's for my ancestors, my family and future generations to come.
"I know that my success today is not just for myself, it's for my ancestors, my family and future generations to come." Jessica Diaz, MSU Fisheries and Wildlife Graduate
Whoever family may be for you, I hope that you can celebrate this day with them and never forget all the little things that they have done for you!
Our professors and other mentors are another crucial part of our journey. I want to take a moment and talk about one of my professors, Dr. Mary Bremigan. I'm sure everyone in the Department of Fisheries and Wildlife can attest to the phenomenal educator and person that Dr. B is.
For me, she has been a guiding light. In both classes I took with her as my professor, she created a learning environment that was easy to navigate. I was never afraid to ask questions or speak up. Outside of class, she has provided me mentorship, from helping me find an undergraduate research experience to advising me on graduate school.
Whether it's an advisor who made sure you graduated on time, or a professor who let you cry in their office hours, we all had someone – or multiple someones – who was there for us whenever we needed their helping hand.
Lastly, we can't forget about our peers who were literally by our side through it all. In the Fisheries and Wildlife Club, I met peers as passionate about conservation and the environment as I am. Peers that I have come to rely on to study together, borrow a pencil from, or even go on socially distanced hikes with. In MANRRS, I found peers that became my safe space and home when I needed it the most. I know that I am not alone in having formed such great friendships here on campus.
As we go into the next phase of our lives, I call on us to maintain these relationships in any way we can. Just how these relationships have influenced us, know you have affected someone else in the process.
Family. Mentors. Friends. They all made our journey here possible, but who I haven't acknowledged is you! We made it! Even through a global pandemic and over a year of virtual learning. Our tenacity and resilience shines bright.
Congratulations Class of 2021! I am so proud of us and wish you many more successes. Thank you.