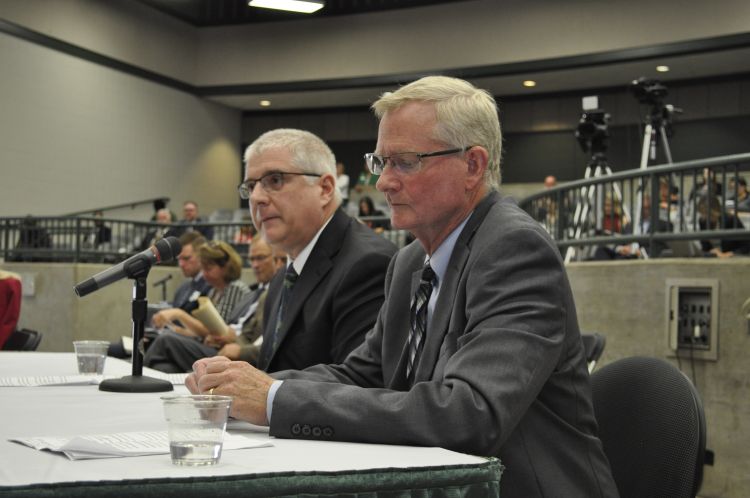 EAST LANSING, Mich. – A joint hearing of the Michigan House of Representatives and Senate Committees on Agriculture took place at the Michigan State University Pavilion for Agriculture and Livestock Education Tuesday, Aug. 13.
About 150 stakeholders attended the meeting, which included presentations on the state of the agriculture industry. Growers and producers have been dealing with a number of challenges.
According to the U.S. Department of Agriculture (USDA), just 68 percent of the corn crop and 70 percent of the soybean crop were planted this year because of historically wet conditions. Trade concerns and other economic pressures have also contributed to mounting uncertainty.
Rep. Julie Alexander and Sen. Kevin Daley, chairs of the agriculture committees, called on agriculture leaders to present on behalf of their organizations and detail what's being done to assist farmers.
The Michigan food and agriculture industry generates more than $104 billion annually in economic activity.
"This situation has long-lasting, far-reaching impacts," Alexander said during her introduction, in which she emphasized the need for continued partnerships. "It not only affects the farmers' bottom line but the bottom line of the entire agriculture economy."
Leaders from the USDA, the Michigan Department of Agriculture and Rural Development, Greenstone Farm Credit Services, Michigan Farm Bureau, the Michigan Agri-Business Association and the Cherry Marketing Institute provided testimony on a variety of topics. These included delayed planting and how to take advantage of associated resources, as well as how trade practices and tariffs have affected the agriculture community.
Ron Hendrick, dean of the MSU College of Agriculture and Natural Resources, and Jeff Dwyer, director of MSU Extension, discussed the unique role MSU plays in the agriculture industry.
"The university's land-grant mission is most visible in our college through our teaching, research and outreach," Hendrick said. "We are home to more than 4,800 undergraduate students, almost 700 graduate students and about 500 students in our Institute of Agricultural Technology. We are also home to MSU AgBioResearch and MSU Extension, and we work together to serve the state's agricultural and natural resources industries.
"We build resilience through the work in MSU AgBioResearch. We help growers and producers combat plant and animal diseases, adapt to weather and climate change, and provide research to policy makers across the state and globe to address labor, trade, food safety and security concerns."
Dwyer noted that MSU Extension is expanding its outreach capacity and is at the forefront nationwide of administering farm stress resources.
"Over the last three years, we've added close to 30 educators, many in newly created positions that help serve the industry and farmers better," Dwyer said. "In January, we held a train-the-trainer summit where 99 professionals from 22 states learned how to teach two MSU Extension farm stress curricula. In the eight months since, 16 universities have offered these classes to nearly 700 participants in 17 states."
Dwyer commended both committees for their efforts in partnering with MSU but emphasized the need to do more.
"To amass the resources that we need to tackle these challenges, we need the continued support of the Michigan Legislature," he said. "Our unique combination of mental health assistance, financial management and production education is in direct response to a crisis. But this work is long overdue, and it will not end when the current crisis ends. We must continue to invest in helping farm families, agribusiness professionals and rural communities prepare for challenges well into the future."