MSU students envision new look for Cowles House for President Simon
On Sept. 19, 2016, interior design seniors were given details on a project to redesign a historic home on the campus of MSU.
June 20, 2017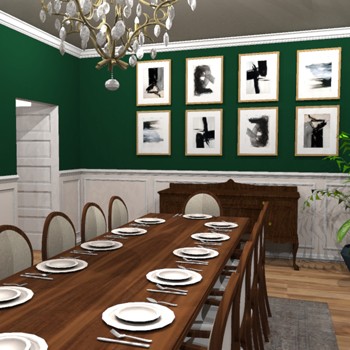 By: Lauren Oldenburg, 2017 class of interior design; and Suk-Kyung Kim, PhD, SPDC associate professor of interior design
On Sept. 19, 2016, interior design seniors were given details on a project to redesign a historic home on the campus of Michigan State University. This project would be unlike any other they had worked on, because the students were being called upon by MSU's President Lou Anna K. Simon to envision a redesign of Cowles House.
This residence on campus is reserved for the current president and his/her family members. Currently, President Simon does not use Cowles House as her permanent residence, but instead she utilizes its open space and historic features to hold events and gatherings for campus affairs.
The opportunity to redesign the oldest building on campus was an honor in the eyes of the students, and they treated it as such.
The students in IDES 442 Interior Design Programming were challenged to come up with a design that optimized the space to its fullest potential. Associate Professor Suk-Kyung Kim, PhD, instructor for the course, and the students worked hard to come up with a space that provided efficiency for events, and comfortability for future families to once again live within the walls of Cowles House.
Figure 1: Overview of the Cowles House Interiors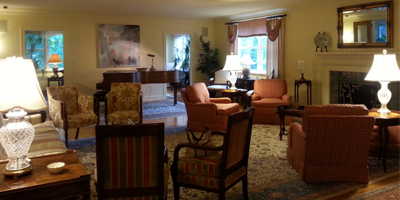 The main design goal was to keep the historical elements that make this historic building a special place on campus, while incorporating modern touches that make the house livable in today's residential environment.
Figure 2: Dining Space in Cowles House
Throughout those few weeks after the project was introduced to them, the students conducted site visits of the space, researched climate analysis and building history, decided upon project goals and concepts, and formulated knowledgably space plans and solutions.
For a house originally built in 1857, which has undergone many renovations, there were many design challenges for the students to work through. Understanding the client's needs played a large role in developing a final design solution for this project.
Figure 3: Proposed Entertaining Space Rendering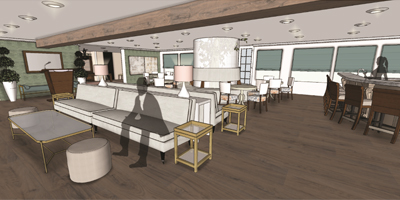 By Group 1 (Lauren Oldenburg, Shane Obrien, Erika Berg and Haley Murray).
There were many questions asked and answered within the student's groups to each other and to the faculty of Cowles House. Once each group grasped a concept for their design, they let their creative minds take the lead.
Figure 4: Proposed Family Living and Dining Space Rendering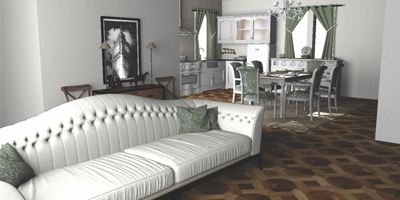 By Group 2 (Abbi Vida, Sydney Bourque and Tina Alati).
This project provided a practical learning experience for students, which required them to analyze various constraints and propose creative solutions for a historic home.
Figure 5: Proposed Garden Inspired Lounge Space Rendering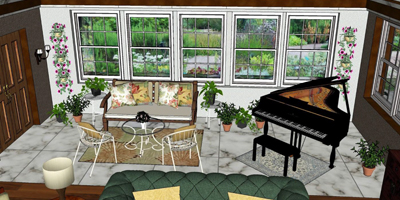 By Group 3 (Anran Wang, Jiabao Zhang, Lattisha Littleton and Tierra Nelson).
In a short time, design solutions were formulated and presented to the Cowles House faculty on Nov. 2, 2016. Each group presented a design that was aesthetically pleasing and within their client's taste, functional for today's lifestyle, and accurately historically preserved. The students acted as the professionals they soon hope to be, and sold their ideas to their client.
Figure 6: Proposed Entertaining Space Rendering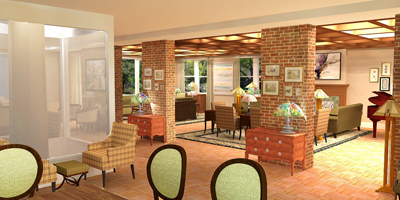 By Group 4 (Lynne Davis, Brittany Hackel, Rui Zhang and Taylor Schnelbach).
The proposed design ideas were vetted through a feasibility analysis lead by Associate Professor Kim facilitated with assistance from Kirsten Kelly, the Cowles House manager, and Monte Pride, an architect from MSU Infrastructure Planning and Facilities.
Figure 7: Proposed Dining Space Rendering
By Group 5 (Colleen Ireland, Rachel Dobbin, Yiwei Chen and Wei Wan).
The refined ideas were then presented on Mar. 1, 2017, to President Simon; Roy Simon, PhD; Provost Youatt; and a select group from MSU. Interesting discussions and useful comments were made during the presentation. As an experiential learning project, the Cowles House redesign project was meaningful for both students and the instructor. Core redesign ideas for improving user's accessibility, and enhancing space functions and efficiency will be included in the strategic plan for the building.
Figure 8: Additional Idea of User Accessibility to the Building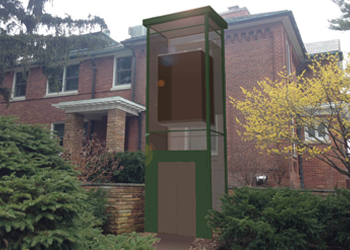 By Suk-Kyung Kim and Hebatalla Nazmy.
For more information and follow-up questions, contact Suk-Kyung Kim at kimsk@msu.edu.