Nobis named honorary alumnus by CANR
Ken Nobis will receive an Honorary Alumnus Award.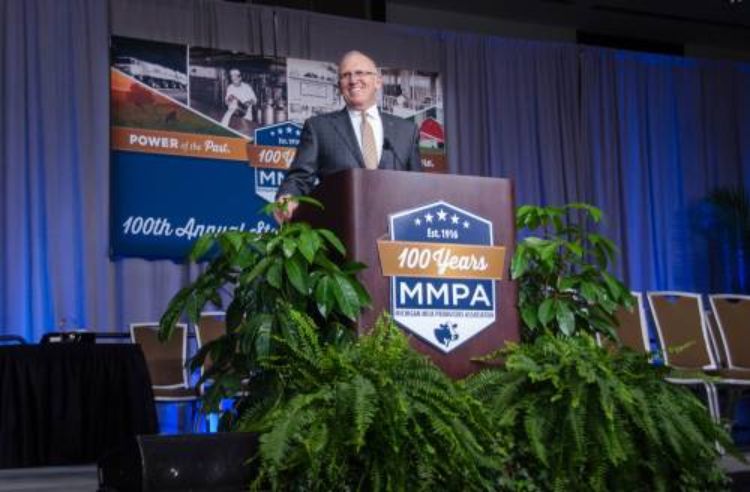 The College of Agriculture and Natural Resources (CANR) at Michigan State University (MSU) will honor 12 leaders in agriculture and natural resources for leadership at the community, state and/or national levels during the annual Agriculture and Natural Resources (ANR) Week luncheon at the Kellogg Hotel and Conference Center March 7.
Ken Nobis will receive an Honorary Alumnus Award.
Ken Nobis has shown outstanding dedication and commitment to Michigan State University over the years, serving on MSU Extension, Department of Animal Science and AgBioResearch committees. Nobis is the president of the Michigan Milk Producers Association as well as co-partner at Nobis Farms. His influence has helped make Michigan one of the most progressive dairy states in the country. Michigan currently ranks second in milk production per cow in the United States.
For over 40 years, Nobis has personally worked with MSU researchers on his farm. His trust in research allowed the development of the reproductive management system G6G to take place on his farm. This system enhances fertility and herd milk production by improving efficiencies in calving intervals.
More than 60 students, both undergraduate and graduate, have trained at the Nobis Dairy Farm. On multiple occasions, Nobis Farm has allowed international students to tour and conduct on-farm research there.
Nobis Dairy Farms was recognized as the Dairy Producer of the Year by Michigan State University in 2006 and was named MSU Extension Key Partner Award winner in 2016. In 2015, Nobis Dairy Farms received the U.S. Dairy Sustainability Award, and he was recognized by The Times Herald in 2016 for water quality and dairy farms. Nobis currently serves as a board member of the U.S. Dairy Export Council, the Dairy Management Incorporation and the National Milk Producers Federation. Since becoming president of MMPA, Nobis has made it his work to educate those directly working in the dairy industry as well as those who are not. When the community of Flint, Michigan, was faced with the Flint water crisis, MMPA along with Kroger Co. donated 12,000 gallons of milk to the Food Bank of Eastern Michigan for distribution to families affected by the crisis.
In his role as the president of the Michigan Milk Producers Association, Nobis' understanding of how applied research increases profit on Michigan dairies has led to significant enhancements in funding for dairy research at MSU through the M-AAA program. His unwavering support for MSU and the Department of Animal Science has enhanced the prestige of MSU.