The John Perona Collection
Through the long-time efforts of Mo Nielsen, and the generous offer of the Michigan Entomological Society to purchase the collection and donate it to MSU, the John Perona collection is now at the ARC.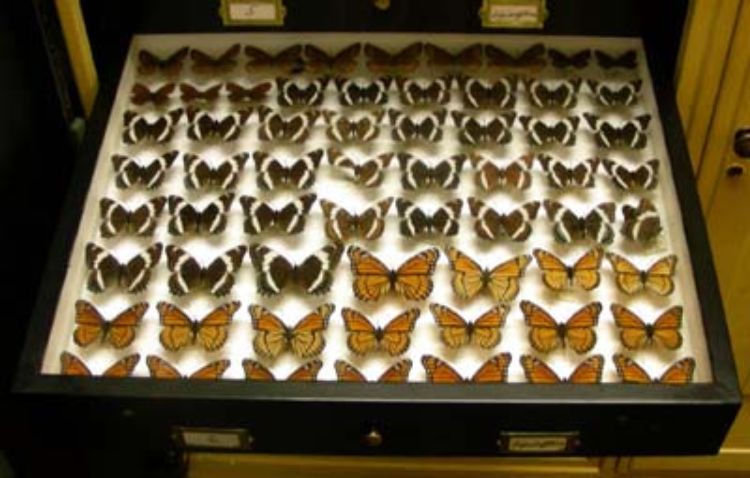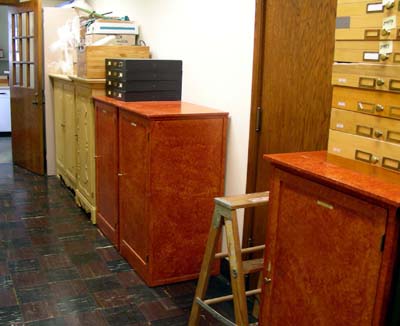 John Perona, born in 1920, lived his entire life in the Calumet area of the upper peninsula of Michigan. At age 16 he became interested in insects, and one of his many hobbies was to make a collection of the area insects, which was to continue for nearly 70 years. His collection currently contains over 8000 insects, housed in 74 drawers and 5 cabinets. John made all the drawers and cabinets himself, as well as most of his collecting and mounting equipment over the years. These specimens were all collected from an area of Michigan that has been sparsely collected by other entomologists, primarily due to the difficulty of getting there, and as such represent a unique picture of the insect fauna of that area.
John's main interest was butterflies and moths, and some 50 drawers of his collection are devoted to this order. In addition there are 5 drawers each of Odonata and Hymenoptera, 3 drawers each of Coleoptera and Diptera, 2 drawers of Orthoptera, and 6 drawers containing a mixture of other orders. John took great care in his collecting and mounting of specimens. Nearly every specimen has wings and legs spread, with only very little sign of damage or missing parts. He kept meticulous notes on every collecting trip and locality he visited.
In an effort to ensure that it would be preserved for the future, the Michigan Entomological Society (MES) offered to buy his collection. Despite a great reluctance to part with his life's work, John sold his collection to the MES in the summer of 2007. The collection was then donated to the ARC where it will continue to be curated and cared for, which John was no longer able to do because of his health. Included with the donation of the specimens were John's field notebooks, his library of 25 entomological texts, all his hand-made collecting gear, and the cabinets and drawers.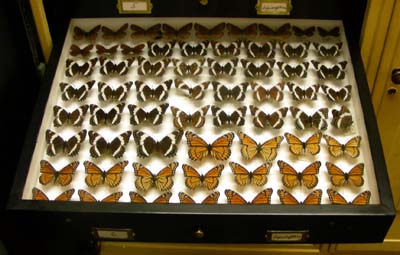 This generous donation will add significant records to our holdings and the study of Michigan and Great Lakes Arthropod Diversity. We thank both John, and the Michigan Entomological Society for making this possible.
For a more complete story about John's life and the efforts it took to physically get the collection to the ARC, see the articles by Martin Andre in the May 2008 Newsletter of the Michigan Entomological Society, Volume 53 (1&2).