Human Nutrition Graduate Program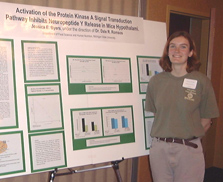 The Department of Food Science and Human Nutrition at Michigan State University offers outstanding educational programs that uniquely impact at the interface of the food and health delivery systems. Programs form a continuum between production agriculture and consumer food use. Human nutrition graduate programs provide a strong biochemical research base with practical community-based applications.
The department has demonstrated leadership in integrating its program areas that provide faculty and students development opportunities through diverse transdisciplinary experiences. Implementation of a safe, wholesome and nutritious food supply is enhanced through interaction of faculty with private industry and governmental agencies. Our programs benefit through extensive collaborative interactions espoused within the environment at MSU — a multidimensional, research intensive, land-grant university.
The Department of Food Science and Human Nutrition offers graduate programs leading to a master's of science degree and a doctoral degree in human nutrition under the College of Agriculture and Natural Resources. Also offered are numerous opportunities for postdoctoral research.
Graduate applicants are expected to meet the academic background requirements of the program of his/her choice. Programs of study and research are flexible and designed to meet the needs and objectives of individual students. Emphasis is placed on a sound educational program to develop a high degree of professional competence in a scientific program area.
The candidate selects a graduate program, which emphasizes either biochemical or community-based research. The applicant is expected to have had courses in the following areas: organic and quantitative chemistry, biochemistry, physiology, mathematics and nutrition.
Masters Degree:
The master's degree program in human nutrition includes research, coursework in advanced nutrition, statistics, seminars and appropriate selections from one or more of the following areas: anthropology, pathology, genetics, psychology, sociology, epidemiology, or family and child ecology.
Ph.D. Degree:
The doctoral program course and research programs are designed to develop the student's scholarly potential. Major emphasis is placed upon the completion of original research, which should provide a significant contribution to knowledge.
Ph.D Dual Major Graduate Program in Toxicology
In addition to the M.S. and Ph.D. in the Food Science and Human Nutrition Department, students can also enter the joint HNF/Environmental Toxicology graduate program. If you are interested in toxicology graduate education and research related to the harmful health effects of environmental or other chemicals, you can enroll in this multidisciplinary dual-degree graduate program in Environmental and Integrative Toxicological Sciences (EITS).The EITS program is administered through MSU's Center for Integrative Toxicology (CIT) and, in conjunction with our graduate program, offers outstanding training in basic biomedical science coupled with training and credentials in the discipline of toxicology that can open additional career opportunities.Before enrolling in this program, students must first be accepted for graduate study in a cooperating program such as Human Nutrition.
To find out more about this cooperating program, visit the CIT's graduate program in toxicology website, call 517-353-6469, or e-mail mailto:tox@msu.edu.
Research Areas and Faculty:
Contacts:
For specific questions and information on specific Human Nutrition research areas, please contact the following:
Biochemical and Molecular Nutrition
Dr. Liz Gardner (517) 353-3354 E-mail: egardner@msu.edu
Community Nutrition
Dr. Katherine Alaimo (517) 353-3412 E-mail: alaimo@msu.edu
Didactic Dietetics Training/International Studies
Dr. Lorraine Weatherspoon (517) 353-3328 E-mail: weathe43@msu.edu