A Wonderful Time in Oudega and Sneek
Kathryn P.
May 21, 2014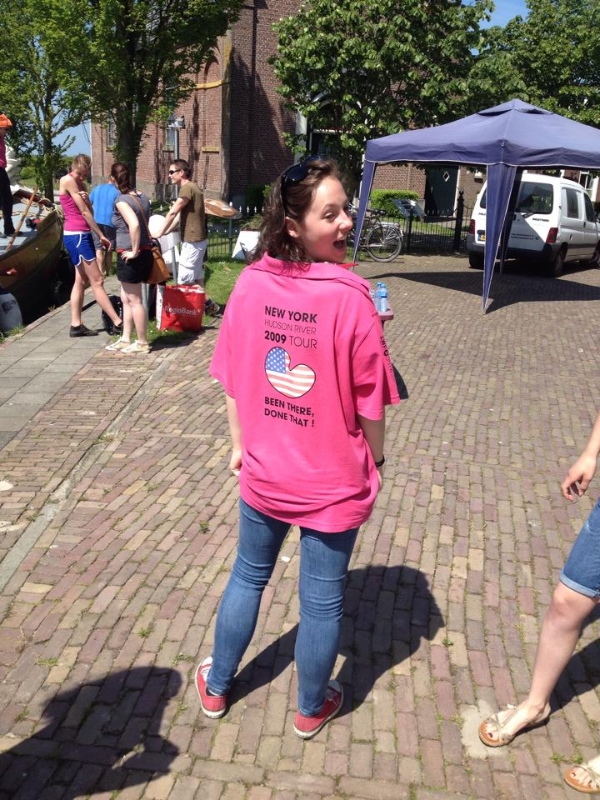 Sundays are resting days in the Netherlands, so there was not much to do in terms of work. Willemke, my host, took my group out into the town of Sneek. It was absolutely gorgeous, with canals running between the buildings. We went to shops where Frieslanders showed their pride with an enormous variety of souvenirs that had their flag printed on them. Every shop we went into seemed to have Friesian flags. The display of pride was amazing. In Michigan, I have not seen anything like that with our state flag.
After some shopping and lunch, Willemke took Susannah, Laura, and I on a boat ride through the canals and onto the lake. The perspective from the water made the land even more breathtaking. Although there is a lot of boating in Michigan's lakes, I had never seen the such busy waters. There were hundreds of boats out on the water, since it was such a beautiful day! We relaxed in the sun, had great conversation, and we were all sad to leave the boat.
When we got off of the boat, our group met up with the owners of the boat, and they described the ship's original use as a cargo ship before World War II. The ship did not have any sort of motor, so it had to be pushed with poles through the river like a ferry. I was surprised that such a large boat could move through the canal, but the boat owner told us that it could be in water as shallow as 80 centimeters. Once we hit the open water, the sail was up and the boat moved faster than we expected. The owner of the boat told us that they used it for racing, and that they had a team that went to New York to race in the Hudson River. We talked to them about it for a while, and they even let me try on one of their team shirts for a picture. Everyone with whom we spoke had tons of questions for us about America. They were all so friendly and welcoming!
We ended the day just hanging out at Willemke's family's farm, playing with the cows. We all watched her father milk the cows in the evening (the milking parlor was too small for all of us to fit) and played with the dry cows that were on pasture. We all had a lot of fun together. I am going to miss Willemke and her family when we leave. I wish we could have stayed in Oudega longer, since there were so many friendly people and so many things to do!