Brussels boasts history and architecture
Caelah Doerr, '15; Laura Small, '16; and Brandi Stone, '14
Coming from our modern-day East Lansing, our first stop, Brussels, Belgium, seemed a historic wonder. It was adorned with ancient cathedrals and other buildings displaying gold accents and gothic architecture. As we strolled around the city, it was colder and windier than what we thought it would be. Thankfully, even though the gray sky threatened, no rain occurred as we walked down the narrow alleyways past quaint shops and restaurants. The restaurants, bursting with food ranging from Italian to seafood to steak dishes made this first day of the trip representative of olden Europe. As we toured Brussels, with its cobblestone streets and towering buildings, the residents were cheerful and welcoming, making us in our travel-weary state feel more comfortable.
To further contrast home-sweet-home of East Lansing, Brussels contains many well-known statues that have made it famous. One such statue is called the Manneken Pis and depicts a peeing boy, made in 1619. As we viewed it, many others were gathered around taking pictures and laughing. The Manneken Pis is evident elsewhere in the city including coke machines and a giant peeing boy out of chocolate at one of the chocolatier shops! Another known statue is that of Everard 't Serclaes, a citizen of Brussels who helped recover the city from the Flemish in the twelfth century, and his statue supposedly brings good luck if touched. Some of us took part in this old Brussels tradition and hope that it brings us good luck for the rest of the trip.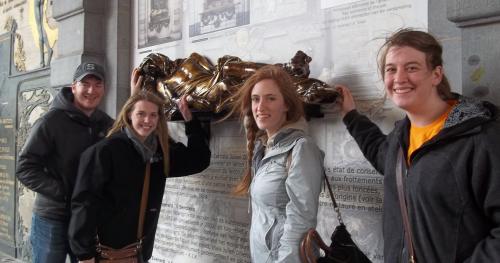 Our trip continued to Ghent, confirming that we were far from home, and embedded in the rich culture that is Belgium. Building after building contained the same intricate architecture as that of Brussels, each one more impressive than the last. Ghent is home to many cathedrals, and in these, the history comes alive in crucifixes and paintings. Not only did we feel the power of these, but felt the reverence that the citizens of Ghent have for their historic city. This was especially exemplified by our brief tour in the evening by Drs. Miel Hostens and Bonny Vanranst. They not only knew the recent history of their city and country, but also the history much, much farther back. Who knew that history could be so interesting?
If anything has been given to us this first day of our very exciting trip, it is that this culture that we have entered is a colorful and rich one, filled with buildings, statues, and most importantly, its people that keep its deep history alive.
Did you find this article useful?
---