Chinese consumers and food safety studied by AFRE assistant professor
Troubled by a spate of recent food safety scares but buoyed by rising affluence, urban Chinese consumers appear willing to pay for a safer food supply, says David Ortega.
December 18, 2013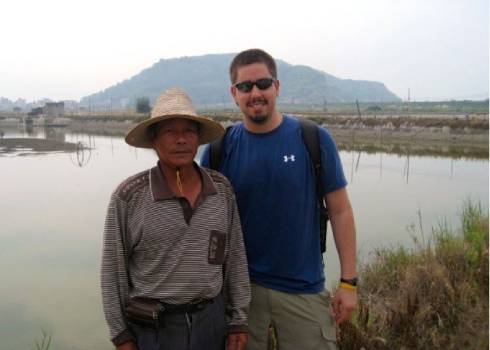 by Christine Meyer
Troubled by a spate of recent food safety scares but buoyed by rising affluence, urban Chinese consumers appear willing to pay for a safer food supply, says David Ortega, an assistant professor in the Department of Agricultural, Food, and Resource Economics (AFRE).
For the past five years, Ortega has been designing surveys and traveling to China to study consumer food preferences. He works with Chinese experts and graduate students who fan out to grocery stores, markets and other retail sites to ask questions and conduct economic experiments about consumers' willingness to pay for safeguards such as product labeling, product traceability, quality guarantees and a state-sponsored food safety assurance program.
"My research has shown that urban Chinese consumers are becoming increasingly concerned about the quality of their food, and I have found that they are willing to pay for safety attributes in various food products," Ortega says.
While a graduate student at Purdue University, where he earned both his master's and doctoral degrees, Ortega participated in a project that examined Chinese urban demand for U.S. pork. In summer 2009, he returned to China with the National Science Foundation's East Asia and Pacific Summer Institute. Visiting seven cities in three months, Ortega's group conducted a study of consumer willingness to pay for specific food safety measures. They focused on pork and milk. China is the world's largest consumer and producer of pork, and its market for Ultra High Temperature (UHT) processed milk is growing rapidly.
Ortega is a native of Venezuela who grew up in Florida and earned his bachelor's degree in food and resource economics from the University of Florida. He says he "caught the China bug" on his first trip to the region in 2008, and he has returned every year since. He readily acknowledges that food safety remains a significant problem for China. Several factors make the challenge of improving food safety particularly difficult as a rapidly expanding industrial economy bumps up against an ancient, agrarian society.
For example, he says, "In the U.S. you have agriculture production and high population centers and the two are pretty separate. There's little overlap. China is a huge country, but only a small fraction of it is suitable for agriculture and it happens that's where a lot of the population is."
The population centers – where a city of two million is not considered large – also are where the manufacturing takes place, often literally next door to a farm, Ortega says. Also unlike the United States, where 2.2 million people list farming as their occupation, more than 300 million of China's 1.3 billion people still make their living by farming.
"The food supply is so fragmented it makes it very difficult to put in any monitoring scheme and it's extremely costly," he says. "I've been to some very modern processing facilities in China (that compare with) what you see in the west and the U.S. But that's not the whole picture.
"We also found decentralization around food safety to be a big issue. When a safety event broke out, everyone passed the blame," he says. "Consolidation is what's needed. And they are working on that."
And because consumer demand does have the power to effect change, Ortega says he believes that can spur further gains in food safety and producer accountability. Ortega recently began studying American preferences for food imported from China and Asia and the ways in which news stories about food safety problem from the region affects consumer demand in this country.
"In order for them to reach U.S. export markets, they'll have to provide safe, high-quality products," he says of the Chinese. "If they fix the domestic system, it definitely will spill over into the export market. It's such a global world now that what happens in China affects everyone."