Day 13: A Tale of Two Cities
Barb, Carmen and Chelsey holding a Heidelberg street sign in front of a souvenir shop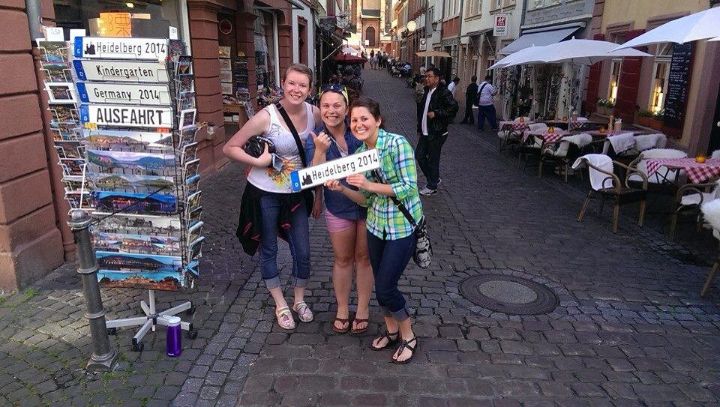 Today was a beautiful Friday in Cologne, Germany. It was our "free day" to do whatever we wanted. Our group of four, Kathryn, Susannah, Kayleigh, and Courtney, decided to take advantage of the nice weather, and spent most of the day in the shopping district. We headed straight from the hotel to the Farina Cologne store, where they sell bottles of Eau de Cologne made from the original recipe, created in 1709. It was described by the inventor, Giovanni Maria Farina, as "a fragrance that reminds me of an Italian spring morning, of mountain daffodils and orange blossoms after the rain." It is a citrus scent with subtle floral undertones. We all loved it, and we were amazed that the perfume was unchanged and still being used after 300 years. After searching through all of the other available scents, we all decided to buy some of the original fragrance. It was a little expensive, but when else would we be able to say that we bought cologne in Cologne?
A different group of four people, Barb, Chelsey, Carmen, and Mark all decided to go to Heidelberg, Germany in the Black Forest to visit a castle. It was definitely an adventure getting there with the local train system. We eventually all made it and proceeded to walk up the 45° incline of cobblestone road to the Heidelberg Schloss. It was amazing, we took a guided tour inside parts of the castle and we wandered around the courtyard. None of us had seen anything like it. After the castle tour, we decided to walk around town. Barb found a beautiful crystal candy dish for her grandmother, and both Barb and Ca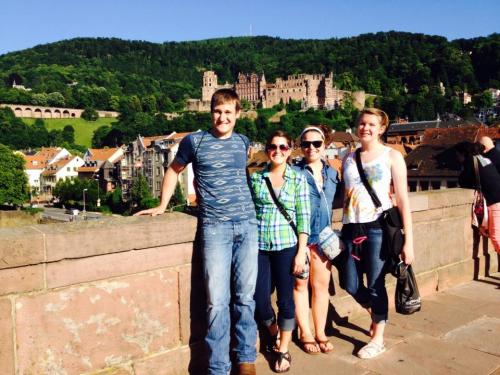 rmen bought cuckoo clocks. They were so excited, and Mark and Chelsey were excited for them because they have been talking about purchasing cuckoo clocks the whole trip. We also climbed all 208 steps up the bell tower of The Church of the Holy Spirit. The view was breath-taking. Before we knew it, it was time to catch a train back to Cologne, which sounds easier than it really is. Four hours, three trains, and four desperate tickets purchases later, we were back in Cologne, Germany. Even though some parts of our journey were stressful, there were always local people willing to help us find our way. The people that we met throughout the day and night really made this experience something to remember.
The two cities were full of Germany's history. The churches were all Roman Catholic with a lot of gothic influence. The beauty of high vaulted ceilings and artistic tiled floors are breathtaking throughout the cities. Although small compared to Mannheim, the cities were packed full of sites, shops and restaurants that entertained us for hours. Heidelberg has more of a small town feel to it and Cologne has a more modern city life, however the cities are around the same size. Germany is full of beautiful hills and valleys but the cities hold the historic beauty of the country. Our visit was so much fun, we are all already making plans to return. So for now, Auf Wiedersehen!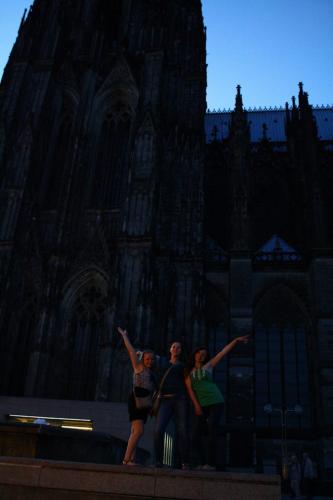 Did you find this article useful?
---