John Boyse, Nancy Creed given Jack Breslin Distinguished Staff Award
Two staffers from CANR were recognized as distinguished staff members for their contributions to Michigan State University.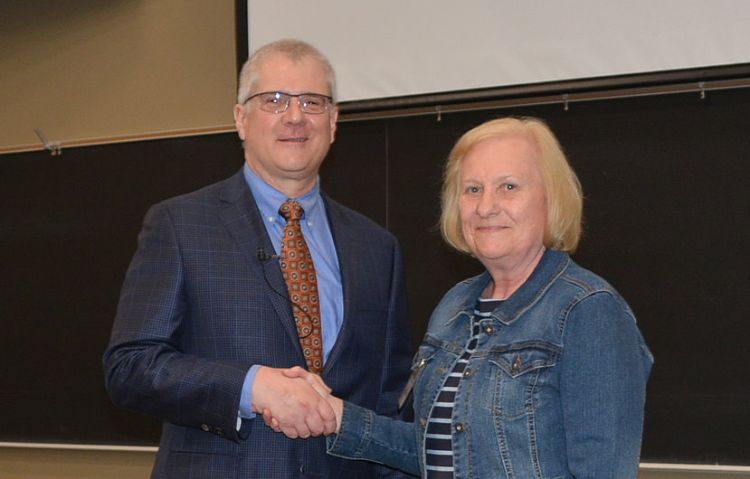 John Boyse, research assistant in the Department of Plant, Soil and Microbial Sciences, interacts daily with industry and commodity partners at the MSU Agronomy Farm. As coordinator of soy performance trials, he also establishes field sites across the state, which involves many long days and weekends. In all of his roles, his giving personality builds strong relationships with cooperators; graduate, undergraduate and international students; and everyone he meets. One of those relationships, developed conducting trials at the Wood Farm, has continued for 29 years. His mechanical skills and attention to detail have led to many equipment improvements, leading to more efficient and accurate data collection. He has re-engineered and rebuilt field equipment, modifying them to accommodate new research ideas rather than keeping ideas within the confines of the equipment. His work ethic is contagious. He is quick to donate his time and even his tools to help others. He has even helped departmental support staff with office improvements. He cares greatly about the farm's appearance, maintaining a flower garden around the main building and keeping weed-free research plots both on and off campus. Sometimes research conducted in a lab or greenhouse does not transfer to the field. John has performed a critical role in helping MSU researchers learn what actually works in the field as we try to help feed the world. His meticulous work, warm personality and genuine care for the programs and other people are a great representation of what a Spartan should be.
Nancy Creed has spent her career of more than 40 years at Michigan State University (MSU) in the College of Agriculture and Natural Resources. She manages travel for the Department of Agricultural, Food, and Resource Economics (AFRE), hires and processes payroll for all student and temporary employees, coordinates departmental events and processes all procurement and supply orders, all while supporting faculty, staff and students who need general departmental help, including the MSU Income Tax School. She sees the work she does as an opportunity to learn and share her knowledge with others. Colleagues describe Nancy as diligent in her duties, humble, dedicated, conscientious, caring and compassionate. In 2015, the faculty within AFRE recognized her contributions with a Lifetime Award for Distinguished Service – the first time in history that the faculty service award was presented to a nonfaculty member. "There's no task that Nancy deems beneath her if it will help the general welfare," AFRE professor and former associate chairperson Scott Swinton said. "When Spartans in our corner of MSU ask, 'Who will?' The answer is, 'Nancy will.'" Associate professor Robert Shupp said that her career is marked by her incredible ability to adapt and improve to new responsibilities as they develop within her roles. Nancy Creed certainly meets the criteria of a person deserving of the Jack Breslin Distinguished Staff Award.