MSU grad shares how the Class of 2021 is poised to make an impact
CANR Outstanding Student Leadership awardee, Ashley Prince, talks to undergrads about resilience, empowerment and growth to help change the world for the better.
Good morning—faculty, parents, friends, peers—and most importantly the Class of 2021!
I am deeply honored to receive the Outstanding Student Leadership Award [by the College of Agriculture and Natural Resources]. I am proud to congratulate the Class of 2021 in reaching this remarkable milestone.
This past year, we have all experienced one of the most chaotic times in history, amid a global pandemic and virtual learning. It's incredible to witness the graduates' strength and ability to pull through during this challenging year.
This has been a year of resilience, empowerment and growth.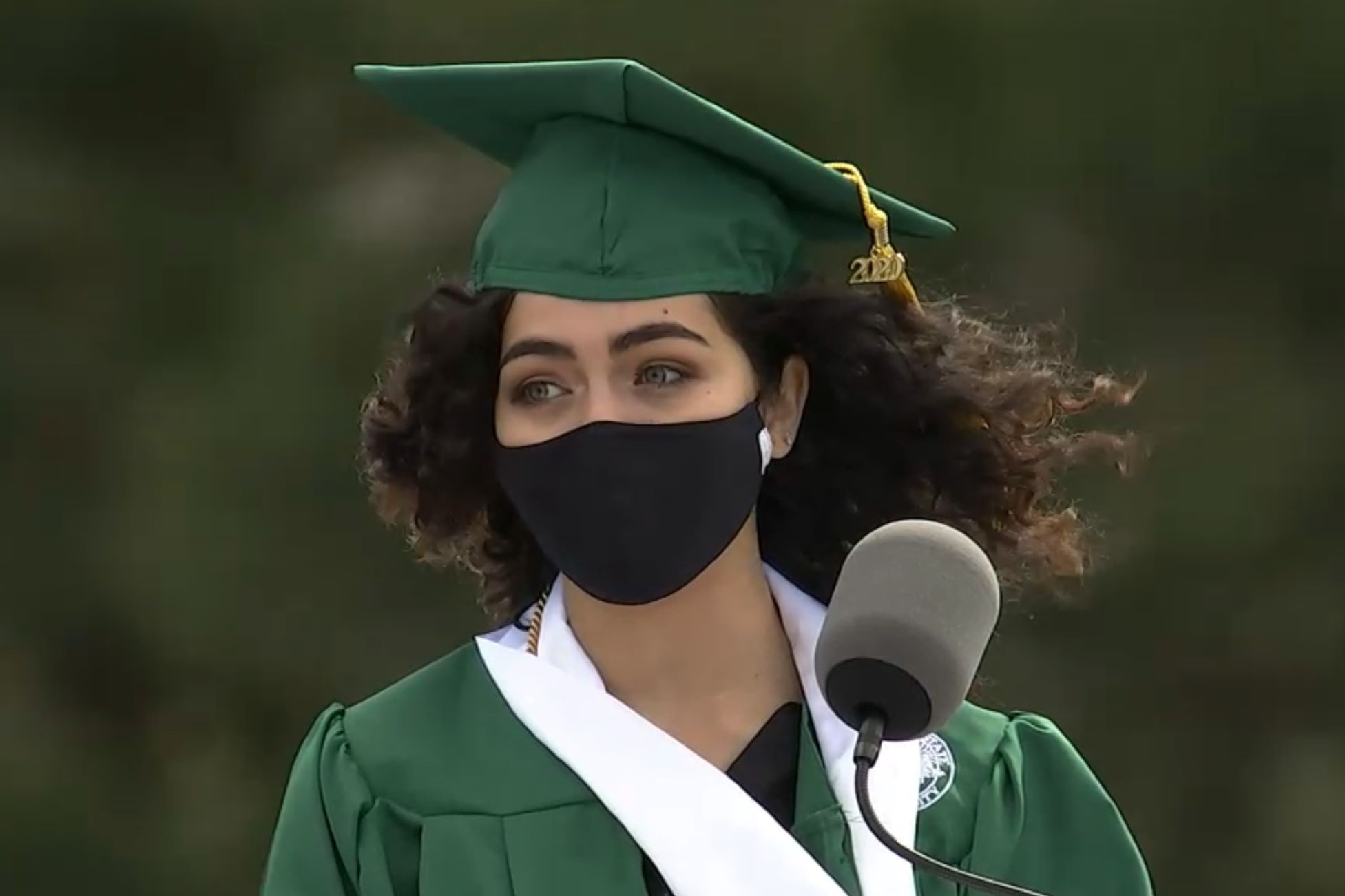 As a graduate of the construction management program in the School of Planning Design and Construction, I became more resilient and confident in my abilities by connecting with women in construction.
Women only make up 9% of the industry and half of them haven't had a female mentor to learn from. I felt challenged by the lack of representation of women and people of color because I wanted to be able to envision myself in this field.
It's inspiring to connect with other women pursuing construction, who break from conformity of the industry. Therefore, I became president of the Professional Women Builders at Michigan State University. Our group faced many challenges with there being so few women in this profession. Last year, the COVID shutdown cancelled our in-person events, but we stepped into action to engage our members over the virtual platform, just like you have all done. We hosted podcasts and virtual building site tours.
Spartans continue to face challenging times. Through our resilience we can empower our community to prevail.
Over the past few years, the university has taken actions to create a safer campus environment. It was at this time I had stepped up as the student leader of the MSU self-defense program. This enabled me to empower Spartans to protect themselves and establish boundaries.
I learned many things about leadership and empowerment. For one, a true leader trusts and respects those that they work with. It's a great responsibility and is not about holding higher rank or having a fancy title. Rather, leadership is about supporting and inspiring the team—pushing them to succeed.
As Spartans, we have the power to make an impact. We can use our empowerment to uplift others in pushing them towards opportunities and growth.
"As Spartans, we have the power to make an impact. We can use our empowerment to uplift others in pushing them towards opportunities and growth."Ashley Prince, MSU Construction Management Graduate
Our education has set us up for success and although many accomplishments come with struggle, this is how we learn. The Bailey Scholars Program taught me that learning doesn't always take place in the classroom. We are learning throughout the day and every day there is an opportunity to grow. We are lifelong learners.
And long this journey of growth, we've all made mistakes. To recover, we must acknowledge our shortcomings and reflect on how to do better the next time and this will help us become better problem solvers. The ability to make mistakes and learn from them is what it means to fail forward.
The unique challenges of the world we face have created uncertainty. However, this can be viewed as opportunity. There is no better time to put forth your skills and strength to the test. The best thing about a challenge is that anyone can overcome it and you are proof of that as you sit here today.
Now, it's time to start a new chapter.
We are stepping out during a time that feels very different from just over a year ago. And I often hear from others how they can't wait to return to normal. What is normal?
If we reverted to the same way of life, we could just as easily repeat the same mistakes from last year. The world is opening its eyes to much of the work that must be done for our people and our environment. We must adjust ourselves to the "new normal" and adapt to change.
It will take resilience, empowerment and growth to change the world.
You have a great responsibility—not just to the college, but to yourself. What is your purpose? What do you strive for? What are you representing?
I am grateful to so many people who have helped make the College of Agriculture and Natural Resources an outstanding community. With the support, encouragement, and tenacity of the talented faculty and staff of our University, the Class of 2021 has successfully reached this moment. I extend my sincere thanks to our families, our peers, and our communities who have supported us through this journey.
To the Class of 2021, let us take what we've learned as Spartans and leap into the next chapter of our lives. It's now up to us to grow from our time at Michigan State University and make an impact.
We are SPARTANS and we have proven we are resilient. Because…Spartans WILL.
Congratulations Class of 2021! GO GREEN!