MSU leader accepted into Food System Leadership Institute program
Darrell Donahue, MSU Department of Biosystems and Agricultural Engineering chair and Institute of Water Research director, is participating in the national executive leadership program through the Association of Public and Land-grant Universities.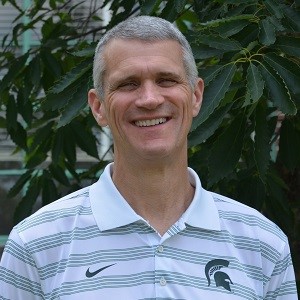 Darrell Donahue was accepted into the 15th cohort of the Food Systems Leadership Institute (FSLI), an executive development program for leaders in academia, industry and government employees. Donahue is professor and chair of the Michigan State University (MSU) Department of Biosystems and Agricultural Engineering (BAE) and director of the MSU Institute of Water Research (IWR).
The two-year FSLI program emphasizes leadership competencies, skills for organizational change and an interdisciplinary perspective of food systems, including considering ways to feed more than 9 billion people by 2020.
"Addressing the global food system is a vast challenge," Donahue said. "One key of the program will be to strategically identify the places where my involvement will be the most impactful, and then focus on those areas in developing my professional and personal goals for the program."
Established in 2005, FSLI is a program of the Association of Public and Land-grant Universities with the initial funding provided by the W.K. Kellogg Foundation. Residential sessions focus on case studies, simulations and conversations with leaders and subject-matter experts. Sessions are hosted by FSLI partner institutions: North Carolina State University, Ohio State University and California Polytechnic State University, San Luis Obispo.
Donahue expects the program will provide him with additional leadership, networking and strategic tools to help make his work in BAE and IWR more directly applicable to addressing larger food system issues like food safety, sustainable ecosystems and public health.
"The BAE and IWR focal areas of food, water, energy, environment and health are all linked to the food system," he said. "This program will help me draw connections for our faculty and staff to help them see how their work fits into a global perspective and broaden the reach of their work."
Previous College of Agriculture and Natural Resources and MSU Extension leaders who have completed the FSLI program include Titus Awokuse, Dan Clay, Steve Hanson, Ron Hendrick, David Ivan, Kelly Millenbah, Gretchen Neisler, Bill Ravlin, Janice Swanson, Quentin Tyler and Scott Witter.